Archive for the 'Fires/Wildfires' Category
Friday, October 25th, 2019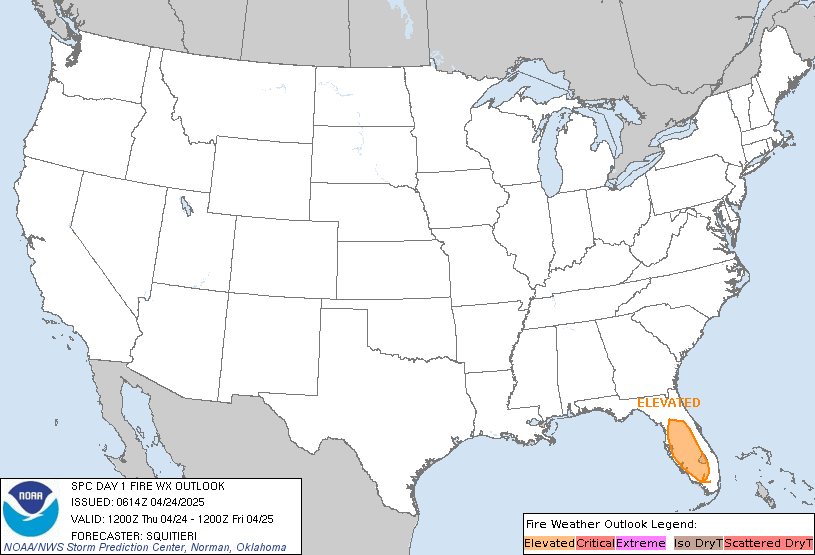 | | | | |
| --- | --- | --- | --- |
| Critical | 11,809 | 4,772,813 | Santa Ana, CA…Anaheim, CA…Riverside, CA…San Bernardino, CA…Oxnard, CA… |
| | | | |
| --- | --- | --- | --- |
| Extreme | 1,998 | 2,776,315 | Ontario, CA…Fontana, CA…Santa Clarita, CA…Rancho Cucamonga, CA…Pomona, CA… |
---
Friday, October 25th, 2019
"……
New wildfires were sparked Thursday afternoon in Southern California, prompting evacuations.
Meanwhile, the Kincade Fire spread rapidly in Northern California.
Residents of Geyserville were ordered to evacuate as the fire jumped a highway.
PG&E said high-voltage lines near the fire still had power when it started…….."
---
Monday, October 21st, 2019
---
Saturday, October 12th, 2019
---
Saturday, October 12th, 2019
---
Friday, October 11th, 2019
---
Thursday, October 10th, 2019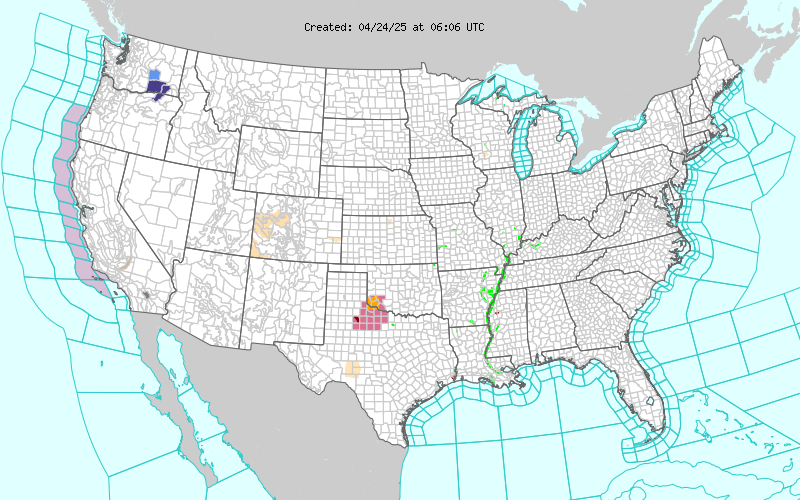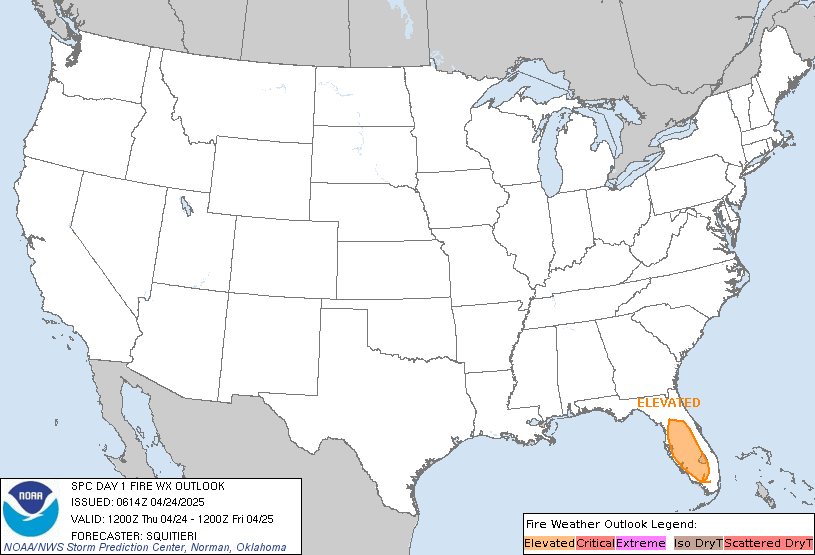 CZC SPCFWDDY1 ALL
FNUS21 KWNS 100643
Day 1 Fire Weather Outlook
NWS Storm Prediction Center Norman OK
0143 AM CDT Thu Oct 10 2019
Valid 101200Z – 111200Z
…EXTREMELY CRITICAL FIRE WEATHER AREA FOR PORTIONS OF LOS
ANGELES…VENTURA…AND SAN BERNARDINO COUNTIES…
…CRITICAL FIRE WEATHER AREA FOR TRANSVERSE AND PENINSULAR RANGES
AND TO THE COAST OF SOUTHERN CALIFORNIA…
…CRITICAL FIRE WEATHER AREA FOR SACRAMENTO VALLEY…PORTIONS OF
THE NORTHERN COAST RANGES…WESTERN SLOPES/FOOTHILLS OF THE SIERRA
NEVADA…
…Synopsis…
A strong upper-level trough will continue moving eastward from the
Intermountain West to out over the Plains today. An associated
surface cold front will push through much of the Southwest and deep
into Texas by late tonight. Surface high pressure will broaden over
the interior western CONUS with the surface pressure gradient
remaining strong through much of today across northern California
and strengthening across southern California through tonight. This
will result in strong offshore/downslope winds across much of
California.
…southern California…
Extremely critical conditions will develop across portions of Los
Angeles and Ventura Counties and into southwest San Bernardino
County today. Critical conditions will begin early this morning with
extremely critical conditions likely starting late morning. With
strong surface high pressure moving into the Great Basin, the
Tonopah/LAX pressure gradient will increase above 10 mb and could
exceed 15 mb today. This will result in northeast-east sustained
winds of 20-40 mph across southern California with gusts of 60 mph
in terrain favored locations.
A dry, post-frontal airmass is in place and downslope/offshore winds
will further lower dewpoints resulting in minimum RH values of 5-15%
across southern California. Fuels remain dry with cured fine fuels
and ERCs/100-hour dead fuel moisture values approaching or at
90th/10th percentiles. While critical, if not extremely critical
winds/RH are expected in southeast California/southwest Arizona,
lack of fuels precludes an upgrade over elevated.
…northern California…
Critical conditions will continue into the evening across portions
of the higher terrain around/north of the Bay Area, Sacramento
Valley, and western slopes/foothills of the Sierra Nevada. The
surface pressure gradient will remain strong, 10-17 mb from
Winnemucca to OAK, into the evening resulting in strong
offshore/downslope winds (north-northeast sustained winds of 15-30
mph with gusts of 35-55 mph). Even though the surface pressure
gradient is expected to weaken this evening/tonight, elevated to
locally critical conditions may continue tonight across the higher
terrain.
A dry airmass remains in place, with some stations in northern
California reporting sub zero dewpoints leading to single digit RH
values. Overall, RH values of 5-20% are expected across the region
today. Fuels are receptive with ERC/100-hour dead fuel moisture
values above/below the 90th/10th percentiles around the Bay Area and
ERCs around the 80th percentile in the Sierra Nevada
foothills/vicinity.
---
Wednesday, October 9th, 2019
"…….A list of the local cities and counties in the Sacramento-Stockton-Modesto area that will have their power shut off Wednesday, according to PG&E Tuesday afternoon……..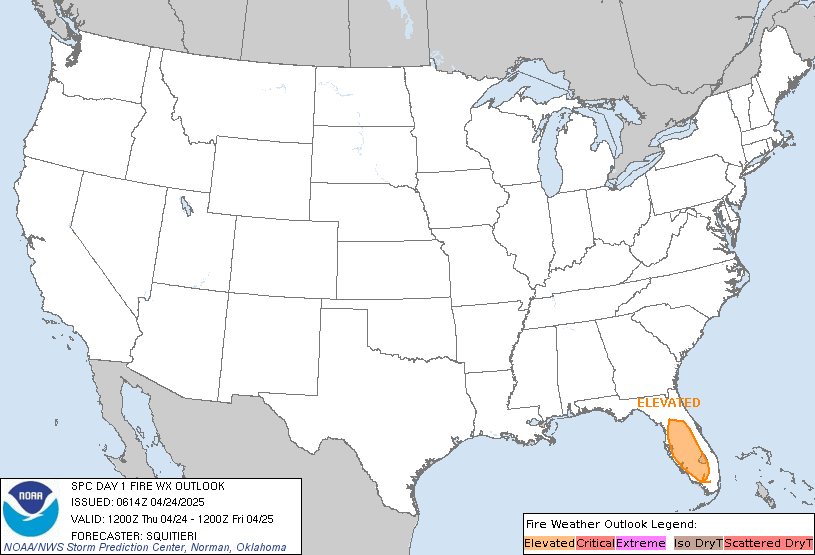 Amador (16,041 customers) — Pioneer, Jackson, Sutter Creek, Pine Grove, Plymouth, Volcano, Fiddletown, River Pines, Amador City, Drytown, Martell, Ione, West Point.
Calaveras (23,708 customers) — Arnold, Angels Camp, Copperopolis, Murphys, San Andreas, West Point, Mountain Ranch, Mokelumne Hill, Rail Road Flat, Vallecito, Wilseyville, Hathaway Pines, Avery Glencoe, Douglas Flat, Sheep Ranch, White Pines, Dorrington, Camp Connell, Tamarack, Altaville, Valley Springs, Farmington
Colusa (1,813 customers) — Arbuckle, Stonyford, Williams, Sites, Maxwell
El Dorado (51,396 customers) — Placerville, El Dorado Hills, Pollock Pines, Cameron Park, Camino, Rescue, El Dorado, Somerset, Cool, Shingle Springs, Georgetown, Garden Valley, Diamond Springs, Pilot Hill, Grizzly Flats, Twin Bridges, Greenwood, Kyburz, Lotus, Kelsey, Mount Aukum, Coloma, Pacific House, Fair Play, Omo Ranch, Silver Fork, Aukum, Strawberry, Pioneer
Nevada (43,217 customers) — Grass Valley, Nevada City, Penn Valey, Rough and Ready, Soda Springs, North San Juan, Washington, Norden, Chicago Park, Cedar Ridge, Truckee, Kingvale
Placer (51,641 customers) — Auburn, Lincoln, Loomis, Colfax, Newcastle, Foresthill, Granite Bay, Meadow Vista, Penryn, Rocklin, Applegate, Alta, Dutch Flat, Emigrant Gap, Weimar, Gold Run, Baxter, Roseville, Sheridan, Christian Valley, Cool, Pilot Hill, Soda Springs, Norden, Georgetown, Greenwood
Plumas (803 customers) — La Porte, Quincy, Belden, Storrie, Twain, Bucks Lake, Tobin
San Joaquin (52 customers) — Vernalis, Tracy, Stockton, Farmington
Sierra (1,165 customers) — Sierra City, Downieville, Alleghany, Goodyears Bar, Pike City, Camptonville
Solano (32,863 customers) — Fairfield, Vacaville, Suisun City, Vallejo, Dixon
Stanislaus (1,088 customers) — Westley, Grayson, Patterson, Oakdale, Knights Ferry, La Grange, Modesto, Riverbank
Tuolumne (34,413 customers) — Sonora, Groveland, Twain Harte, Jamestown, Tuolumne, Mi Wuk Village, Pinecrest, Columbia, Soulsbyville, Long Barn, Strawberry, Chinese Camp, Cold Springs, Moccasin, Big Oak Flat, Sierra Village, La Grange, Coulterville, Sugar Pine
Yolo (5,792 customers) — Winters, Esparto, Guinda, Capay, Brooks, Madison, Rumsey, West Sacramento
Yuba (6,919 customers) — Marysville, Browns Valley, Oregon House, Wheatland, Dobbins, Camptonville, Smartville, Challenge, Rackerby, Strawberry Valley, Loma Rica, Forbestown, Clipper Mills, Bangor, La Porte, North San Juan…."
---