Archive for June, 2016
Thursday, June 30th, 2016
Free Webinar: Thursday, July 7th at 2pm ET
While awareness of web accessibility is increasing, it can often be an overwhelming thing to implement.
In this free webinar, Jared Smith, the Associate Director of WebAIM, will provide an overview of web accessibility. His expertise in the field will leave you with web accessibility tips and strategies that you can implement right away, as well as tools and resources for evaluating your site or web application's current accessibility.
Jared's presentation will cover:
The principles of web accessibility
Accessibility laws and standards
The challenges of making web content accessible
Tips for implementing an accessible website or application
Why you need to test your website for accessibility
Tools for evaluating your site's current accessibility
Register for FREE today!
---
Thursday, June 30th, 2016
Live Streaming Online: July 12th – 14th
BbWorld Live is comprised of single-day tracks focused on teaching, learning, and the school-to-home connection with sessions offered for K-12, Higher Education, or Corporate & Government Training.
The Higher Education sessions on July 14th will include:
11:30AM ET
Rocket session: great teaching in a world of connected students
Multiple presenters
Love a TED talk? Who doesn't! We took that format and supercharged it. Introducing rocket sessions: 7-minute sessions that pack a punch. Not sure what to expect? You won't be disappointed in these seven rocket sessions. Topics include:
Engaging your students via text message
Integrating video into your courses
Social presence in online learning
12:35PM ET
Superheros collaborate! Teaching virtual teamwork
Graceful Beam and Sharon Wilson
Georgia Northwestern Technical College
A once-feared online capstone class has been transformed into an epic adventure for students at Georgia Northwestern Technical College. Buckle up for an exciting ride with Graceful Beam and Sharon Wilson as they highlight how they used online collaboration tools to revamp a course that was once dreaded by all, and is now a student favorite.
1:30PM ET
KEYNOTE
Dr. Howard Gardner
Harvard Graduate School of Education
Dr. Gardner is best known in educational circles for his theory of multiple intelligences. However, he's a man with many hats. He's authored over 30 books and received honorary degrees from over 30 institutions in recognition of his work's impact on education. He's been named one of the 100 most influential public intellectuals in the world. Join us for this rare, online keynote address just for faculty.
*Note: Can't make all of the other sessions? Simply register for the KEYNOTE session only!
2:30PM ET
A week-long faculty institute drives big results
Michelle Dames
Austin Community College
Austin Community College developed a week-long faculty institute centered around instructional design. The program mirrored the focus of the Blackboard Exemplary Course Rubric's four key elements: course design, interaction & collaboration, assessment, and learner support. Tune in as Michelle Dames outlines the design of the institute, shares resources, lessons learned, and results of a self-efficacy survey.
3:00PM ET
The top 10 things you didn't know you could do in Blackboard Learn
Tammy Jolley
Blackboard
Your job is to deliver great teaching for your students. Our job is to make sure that you have access to the best tools for your classroom. In this session (included by popular demand) Tammy uses her 19 years of experience in education to highlight the most exciting capabilities of Blackboard Learn, our flagship LMS, that you can start using today.
3:30PM ET
Building (attr) active courses: A session on instructional design
Tim Boon
University of Leuven
Engaging students in online courses can be quite challenging. Good-looking and well-structured courses help students stay motivated. By embedding web 2.0 tools (Google Drive, Prezi, Padlet, …) and using just a tiny bit of coding you can make your Blackboard courses stunning and a lot more interactive. Tim Boon will show you how.
4:00PM ET
A response to the challenge of digital accessibility
Harriette Spiegel
University of Tennesse, Martin
What does it mean to create "accessible course documents"? At colleges and universities, we're all seeing a strong emphasis on ADA compliance, which has taken on new meaning as online courses and digital content become the norm. In this interactive session, accessibility expert Harriette Spiegel will walk through the step-by-step protocol for creating accessible content and discuss recent trends in accessibility.
4:30PM ET
Featured speaker: making sense of the new world of digital credentialing
Carla Casilli
Badging + Credentials expert
More than five years have passed since the inception of the open badges experiment, and in that time the concept of digital badges has moved steadily into the general consciousness. As this idea evolves, so do its many opportunities and challenges. Part technology and part conceptual approach, the digitization of representations of learning now includes wide-ranging considerations such as competency-based education and e-portfolios, as well as professional development. This presentation will explore the evolving dimensions of this work.
Join online for FREE!
Register by Midnight on July 1 for a chance to win an iPad.
---
Tuesday, June 14th, 2016
Where: 100% Online
When: July 12 – 25, 2016
About the Workshop
This workshop will explore the Quality Matters project and processes and prepare you to be part of an initiative that positively impacts the design of online and blended courses, and ultimately, student learning and success.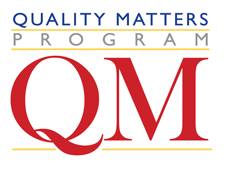 Quality Matters (QM) is designed to improve the quality of online and blended courses by establishing a peer-reviewed quality assurance review process. In this workshop, you will become familiar with the Quality Matters standards and participate in a practice peer course review of an online course using the review tools. After successfully completing this workshop, you will gain practical ideas to improve your own courses using QM Rubric Standards, and be eligible to take the online Peer Reviewer Certification course.
Upon completion of this workshop, you will be able to:
Identify the underlying principles of QM.
Identify the critical elements of the QM quality assurance program, including the QM Rubric, materials, processes, and administrative components.
Apply the 5th Edition QM Rubric to review online courses.
Make decisions on whether the SPCH 1113 course meets selected QM Rubric standards.
Apply the concept of alignment.
Write helpful recommendations for course improvement by citing annotations from the QM Rubric and evidence from the course.
This course is a two-week, fully online, asynchronous workshop conducted via Moodle, an online learning platform.  To get a sense of the course schedule and grading policies, please read the abbreviated workshop syllabus.
The registration/cancellation deadline is Wednesday, July 6. 2016. To register for the course, please visit our online registration page. For more information about QM, visit the UT Online website and the Quality Matters section housed in our Faculty Resource Center, or email UTLV@utoledo.edu. More sessions of this workshop are available to faculty members; please check out the Ohio QM Consortium training calendar for registration information.
---