August 24th, 2015
Mary Cone, daughter of the late Gilbert Siegel, recently brought her family to visit UT's Main Campus and see the display in Wolfe Hall that honors her father. Gil, a member of the Class of 1928, also served on the faculty. While on campus, Jeffery and James Cone, Mary's sons, presented the college with a check of $3000 in honor of Mary and in Memory of Gilbert and Janeice Siegel. The support will be applied to the Siegel Endowed Scholarship fund.
---
August 18th, 2015
Vandressa Arantes, as part of the Brazilian Scientific Mobility Program, completed her summer research internship in Dr. Tiwari's Cancer Chemotherapy Laboratory in the Department of Pharmacology and Experimental Therapeutics. Vandressa was a part of drug-discovery team in Dr. Tiwari's lab. The team evaluates the anticancer activity of a novel class of targeted tyrosine kinase inhibitors (TKIs) belonging to the quinazoline class. Their target-based approach focuses on compounds that are designed and synthesized to work against 'resistant' solid tumors. These TKIs are designed ensure maximum effects of chemotherapy with minimal side-effects.
Vandressa spent her summer looking at the effects of a series of novel compounds on a panel of resistant and metastatic breast, colorectal and prostate cancer cell lines and comparing their effects to their normal counterparts.
To learn more about Dr. Tiwari's work, visit his faculty web page. His lab is looking for undergraduate students who are interested in conducting research on these exciting anti-cancer drugs.
---
August 18th, 2015
Jeremy Canfield, BSPS '15, valedictorian of the 2015 B.S. in Pharmaceutical Sciences class, shares his advice on learning beyond the pages of the textbook.
Throughout my college career, I have learned many valuable lessons, both inside and outside of the classroom. I found it is extremely important to manage your time wisely and discipline yourself because everything you do in college is for your own benefit.
When I first started my journey here at Toledo, I didn't know what to expect. I was excited, but very nervous to begin this new chapter in my life. It was hard starting over again and meeting new people, but I got through it just as you all did. From our PP1 year all the way to our P2 year, it may have been hard, but we made it. After everything, The College of Pharmacy Pharmaceutical Sciences has increased my passion for the pharmaceutical sciences and prepared me for a career. I gained a lot of hands on experience which I found to be more valuable than anything I could've read about in a book.
Over the past three years, one thing I found out about college is that in order to have the most enjoyable time, you have to get out of your comfort zone. That wasn't easy for me, but with the help of some good friends, I started to try more new things. I realized college isn't just about the courses you take and how you do on exams, it's also about the people you meet and the experiences you have.
It's hard to believe that it's coming to an end already. But just as we began a new chapter when we started here at Toledo, today is the beginning of the next chapter in our lives. Whether we are continuing school or entering into the work force, we are all well prepared for what lies ahead.
---
August 17th, 2015
Dear CPPS Students:
We hope you have had a great summer!
Please keep in mind the staff in CPPS Student Affairs offices is here to assist you. Have questions about your schedule? Want to get a tutor? Just need someone to talk to? Stop in to 1227 Wolfe Hall on Main Campus and 155HEB in the Frederic and Mary Wolfe Center on the Health Science Campus. We look forward to helping you have a successful semester.
Also, look for newsletters that will be sent to you by e-mail each week from our office.  Our newsletters will contain important information about our college, student organizations, and upcoming events.
Lastly, as we get ready to start the fall semester and the new academic year, we want to share some updates from our Student Affairs offices.  We have two personnel updates:
Please welcome Tana Felkey as our new secretary in the Office of Student Affairs on the Main Campus.  We encourage you to introduce yourself to Tana when you're in Wolfe Hall on the Main Campus.
Please welcome Denise Busdeker as our new secretary in the Office of Student Affairs on the Health Science Campus.  We encourage you to introduce yourself to Denise when you're in the Wolfe Center on the Health Science Campus.
We are excited for the new academic year and looking forward to seeing you soon!
Welcome back & Go Rockets!
| | |
| --- | --- |
| Dr. Mary Powers | Dr. Monica Holiday-Goodman |
| Professor and Associate Dean | Professor and Associate Dean |
| Main Campus Student Affairs | Health Science Campus Student Affairs |
| and Enrollment Management | and Diversity |
---
August 11th, 2015
Kevin Omerza, PharmD/MSPS '15, discusses the decision to pursue a dual degree and how this decision has opened many new paths for him. Dr. Omerza is currently completing a PGY1 residency at MetroHealth Medical Center in Cleveland, Ohio.
The Past and the Future. These are two important factors in every decision we make. The past holds knowledge and experiences that help to inform your decision. The future includes your goals, how you feel the decision will impact these goals, and how you believe the profession will evolve. Both the past and the future played a large role in my decision to pursue a dual-degree program in Pharmacy and Health Outcomes Research along with the PharmD degree.
My past included experiences and connections that provided the dual-degree opportunity. As a P1 pharmacy student and P2 BSPS Administration student, I took my first foray into the world of research. I worked with Dr. Sharrel Pinto on a literature review as a thesis to complete the requirements of an Honors Degree. In addition to my honors thesis, I was given the opportunity to join the Pharmaceutical Care and Outcomes Research group (PCOR) with Dr. Pinto. Through the PCOR, I was exposed to many areas of pharmacy policy, practice, and research. I was able to assist in reporting to the State Board of Pharmacy on the status of new pharmacy technology as well as assist in the design, implementation, analysis and reporting of a focus group study. These experiences also included interactions and networking with pharmacists, patients and fellow researchers.
As I became more involved in research, and my P2 pharmacy year began to draw to a close, I was approached by Dr. Sharrel Pinto about the potential for helping to establish a dual-degree program. In addition to my knowledge and experiences, I considered where I saw myself and the profession of pharmacy in the coming years. I knew that my goal would be to impact patient care through inpatient clinical practice. I knew that I would need to effectively utilize research in my practice, as well as potentially complete my own research. I could think of no better way to develop these skills than focused coursework and hands-on experience. I also took into account of the perspective of the profession. It is no secret that competition for pharmacy positions is growing, especially among residency programs. The dual-degree program, and associated experiences, would help to diversify my skills and help me to stand out from the applicant pool.
My effort in the dual-degree program was definitely rewarded. I gained valuable experience through helping to develop a multi-site, double-blind research study. I also helped to revive a student organization focused on research. All of these experiences helped to diversify my knowledge and skill set. Through networking and conferences, I was solicited to apply for careers in research as well as PhD programs at various schools. This also speaks volumes to the rigor and prestige of the master's in Health Outcomes program we have here at UT. While I did not intend at the time to pursue these career paths, I know first-hand the importance of having multiple options, as you never know what the future will hold.
When applying for a residency, I was able to stand out from the crowd and be a competitive candidate. I earned a residency position in the geographic area I wanted, and at a hospital that is very strong in the specialties in which I am interested.
Overall, I have had a fantastic experience both during, and as a result of, the dual-degree program. I was able to participate in multiple research conferences and have built relationships that will last throughout my career and beyond.
The white papers to the state board, the focus group, and the research study have provided cutting-edge practice-based experiences. These unique experiences have given me exposure to a world of pharmacy that a typical hospital or community pharmacy experience does not provide. In the current climate of health care reform, and the focus on outcome-driven care, such exposure is important to truly understand the current roles and future of our profession.
I hope that all pharmacy students take a moment to think about their education and career goals and what will help them to attain these goals. They can then seek out and take advantage of the many opportunities which exist within our college. Regardless of your practice interests, there are organizations and motivated faculty members to help you achieve your goals. I was lucky enough to find an opportunity that fit in with my practice goals.
---
August 10th, 2015
Maureen Converse and Carl Buchwald, the co-valedictorians of the 2015 PharmD graduating class, jointly offered the following remarks to their classmates at this spring's commencement.
It is well known that when something is done for the first time, such as the first exam P1 year, or your first day as an intern…it is perfectly normal to feel nervous. Feeling nervous is the best indicator that you care too much to let your goals slip away. If you feel nervous, it usually means you are challenging the status quo, and you are putting yourself on the path to new experiences. Do not be afraid of that feeling. Embrace it, and use it to propel yourself into new directions and experiences.
We have experienced many firsts throughout these years, like the first steps in our professional careers when we walked across the stage for our White Coats. The first time you wore that white coat to compounding lab you probably thought, "How will I ever know as much as these teaching assistants in two years?" Then, before you know it, the time arrives when you become that TA or P3 intern and are expected to be that mentor to the underclassmen.
The first time you did a blood sugar finger stick on a patient at a Kroger Wellness and they didn't say "ouch"; the first time you gave a patient (or a very nervous fellow-student) a flu shot, and they promised they didn't feel anything; the first time a family member called you for drug advice; how about your first manual blood pressure reading on a real patient, or the first time you accomplished eight final exams in one week and then felt the need to do it again next semester? Then there was first time you rounded without your preceptor and the attending physician, not just the resident, asked for recommendation and expected a prompt answer without hesitation.
Don't get us wrong, there were also moments that didn't make you feel like you just smashed an entire bottle of Gavilyte: the first time we got together P1 year and bonded as a class. The presumed first time you played with coloring books between classes during Pharmacy Recess. The first time you attended the Mr. PharmD Pageant and laughed uncontrollably at your classmates.  The first time you wore that bright orange Dubin's-inspired WenckeblockeRxs class t-shirt.
It has been said that hindsight is always 20-20. Looking back, it's easy to remember or see how things could have gone differently, but what about the road that lies ahead? What will you be doing two, five, or even 20 years from now?  We will all be faced with many new challenges and many new first experiences: the first prescription you verify on your license, the first time you call a doctor to make a change and they expect a recommendation, your first time on call as a resident, or when a pressing ethical dilemma forces you to make the decision that isn't black or white. For the soon to be P3s: that next big exam, working out your ideal APPE schedule, or your first day of rotations.  Remember, those jitters that you feel are only a reminder that you care. Never mistake that feeling for fear.
J.R.R. Tolkien said it best when he wrote, "Faithless is he that says farewell when the road darkens."  Fear keeps us in our comfort zone and holds us back from what we can fully achieve. Looking back on these four, six or however many years, I'm sure that we can all identify the times that we have missed our mark, but we can also look upon the great memories we have made.  Whatever the case, remember that our pasts do not define us; they only shape the person we can be.  In the end, we challenge you to not forget what is gone behind you, but also to never fear what lies on the road ahead.
---
July 30th, 2015
Congratulations to Dr. Donald "Max" Smith, 2015 PharmD Graduate from the University of Toledo, who was selected as one of the Premier Partner Scholarship winners from The Cleveland Clinic. The  Premier Partner Scholarship recognizes Premier Partner affiliates and awards a student who completed a significant amount of learning experiences with Cleveland Clinic Health System Pharmacy and demonstrated strong experiential and overall academic performance.  Dr. Smith was invited to attend the Clinic Health Care System Pharmacy Resident Graduation dinner on Monday, June 22 to receive his award formally. Dr. Smith is completing a PGY1 residency at the University of Florida Shands Hospital with the intent to pursue a PGY2 in Pharmacogenomics after his PGY1 residency.
---
May 20th, 2015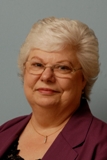 Donna Haar, the administrative secretary in the office of the dean, is retiring after 18 years with the College of Pharmacy and Pharmaceutical Sciences. Among Donna's primary duties have been the college's Commencement Exercises and Honors Convocation, events that show Donna's attention to details and the student experience. Her long history with the college has allowed her to connect with alumni throughout the years, and the college's Alumni Affiliate has benefited from Donna's knowledge and volunteerism.
The polish Donna adds to college events will be missed by the those who attend.
Donna's retirement party will be held at the Radisson at UTMC on June 17, 2015 from 3-5 p.m. Those who would like to contribute to a gift for Donna may contact Cynthia Soncrant in the office of the dean at 419.383.1997 and cynthia.soncrant@utoledo.edu.
---
April 22nd, 2015
The April 2015 issue of Refill, the e-newsletter of The University of Toledo College of Pharmacy and Pharmaceutical Sciences, is now available online.
In this issue:
RADM Helena Mishoe to receive honorary doctorate
Visit from Steven W. Schierholt, Esq., Executive Director of the Ohio State Board of Pharmacy
Patient education saves a life by Hanin Chouman
Alumnus Alex Adams, PharmD '09, receives national leadership award
Alice H. Skeens Award for Dr. Amanda Bryant-Friedrich
Alumna Alison Wery, BSPS '14, embarks on a career in cosmetic formulation
Student awards and presentations
OPA Student Legislative Day
Meet Dr. Amit K. Tiwari and Angela Lopez, M.Ed.
Thank you to donors
Calendar of events
---
April 13th, 2015
RADM Helena O. Mishoe, PhD, MPH will receive the honorary Doctor of Science degree at the College of Pharmacy and Pharmaceutical Sciences Commencement on Saturday, May 9, 2015. 
Dr. Helena Mishoe is the associate director of Research Training and Diversity at the National Institutes of Health / National Heart, Lung and Blood Institute (NHLBI). Dr. Mishoe earned a Bachelor of Science in Biology from Delaware State University and a Master of Public Health in Health Services Administration from the Uniformed Services University School of Medicine as well as a graduate Global Health certificate from the University of North Carolina at Chapel Hill. She earned a Ph.D. in Medical Microbiology from Georgetown University School of Medicine.
Dr. Mishoe joined NHLBI in 1988 and led the strategy to improve gene therapy and stem cell treatment of sickle cell anemia, Cooley's anemia and Fanconi anemia. She has led initiatives to increase public awareness of sickle cell anemia, promote health education in rural areas, improve HIV treatment in Angola, among many other achievements. Dr. Mishoe's career in research and medicine has spanned decades and includes service as the Assistant Surgeon General in the United States Public Health Service. She is an expert in health disparities and has been recognized for her work to increase research opportunities for underrepresented students, including ethnic minorities, economically advantaged students, and students with disabilities, in the biomedical sciences.
Dr. Mishoe's leadership in advancing diversity in science, technology, engineering and math (STEM) fields is centered on her personal interest in the students she mentors. She is dedicated to student success, personally critiquing students' presentations and grant applications as well as helping them to define their career trajectories. She oversees the NHLBI Biomedical Research Training Program for Underrepresented Groups, and a remarkable 92 percent of the participants are expected to complete terminal degrees or residencies.
Among Dr. Mishoe's treasured belongings is a photograph and quote she received from a mentee who passed away a few years ago. It reads, "Hope emerges and the future begins for one person only when there is another who believes in the beauty of their dreams." This quote reflects Dr. Mishoe's commitment to mentoring the next generation of leaders in health care and research.
Dr. Mishoe will present a seminar to the students and faculty on Friday, May 8, 2015.
---