May 20th, 2015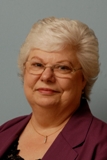 Donna Haar, the administrative secretary in the office of the dean, is retiring after 18 years with the College of Pharmacy and Pharmaceutical Sciences. Among Donna's primary duties have been the college's Commencement Exercises and Honors Convocation, events that show Donna's attention to details and the student experience. Her long history with the college has allowed her to connect with alumni throughout the years, and the college's Alumni Affiliate has benefited from Donna's knowledge and volunteerism.
The polish Donna adds to college events will be missed by the those who attend.
Donna's retirement party will be held at the Radisson at UTMC on June 17, 2015 from 3-5 p.m. Those who would like to contribute to a gift for Donna may contact Cynthia Soncrant in the office of the dean at 419.383.1997 and cynthia.soncrant@utoledo.edu.