The Class of 2013
June 5th, 2013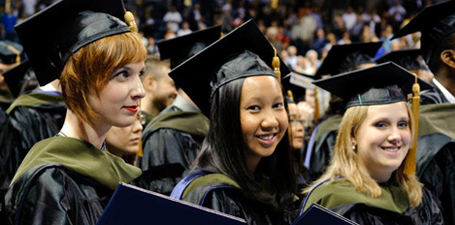 The Spring Commencement Exercises for the College of Pharmacy and Pharmaceutical Sciences were held on Saturday, May 4, 2013 at the John F. Savage Arena.
This event allowed the college to celebrate the graduation of a new class of pharmacists and pharmaceutical scientists. The college awarded 104 Doctor of Pharmacy degrees, 15 master's degrees, and 164 baccalaureate degrees.
Among the 164 baccalaureate degrees recipients, a majority graduated with honors. Seventeen graduated summa cum laude, 53 graduated magna cum laude, and 51 graduated cum laude.
Tags: alumni, BSPS, The University of Toledo College of Pharmacy and Pharmaceutical Sciences, toledo, valedictorian
Charisse Montgomery is the Scientific Editor and College Communicator for The University of Toledo College of Pharmacy and Pharmaceutical Sciences. She is a triple alumna of The University of Toledo with master's degrees in English and Education and a graduate certificate in Patient Advocacy.
Email this author | All posts by Charisse Montgomery
---
Leave a Reply