Posts Tagged 'development'
Monday, March 23rd, 2015
The March 2015 issue of Refill, the e-newsletter of The University of Toledo College of Pharmacy and Pharmaceutical Sciences, is now available online.
In this Women's History Month issue:
Dr. Sharrel Pinto leads national medication adherence study
Bess G. Emch, the college's first female dean, paved the way for women
Dr. McInerney's type 1 diabetes research
Dr. Sawsan Abuhamdah's Fulbright research
Tips for Women in Science, Dr. Amanda Bryant-Friedrich
A warm welcome: Audra Wilson
Special thanks to pharmacy donors
Grandmother's tea: Dr. Early's introduction to pharmacy
Equipment funds support research and learning
Cosmetic science symposium review (part II), Hillary Phillis
Calendar of events: Law CE, Preceptor Forum, Golf Outing
---
Tuesday, May 20th, 2014
The May/June 2014 issue of Refill, the e-newsletter of The University of Toledo College of Pharmacy and Pharmaceutical Sciences, is now available online.
In this issue:
Spring 2014 Commencement
Women in Science
Class of 2014 Valedictorians
Student Recognition
Recent Grad Sets the Bar High during APPE Rotation
Alumnus Phil Miller earns highest honor
Pharmacy staff members earn advanced degrees
College Celebrates Graduation of Inaugural Learners
Upcoming Events
---
Monday, May 27th, 2013
The College of Pharmacy and Pharmaceutical Sciences has published an annual report for alumni and friends of the college. The report highlights the college's goals and accomplishments, including reaccreditation of the Doctor of Pharmacy program, faculty publications and financial data. The report can be read online.
---
Thursday, April 11th, 2013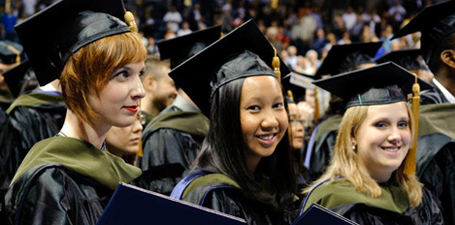 University students just months away from graduating are generally focused on classes, internships, and job searches. However, many fourth-year members of UT's Pharm.D. program now have an additional objective: assisting future students through a pledge of financial support.
In the four years since UT's P4 Scholarship program began, the pledge total from graduating Pharm.D. students has nearly tripled, from just over $3,000 to $8,250, and class participation has increased from 19 percent to 37 percent, according to Jeff Barton, director of development for the College of Pharmacy and Pharmaceutical Sciences.
Mr. Barton believes the increase is due largely to student leadership in the cultivation process. "Peer solicitation encourages students to get involved, and a sense of competition inspires them to want to outdo the preceding class," he said.
An added incentive is the commitment by the Toledo Academy of Pharmacy (TAP) to match up to $4,000 of the annual class pledge amount. The fact that the scholarship effort is led by the students themselves is especially rewarding, notes Dr. Curtis Black, Professor Emeritus of Clinical Pharmacy, and a TAP board member. "There is no better example of the developing sense of professionalism in our students than when the students themselves commit their future earnings to aid subsequent students."
Last year's class solicitation leaders included Andy Hochradel, Shawn Mills, Maria Canestraro, Justin Brown, and Jon McLachlan.
Dr. Hochradel said he supported the scholarship fund to show his appreciation for the knowledge and professional skills he gained throughout the pharmacy program. He also believes his gift is an investment in the program's future.
"I have benefited from the great national reputation our pharmacy program has established," he said. "I've encouraged others to contribute because I know our degrees are like stocks; they can gain or lose value throughout our careers, depending on how the pharmacy profession performs in the future."
Dr. Mills believes current and recent students have a special insight into the value of scholarships. "Having just completed the program, I know how difficult it is financially to make it through the last few years when undergraduate scholarships expire and graduate tuition rates kick in," he said. " I'm proud to contribute something to the classes behind me to help make their journey a little bit easier."
To make a gift to the P4 Scholarship Program, contact Jeff Barton, jeffrey.barton@utoledo.edu or 419.383.1985.
Reprinted from Toledo Alumni.
---
Thursday, March 14th, 2013
The Mortar & Pestle Society was established to help The University of Toledo College of Pharmacy & Pharmaceutical Sciences meet its educational mission and its role in the profession and the community at large. In these times of dwindling public resources, the annual gifts of the Mortar & Pestle Society members are critical to college programs and continued excellence. Member gifts provide essential funds for scholarships, faculty research support, and programs. Members are regularly informed about important developments at the college and may also assist the college with their counsel.
Each member of the Mortar & Pestle Society agrees to a contribution of $10,000 payable to the College of Pharmacy & Pharmaceutical Sciences Annual Fund over 10 years or less. UT employees can make gifts of $1,000 per year payable over a maximum of ten years, and non-employees of UT can make their gifts of $2,000 per year over five years to the College of Pharmacy and Pharmaceutical Sciences.
Although most gifts are cash contributions, gifts of appreciable securities, stocks, bonds, or real estate are encouraged and can offer certain tax advantages to donors. Most gifts will be unrestricted, allowing the college to respond quickly to changing needs; however, members can also designate their contributions for specific programs if they so desire. One hundred percent of a member's gift will be used for the sole benefit of the College of Pharmacy and Pharmaceutical Sciences and will constitute a charitable contribution and be tax-deductible to the extent allowed by law.
To learn more about membership in the Mortar & Pestle Society, contact Jeff Barton, development director, at 419.530.5413 or at jeffrey.barton@utoledo.edu.
---
Friday, January 11th, 2013
The University of Toledo has initiated a new fund raising campaign with the theme A University Rising. The goal of this university-wide capital campaign is to support UT's growth and to lead the way in academics and research in a manner that will gain UT further national and international prominence.
The college's role in the capital campaign is to raise funds for research and scholarships that enhance the education of pharmacy and pharmaceutical science students. Dr. Robert Schlembach, professor emeritus and historian, is the chair of the college's campaign. Doc's sense of indebtedness to the college for the excellent education he received and for the lifelong relationships he has made compelled him to serve by chairing the current giving campaign.
"Giving not only provides an investment in the bright future of the College of Pharmacy and Pharmaceutical Sciences," said Dr. Schlembach, "it also continues to pave the way for an excellent professional education of which every University of Toledo alumnus can be proud."
The college will also honor Doc and his service to the college throughout the campaign, and alumni are welcomed to participate.
For more information about contributing to the campaign, please contact the college's development director, Jeff Barton, at 419.530.5413 or Jeffrey.Barton@utoledo.edu. The university's annual Phon-a-Thon, during which current students call alumni to raise funds for the university, will also offer opportunities to contribute.
---