Posts Tagged 'valedictorian'
Thursday, August 23rd, 2018
In their address at spring Convocation, 2018 PharmD valedictorians Drs. Emily To and Corissa Piatka shared memories about the journey through pharmacy school. This week, the college welcomes its new class of P1 students, and their sage advice is a great reminder to cherish the journey.
On to the Next
When Emily and I first started to think of ideas for this address, we were not really sure where we were going with it. We struggled with the ideas of how sentimental or emotional it should be. We were worried that our attempt to be motivational would fall completely flat. The question of what theme to use was asked multiple times. We then turned to the two most commonly used, non-LexiComp resources of pharmacy students: our own experiences and Google.
The Google search terms of "greatest college commencement speeches" returned about 1.4 million results. We sifted through the first few links of Top 10 lists. Some of the common names on these lists were Admiral William McRaven, the Obamas, Amazon CEO Jeff Bezos and author JK Rowling. But the address that stood out to us most was that of Steve Jobs, who spoke to the Stanford Class of 2005. This highly quoted speech contained many lessons and a lot of advice applicable to graduating students.  But the advice that stood out to us most was this:
"You can't connect the dots looking forward; you can only connect them looking backward. So you have to trust that the dots will somehow connect in your future."
This idea definitely resonated with us. Reflecting on the entirety of our pharmacy experience, we can see many dots.
Some of those dots are highly sequenced. Looking back, the progression is very clear.
We went from learning how to navigate LexiComp to finding clinical trials on PubMed. We evaluated those single PubMed trials in our SET tables and, before we knew it, successfully delivered an entire seminar project.
The SIG codes "BID", "TID", "QHS" all started as a foreign language. But they quickly became second nature as we progressed our way through compounding lab. Now, we are able to read prescriptions with ease and translate those codes into medication directions for our patients.
The towers of meds and terms flashcards were once enough to trigger a vasovagal response. Initially, we could not even pronounce the drug names. But our fluency in brand and generic names built up, along with our knowledge of side effects, dosing and formulations. We progressed to counseling patients on their medications and conducting comprehensive medication reviews.
APhA, SCCP, SSHP and AMCP, at one point, were just a mumbo jumbo of pharmacy alphabet soup.  With the help of our classmates and reassurance of upperclassmen, we pushed ourselves to run for an e-board position as a P1. By P3 year, we were president or chair and were a senior member of said e-board.
From IPPEs, we quickly progressed to APPEs.  And on our APPEs, we grew from rounding with our preceptor to rounding independently. The medical team began to ask US, the P4 intern, questions regarding patient care over our preceptor.
While these dots seemed to progress in a linear order, some of them represented stand-alone obstacles. We share many of these problem dots and were able to overcome them to push ourselves forward.
We found a way to make it to class when the Toledo streets were icy, pot holes attempted to demolish our cars, and there was absolutely no parking outside of Collier.
We stumbled through plenty of IRATS to realize how many questions we missed during the GRAT 5 minutes later.
We survived the eight minute Windows update just two minutes prior to an ExamSoft Exam. We managed our non-functioning clickers, and we learned where the functioning printers were. We handled coffee spills on our computers the day before assignments were due and the convenient Blackboard crash at the precise moment that we submitted an assignment.
There were times when we felt our procrastination or lack of discipline on an assignment was certainly the beginning of the end; a plummeting GPA was imminent. Perhaps you took comfort that your highly organized, Type A best friend had not started either….but you reached deep, forgot about sleep and pulled that assignment together.
Then, there were those horrific moments when your recommendation got rejected on rounds because you were simply wrong or when you completely missed a crucial lab value or culture result.
Finally, and maybe most importantly, are those dots and lines that we did not share in common. Events that were personal to our lives. Some were visible to others and some were not. Those regarding family, finances, health, relationships, and other aspects of our lives. It is these that most likely define our unique strengths and will influence our future directions in a way that we do not yet understand.
We are here today because we have all connected the dots up until this point.  We are now standing on the same collective dot of graduation. And it is now when things will greatly change.
We are all moving on to the "next dot" and they will be widely spread. No one's "next dot" will be the same as anyone else's. It is exciting, sad, exhilarating and scary all at the same time.
While it feels like you may be lost or wandering off your line as you move forward, you can certainly trust in a few things. First, trust in yourself. Appreciate all that you have made sense out of, overcome and accomplished during our journey here in pharmacy school. Take pride in the fact that you have connected a lot of dots. From this, you can trust that the unfamiliar, unpredictable present will eventually fall into order on the line forming behind you. Trust that your next venture will get you where you need and are meant to go.
In closing, thank you to all of those who have helped us on this journey. Thank you to our family and friends for your unconditional support and faith in us. Thank you to our professors and preceptors for your instruction and guidance. And thank you to our classmates. All of us helped to make the ordinary days more interesting, the bad days less discouraging, and the good days that much better. Thank you for your support of one another during these past six years and as we move on to the next.
---
Tuesday, August 18th, 2015
Jeremy Canfield, BSPS '15, valedictorian of the 2015 B.S. in Pharmaceutical Sciences class, shares his advice on learning beyond the pages of the textbook.
Throughout my college career, I have learned many valuable lessons, both inside and outside of the classroom. I found it is extremely important to manage your time wisely and discipline yourself because everything you do in college is for your own benefit.
When I first started my journey here at Toledo, I didn't know what to expect. I was excited, but very nervous to begin this new chapter in my life. It was hard starting over again and meeting new people, but I got through it just as you all did. From our PP1 year all the way to our P2 year, it may have been hard, but we made it. After everything, The College of Pharmacy Pharmaceutical Sciences has increased my passion for the pharmaceutical sciences and prepared me for a career. I gained a lot of hands on experience which I found to be more valuable than anything I could've read about in a book.
Over the past three years, one thing I found out about college is that in order to have the most enjoyable time, you have to get out of your comfort zone. That wasn't easy for me, but with the help of some good friends, I started to try more new things. I realized college isn't just about the courses you take and how you do on exams, it's also about the people you meet and the experiences you have.
It's hard to believe that it's coming to an end already. But just as we began a new chapter when we started here at Toledo, today is the beginning of the next chapter in our lives. Whether we are continuing school or entering into the work force, we are all well prepared for what lies ahead.
---
Monday, August 10th, 2015
Maureen Converse and Carl Buchwald, the co-valedictorians of the 2015 PharmD graduating class, jointly offered the following remarks to their classmates at this spring's commencement.
It is well known that when something is done for the first time, such as the first exam P1 year, or your first day as an intern…it is perfectly normal to feel nervous. Feeling nervous is the best indicator that you care too much to let your goals slip away. If you feel nervous, it usually means you are challenging the status quo, and you are putting yourself on the path to new experiences. Do not be afraid of that feeling. Embrace it, and use it to propel yourself into new directions and experiences.
We have experienced many firsts throughout these years, like the first steps in our professional careers when we walked across the stage for our White Coats. The first time you wore that white coat to compounding lab you probably thought, "How will I ever know as much as these teaching assistants in two years?" Then, before you know it, the time arrives when you become that TA or P3 intern and are expected to be that mentor to the underclassmen.
The first time you did a blood sugar finger stick on a patient at a Kroger Wellness and they didn't say "ouch"; the first time you gave a patient (or a very nervous fellow-student) a flu shot, and they promised they didn't feel anything; the first time a family member called you for drug advice; how about your first manual blood pressure reading on a real patient, or the first time you accomplished eight final exams in one week and then felt the need to do it again next semester? Then there was first time you rounded without your preceptor and the attending physician, not just the resident, asked for recommendation and expected a prompt answer without hesitation.
Don't get us wrong, there were also moments that didn't make you feel like you just smashed an entire bottle of Gavilyte: the first time we got together P1 year and bonded as a class. The presumed first time you played with coloring books between classes during Pharmacy Recess. The first time you attended the Mr. PharmD Pageant and laughed uncontrollably at your classmates.  The first time you wore that bright orange Dubin's-inspired WenckeblockeRxs class t-shirt.
It has been said that hindsight is always 20-20. Looking back, it's easy to remember or see how things could have gone differently, but what about the road that lies ahead? What will you be doing two, five, or even 20 years from now?  We will all be faced with many new challenges and many new first experiences: the first prescription you verify on your license, the first time you call a doctor to make a change and they expect a recommendation, your first time on call as a resident, or when a pressing ethical dilemma forces you to make the decision that isn't black or white. For the soon to be P3s: that next big exam, working out your ideal APPE schedule, or your first day of rotations.  Remember, those jitters that you feel are only a reminder that you care. Never mistake that feeling for fear.
J.R.R. Tolkien said it best when he wrote, "Faithless is he that says farewell when the road darkens."  Fear keeps us in our comfort zone and holds us back from what we can fully achieve. Looking back on these four, six or however many years, I'm sure that we can all identify the times that we have missed our mark, but we can also look upon the great memories we have made.  Whatever the case, remember that our pasts do not define us; they only shape the person we can be.  In the end, we challenge you to not forget what is gone behind you, but also to never fear what lies on the road ahead.
---
Monday, May 5th, 2014
Each year, the valedictorians of the B.S. in Pharmaceutical Sciences and Doctor of Pharmacy graduating classes are invited to speak at commencement. Please enjoy excerpts of the speech given by Ellen Dzierzak, BSPS '14.
Some of my earliest memories involve being in the swimming pool. I remember the "swimmies" my parents placed around my arms so I wouldn't sink. They always worked and made me comfortable enough to be in the pool as a child. So that's where I grew up – in the pool. My passion grew for the sport of swimming watching Amanda Beard and Michael Phelps swim in the 2004 Olympics.
Just like I got hooked on swimming, we all became interested in pharmacy in different ways. Mine began when a representative from the College of Pharmacy and Pharmaceutical Sciences came to explain the field to my high school chemistry class.
At the beginning of our freshman year, I came to the UT campus enthusiastic to start a new chapter in my life that would involve prescriptions and pools. I learned very quickly that becoming a part of the Toledo swim team was not going to be a dip in the kiddie pool. I was going to have to train harder than I had ever trained before to be capable of competing at the collegiate level.
After training 20 hours a week for five months, there was no better feeling than having all my hard work pay off by winning a Mid-American Conference swimming title.
The same way beginning to practice with the college swim team tested my passion for swimming, there have been a lot of things that have challenged our interest in the pharmaceutical field. Whether it was the pre-pharmacy course load, taking the organic chemistry standardized final, studying for Dr. Oyarce's exams, or the duration of P1 school days, we have all faced many academic obstacles that require us to frequently and repeatedly dive into the text books.
With the support of our families, friends, professors, and advisors we have been able to successfully compete in this college by taking challenging courses and exams for the past four years. These supporters have been the catalysts and cheerleaders of our success, and we owe them untold gratitude.
Receiving the Bachelor degree in Pharmaceutical Science is like winning our final championship at one of the best pharmaceutical colleges in America. Coach Murray, our strength and conditioning coach has always said, "It's a great day to be a Rocket!"
But what lies ahead?
All of a sudden, we realize the "swimmies" of our childhood are gone and we sink or swim through our own power.
This is where the prescription comes in.
Sanjay Gupta, neurosurgeon and CNN correspondent and keynote speaker at the University of Michigan's 2012 graduation, offered this sage advice. He said:
You know what makes your heart swift. You know what makes your breath catch your throat. You know what makes your chest tight with anticipation. Go get that!
But what if you don't know what makes your heart swift, your breath catch, your chest tight with anticipation? The discipline of an excellent education at The University of Toledo has helped us identify them. Real life experience will teach us. Educated people know how to pursue that which we don't know. Don't settle for anything less!
Today we have the distinction of joining more than 100,000 UT alumni. Wherever we go – to grad school, a job in our field, a long-anticipated trip – we are beneficiaries of the UT Motto: "Guide to the Present, Moulder of the Future." Let us live up to that wisdom.
---
Sunday, April 27th, 2014
Kyle Rako is the valedictorian for the Doctor of Pharmacy Class of 2014. As an undergraduate, Kyle Rako studied abroad at Universidad de Rey Juan Carlos in Madrid, Spain. A chemistry minor, he graduated summa cum laude with a B.S. in Pharmaceutical Sciences in 2012. After completing his bachelor's degree, Rako participated in an executive pharmacy internship with Target Pharmacy.
His honors and awards include the Walgreens Diversity Scholarship, the Charles Schifman Scholarship, the Dean Schlembach Scholarship, and the Rocket Scholar Award in addition to The University of Toledo President's List and the College of Pharmacy and Pharmaceutical Sciences Dean's List.
Rako conducted pharmacy research at Universidad de Alcalá in Spain. His activities include serving as the director of pharmacy relations for UT CommunityCare Clinic and as a drug information teaching assistant. He also served on a medical mission trip in San Lucas Toliman, Guatemala in 2013. He has also served as president of the Beta Eta Chapter of Rho Chi Society, the pharmacy honor society, SPAN-liaison for American Pharmacists Association – Academy of Student Pharmacists and public relations officer for Student National Pharmaceutical Association in addition to his membership in Student Society of Health-System Pharmacists.
Dr.Rako plans to work in community pharmacy following graduation.
---
Saturday, April 26th, 2014
Ellen Dzierzak earns her Bachelor of Science in Pharmaceutical Sciences degree today and graduates as a Pharmacology/Toxicology major with minors in Biology and Chemistry.  In addition to being on the Dean's and President's Lists, Dzierzak has earned the Sullivan Memorial Scholarship Award, the Rocket Scholar Award Scholarship and the Alpha Beta Omega Scholarship Award.
Dzierzak is captain of The University of Toledo's varsity swim team. She is also actively involved in community and university organizations including Lambda Kappa Sigma and Athletes in Action.
Dzierzak participated in the Medstarz program as an undergraduate and conducted research in the Summer Undergraduate Research Fellowship with the American Society for Pharmacology and Experimental Therapeutics. She also conducted research at the Erasmus Stem Cell Institute at the Erasmus Medical Center in Rotterdam, Netherlands.
Following graduation, Dzierzak will attend graduate school.
---
Friday, June 28th, 2013
The June 2013 issue of Refill, the e-newsletter of The University of Toledo College of Pharmacy and Pharmaceutical Sciences, is now available online.
In this issue:
Planning the Graduate Research Forum by Aparna Raghavan
2013 Valedictorians and Class Data
Humanitarian Award for Dr. Cappelletty
Meet Dr. Julie Murphy
Medication Disposal Education Program
Solutions for Health Disparities
Student Research Presentations: Almaliti and Upadhyay
Upcoming Events
---
Monday, June 10th, 2013
Christina J. Camick is the valedictorian for the B.S. in Pharmaceutical Sciences graduating class. She earned a Bachelor of Science in Medicinal and Biological Chemistry, with minors in Chemistry and Biology. Ms. Camick graduated with college Honors and is also a University of Toledo Presidential Scholar who is on the President's List and the Dean's List. Her Honors thesis is entitled "Determining Calcium Flux in T Cell Subsets." Ms. Camick participated in the Honors College summer experience in Italy in 2010 and presented at the Immunology Conference in 2013. Ms. Camick's leadership and community volunteer activities include tutoring elementary school students in math, serving as a chemistry peer leader, serving as a Pharmacy Orientation peer leader. She was a member of the Presidential Scholarship Committee, the American Association of Pharmaceutical Sciences, and American Red Cross Rockets Club.
Michelle M. Carey is one of two valedictorians for the Doctor of Pharmacy graduating class. In 2011, she earned a B.S. in Pharmaceutical Sciences, summa cum laude, with a minor in Chemistry. Dr. Carey was the college's Student of the Month in March 2013 and has been the recipient of several scholarships, including the Toledo Academy of Pharmacy Scholarship, the Walmart Pharmacy Scholarship, the Gilbert and Janiece Siegel Scholarship, the Dean Bess Emch Memorial Scholarship, the Tower Excellence Scholarship, the Local 55 Ironworkers' Scholarship, and the Jeannine Biabak Scholarship from St. Vincent Mercy Medical Center. Dr. Carey was also selected as the American Pharmacists Association-Academy of Student Pharmacists Chapter Member of the Year in 2012. She has served as a Pharmaceutics teaching assistant, a math tutor and a Pharmacy Orientation teaching assistant. Dr. Carey served as vice president of the American Pharmacists Association-Academy of Student Pharmacists following a term as treasurer for the organization. She was also a member of The Rho Chi Society, Pharmacy Ambassadors, the Interprofessional Organization of Healthcare Students, Rx Real Life, and Phi Eta Sigma Honors Fraternity.
After commencement, Dr. Carey will complete a residency W.W. Knight Family Medicine Center in Toledo, Ohio.
Julie K. Miller is one of two valedictorians for the Doctor of Pharmacy graduating class. Dr. Miller graduated summa cum laude from The University of Toledo in 2011 with a Bachelor of Science in Pharmaceutical Sciences degree. She is the recipient of the Medco Health Solutions Pharmacy Scholarship, the Chamberlain Scholarship, the Schlembach Alumni Scholarship, the Larwood Memorial Scholarship and the Tower Excellence Scholarship, in addition to remaining on the Dean's List and President's List.
Dr. Miller has served as vice president of Rho Chi Pharmacy Honor Society and is a member of American Pharmacists Association and American Society of Health-System Pharmacists. She was also a teaching assistant in the Professional Practice Development lab.
Following graduation, Dr. Miller will complete a PGY1 Residency at Harper University Hospital in Detroit, Michigan.
---
Wednesday, June 5th, 2013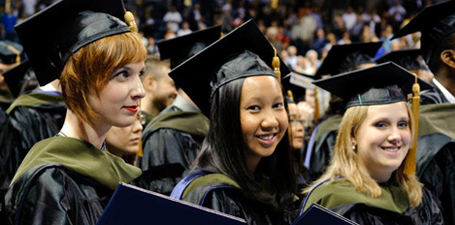 The Spring Commencement Exercises for the College of Pharmacy and Pharmaceutical Sciences were held on Saturday, May 4, 2013 at the John F. Savage Arena.
This event allowed the college to celebrate the graduation of a new class of pharmacists and pharmaceutical scientists. The college awarded 104 Doctor of Pharmacy degrees, 15 master's degrees, and 164 baccalaureate degrees.
Among the 164 baccalaureate degrees recipients, a majority graduated with honors. Seventeen graduated summa cum laude, 53 graduated magna cum laude, and 51 graduated cum laude.
---
Friday, May 13th, 2011
All throughout pharmacy school, I waited for a class or perhaps a semester when I would know that I was ready to take care of patients and make clinical decisions. It seemed simple: after suffering the basics and surviving all of the modules, I would be all set to practice pharmacy effectively and assertively. Unfortunately, this moment never came. Yes, I could select the appropriate answer on a multiple-choice exam, and when presented with a patient case, I could sift through the PAGE of organized subjective and objective evidence, identify problems, and create reasonable treatment plans.  Despite the ability to "cure" these one-page cases, I still felt like something was missing.  There was still so much I did not know; so much I still had to look up, so much I required our professors to point out! How could I possibly be ready to go work with actual patients? I wondered when the moment would come where I would no longer feel like a student.
Rotations brought me face to face with my self-doubt and clinical insecurities.  Ready or not, I became the pharmacist for the team. In the beginning, I said little, afraid that my limited experience would do more harm than help.  Each day, I would jot down the problems that I identified, but I would always seek confirmation of my recommendations from my preceptor.  It is this lack of trust in our knowledge and judgment that holds us back from becoming clinicians.  One preceptor finally called me out: "this is your team," he told me one day after rounds. "You make the plans. I am here to intervene only if you might do harm. Otherwise, I am not here to make your decisions or provide you with answers." It was blunt, but this comment and independence motivated me and forced me to take control.  I had my successes –choosing insulin regimens to bring Mr. Smith's sugars down from 300; recognizing the gaps in antibiotic coverage when a patient worsened; in fact, I was the renal dose and DVT prophylaxis queen.  But not every day was so encouraging – there were many instances when I did not know an answer, days when my recommendations were shot down, and unfortunately, days when my interventions were unsuccessful or wrong.  Interestingly, sometimes these moments are when we learn the most.  I will never forget the answers to questions I was unprepared for on rounds.
Eventually, I discovered that there is not one defining moment where everything comes together and we will know everything there is to know about pharmacy.  Instead, becoming a clinician is a slow transition involving acceptance of the privilege of taking care patients, faith in ourselves and our abilities, and a commitment to life-long learning. Our education here provided us with all the necessary tools to be successful pharmacists.  It is now up to us to utilize these tools to supplement what we may not know.  In the end, we will always be learning. Being motivated and dedicated enough to continue this process is what will ultimately allow us to effectively treat our patients.
Dr. Wasco is one of five PharmD valedictorians from the 2011 graduating class. Read more about the other valedictorians
---