Archive for June, 2019
Wednesday, June 26th, 2019
---
Wednesday, June 26th, 2019
---
Wednesday, June 26th, 2019
"…….the heat wave is expected to peak by Thursday afternoon, where temperatures can reach more than 96 degrees Fahrenheit and rise above 104 degrees throughout most of the continent...…"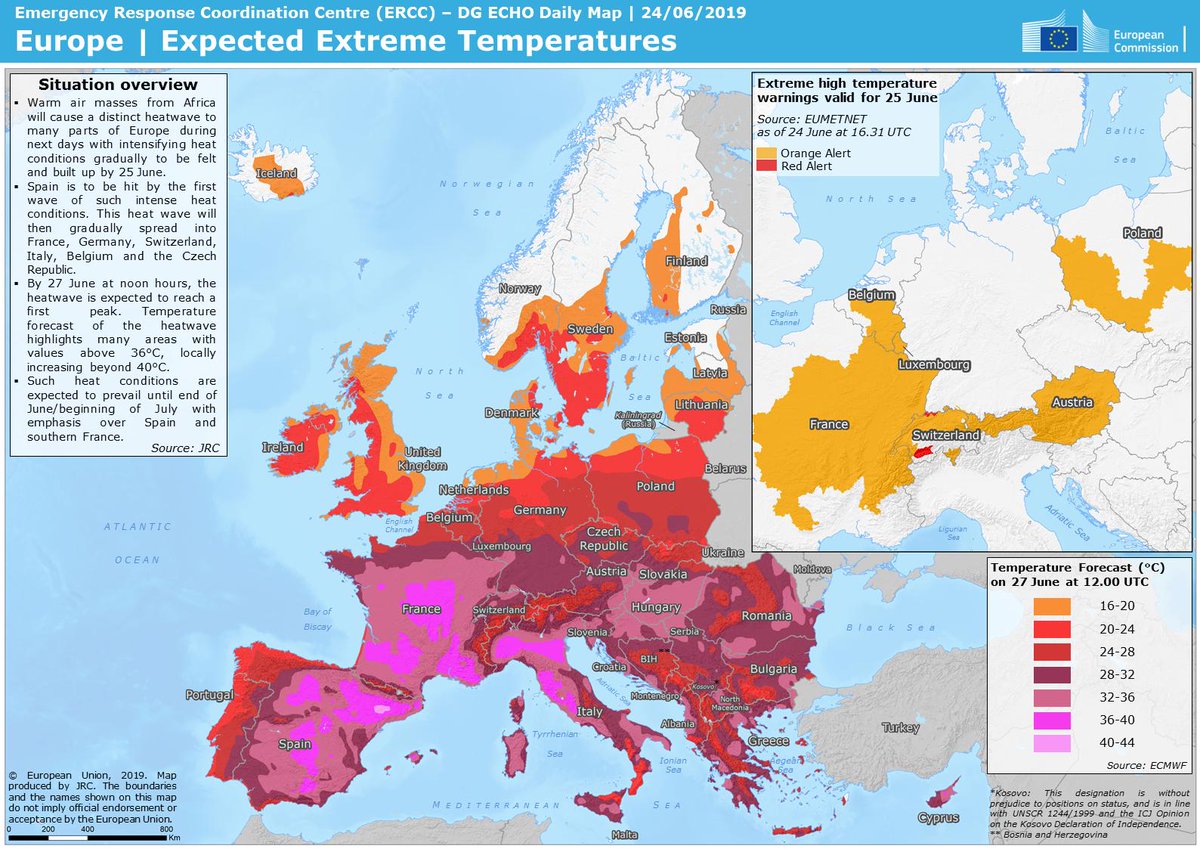 ---
Wednesday, June 26th, 2019
Prepare a disaster kit for your pet(s) with these items. Ask your veterinarian for help putting it together.
Documents
Photocopied veterinary records

Rabies certificate
Vaccinations
Medical summary
Prescriptions for medications
Most recent heartworm test result (dogs)
Most recent FeLV/FIV test result (cats)

Photocopied registration information (ex: proof of ownership or adoption records)
Pet description(s) (ex: breed, sex, color, weight)
Recent photographs of each of your pets
Waterproof container for documents
Microchip information (ex: microchip number, name and number of the microchip company)
Your contact information (phone numbers and addresses for your family and friends or relatives you may be staying with)
Water, Food, Medications
2-week supply of food for each animal stored in waterproof containers
2-week supply of water for each animal
Non-spill food and water dishes
Manual can opener
Feeding instructions for each animal
2-week supply of any medications (if applicable)
Medication instructions (if applicable)
1-month supply of flea, tick, and heartworm preventative
Other Supplies
Leash, collar with ID, and harness
Litter and litterbox (cats)
Toys
Appropriate-sized pet carrier with bedding, blanket, or towel
Pet first aid book and first aid kit
Cleaning supplies for accidents (paper towels, plastic bags, disinfectant)
Resources
---
Wednesday, June 26th, 2019
Posted on June 24, 2019 by Casey Barton Behravesh, MS, DVM, DrPH, DACVPM, Director, One Health Office, National Center for Emerging and Zoonotic Infectious Diseases
Your pet is family. Their safety and wellbeing is a priority for you every day, but have you thought about what you would do with your pet in an emergency?
Many people don't think about being prepared until an emergency is at their doorstep. When disaster strikes, they may choose to ignore evacuation orders because they don't know what to do with their pets. Try to imagine having to make the decision to leave your pet behind during a flood, fire, hurricane, or other emergency—this was a reality for many pet owners during recent emergencies including hurricanes Florence and Michael, the California wildfires, and the eruption of Hawaii's Kīlauea volcano in 2018.
Although you can never completely control what will happen during an emergency, you can take steps to be as prepared as possible for advance-notice disasters, like hurricanes, and no-notice emergencies, like house fires. By taking some easy actions now, you can avoid having to make difficult and dangerous decisions during an emergency.
Get your pet microchipped. It is relatively inexpensive to have a veterinarian implant a microchip that contains the owner's contact information. Owners can be located if a shelter or veterinary clinic scans the chip. Finding a lost pet that hasn't be microchipped can be extremely difficult and many times impossible. If your pet is already microchipped, make sure the registration info is up-to-date so you can be contacted if your pet is found.
Prepare a disaster kit for your pet ahead of time, along with your family's personal needs. Include everything your pet will need, from food and prescriptions to leashes and bedding. Although this may mean purchasing twice as much stuff, it will be faster and easier to gather your pet's items if you have them all together and ready for an emergency.
Collect and protect your pet's veterinary records, rabies vaccination certificates, microchip information, and any prescriptions. Make sure items are stored with your important paperwork in waterproof containers. And don't forget the most basic, but important, information—your contact information and a photo of your pet; preferably one of you with your pet as further proof of ownership.
Visit CDC's Healthy Pets, Healthy People website for a detailed checklist of items to include in your pet's emergency kit.
Plan where your pet will stay in case you need to evacuate. Pets are often not allowed in evacuation centers unless they are service animals. You can ask out-of-town friends or relatives about keeping your pet in an emergency ahead of time, or you can check a website that lists pet-friendly hotels (com or tripswithpets.com) so you have some locations ready to book.Locate veterinary clinics and boarding facilities in areas where you plan to evacuate just in case you need to temporarily house your pet. You can also contact your local emergency management office to ask if they offer accommodations for owners and pets during a disaster.

Use a buddy system with friends, family, and neighbors in case you're not home during an emergency. Have a trusted person you can call to check on pets and evacuate them if necessary. Having a kit ready to go will make it easier for them if you aren't there.

Practice evacuating or sheltering in place with your pet. This will help familiarize your pet with the process so when the time comes, it won't be scary for them. Training pets to be in their carriers can make them more comfortable and reduce the stress of getting everyone out safely. Know exactly how and where you will place your pet's carrier and supplies in a vehicle.

For sheltering in place, pick a room with few or no windows, no toxic chemicals or plants, and make sure to close off small areas where frightened pets could get stuck. Include your pet in your family's plan—everyone should know who will grab the pet(s), supplies, and where you will meet during an emergency.

Learn more about preparing your pet for emergencies on CDC's Healthy Pets, Healthy People website.
---
Tuesday, June 25th, 2019
Health Events: Epi-week 25, 2019   م2019  ﻌﻟﺎم 25 ثاﺪﺣأ اﻷﺳﺒﻮع اﻟﻮﺑﺎﺋﻲ
Date  ﺦﻳرﺎﺘﻟا
Event#  ﻢﻗر ثﺪﺤﻟا
Description
اﻟﻮﺻﻒ
20/06/2019 19-1931
MERS from Madinah City: a 70-year-old male in Madinah city, Madinah region Contact with camels:  Yes Case classification: Primary Current status: Active
ﻣ ﺔﻣزﻼﺘ قﺮﺸﻟا ﻂﺳوﻷا ﺔﻴﺴﻔﻨﺘﻟا ﻦﻣ ﺔﻨﻳﺪﻣ اﻟﻤﺪﻳﺔﻨ اﻟﻤﻨﻮرة:    ﻣﻨﻄﻘﺔ ، ﻋﺎ ًﻣﺎ ﻦﻣ ﺔﻨﻳﺪﻣ اﻟﻤﺪﻳﻨﺔ اﻟ ةرﻮﻨﻤ 70 ﻞﺟر ﺒﻳﻎﻠ اﻟﻤﺪﻳﻨﺔ اﻟﻤﻨﻮرة ﺔﻄﻟﺎﺨﻣ ﻞﺑﻺﻟ :ﻢﻌﻧ ﻒﻴﻨﺼﺗ ﺔﻟﺎﺤﻟا :ﺔﻴﻟوأ ﺔﻟﺎﺣ اﻟﻤﺮﻳﺾ :ﺔﻄﺸﻧ
22/06/2019 19-1932

MERS from AlRass City: a 42-year-old male in AlRass city, Qassim region Contact with camels:  Yes Case classification: Primary Current status: Active
ﻣ ﺔﻣزﻼﺘ قﺮﺸﻟا ﻂﺳوﻷا ﺔﻴﺴﻔﻨﺘﻟا ﻦﻣ ﺔﻨﻳﺪﻣ ﻟاسﺮ:    ﻣﻨﻄﻘﺔ اﻟﻘﺼﻴﻢ ، ﻋﺎ ًﻣﺎ ﻦﻣ ﺔﻨﻳﺪﻣ اﻟﺮس 42 ﻞﺟر ﺒﻳﻎﻠ ﺔﻄﻟﺎﺨﻣ ﻞﺑﻺﻟ :ﻢﻌﻧ ﻒﻴﻨﺼﺗ ﺔﻟﺎﺤﻟا :ﺔﻴﻟوأ ﺔﻟﺎﺣ اﻟﻤﺮﻳﺾ :ﺔﻄﺸﻧ
---
Tuesday, June 25th, 2019
"…..For the period of June 11 to June 21, 2019, where three methanol poisoning clusters reported to the National Crisis Preparedness and Response Center (CPRC).
The incidents involved 19 cases….."
---
Tuesday, June 25th, 2019
CDC/PHIL
---