Archive for the 'Zika virus' Category
Friday, January 19th, 2018
Zika Virus in Salivary Glands of Five Different Species of Wild-Caught Mosquitoes from Mexico
Scientific Reports 8, Article number: 809 (2018)
doi:10.1038/s41598-017-18682-3
"…..The authors conclude, "To the best of our knowledge this is the first report that shows the presence of ZIKV [Zika virus] in the salivary glands of wild-caught female mosquitoes Cx. coronator, Cx. tarsalis, and Ae. vexans, as well as and in Ae. aegypti and Cx. quinquefasciatus, which have already been reported as potential vectors for ZIKV.…."
---
Friday, December 15th, 2017
"……The study, the first to comprehensively assess some of the oldest Zika babies in Brazil, focused on 15 of the most disabled children born with abnormally small heads, a condition called microcephaly. At about 22 months old, these children had the cognitive and physical development of babies younger than 6 months. They could not sit up or chew, and they had virtually no language….."
---
Thursday, November 9th, 2017
 For Release:  November 7, 2017
On November 3, 2017, EPA registered a new mosquito biopesticide – ZAP Males® – that can reduce local populations of the type of mosquito (Aedes albopictus, or Asian Tiger Mosquitoes) that can spread numerous diseases of significant human health concern, including the Zika virus.
ZAP Males® are live male mosquitoes that are infected with the ZAP strain, a particular strain of the Wolbachia bacterium. Infected males mate with females, which then produce offspring that do not survive. (Male mosquitoes do not bite people.) With continued releases of the ZAP Males®, local Aedes albopictus populations decrease. Wolbachia are naturally occurring bacteria commonly found in most insect species.
This time-limited registration allows MosquitoMate, Inc. to sell the Wolbachia-infected male mosquitoes for five years in the District of Columbia and the following states: California, Connecticut, Delaware, Illinois, Indiana, Kentucky, Massachusetts, Maine, Maryland, Missouri, New Hampshire, New Jersey, Nevada, New York, Ohio, Pennsylvania, Rhode Island, Tennessee, Vermont, and West Virginia. Before the ZAP Males® can be used in each of those jurisdictions, it must be registered in the state or district.
When the five-year time limit ends, the registration will expire unless the registrant requests further action from EPA.
EPA's risk assessments, along with the pesticide labeling, EPA's response to public comments on the Notice of Receipt, and the proposed registration decision, can be found on www.regulations.gov under docket number EPA-HQ-OPP-2016-0205.
---
Wednesday, October 25th, 2017
Advice for Providers Treating Patients in or Recently Returned from Hurricane-Affected Areas, Including Puerto Rico and US Virgin Islands
Distributed via the CDC Health Alert Network
October 24, 2017, 1330 ET (1:30 PM ET)
CDCHAN-00408
Summary
The Centers for Disease Control and Prevention (CDC) is working with federal, state, territorial, and local agencies and global health partners in response to recent hurricanes. CDC is aware of media reports and anecdotal accounts of various infectious diseases in hurricane-affected areas, including Puerto Rico and the US Virgin Islands (USVI). Because of compromised drinking water and decreased access to safe water, food, and shelter, the conditions for outbreaks of infectious diseases exist.
The purpose of this HAN advisory is to remind clinicians assessing patients currently in or recently returned from hurricane-affected areas to be vigilant in looking for certain infectious diseases, including leptospirosis, dengue, hepatitis A, typhoid fever, vibriosis, and influenza. Additionally, this Advisory provides guidance to state and territorial health departments on enhanced disease reporting.
Background
Hurricanes Irma and Maria made landfall in Puerto Rico and USVI in September 2017, causing widespread flooding and devastation. Natural hazards associated with the storms continue to affect many areas. Infectious disease outbreaks of diarrheal and respiratory illnesses can occur when access to safe water and sewage systems are disrupted and personal hygiene is difficult to maintain. Additionally, vector borne diseases can occur due to increased mosquito breeding in standing water; both Puerto Rico and USVI are at risk for outbreaks of dengue, Zika, and chikungunya.
Health care providers and public health practitioners should be aware that post-hurricane environmental conditions may pose an increased risk for the spread of infectious diseases among patients in or recently returned from hurricane-affected areas; including leptospirosis, dengue, hepatitis A, typhoid fever, vibriosis, and influenza. The period of heightened risk may last through March 2018, based on current predictions of full restoration of power and safe water systems in Puerto Rico and USVI.
In addition, providers in health care facilities that have experienced water damage or contaminated water systems should be aware of the potential for increased risk of infections in those facilities due to invasive fungi, nontuberculous Mycobacterium species, Legionella species, and other Gram-negative bacteria associated with water (e.g., Pseudomonas), especially among critically ill or immunocompromised patients.
Cholera has not occurred in Puerto Rico or USVI in many decades and is not expected to occur post-hurricane.
Recommendations
These recommendations apply to healthcare providers treating patients in Puerto Rico and USVI, as well as those treating patients in the continental US who recently traveled in hurricane-affected areas (e.g., within the past 4 weeks), during the period of September 2017 – March 2018.
Health care providers and public health practitioners in hurricane-affected areas should look for community and healthcare-associated infectious diseases.
Health care providers in the continental US are encouraged to ask patients about recent travel (e.g., within the past 4 weeks) to hurricane-affected areas.
All healthcare providers should consider less common infectious disease etiologies in patients presenting with evidence of acute respiratory illness, gastroenteritis, renal or hepatic failure, wound infection, or other febrile illness. Some particularly important infectious diseases to consider include leptospirosis, dengue, hepatitis A, typhoid fever, vibriosis, and influenza.
In the context of limited laboratory resources in hurricane-affected areas, health care providers should contact their territorial or state health department if they need assistance with ordering specific diagnostic tests.
For certain conditions, such as leptospirosis, empiric therapy should be considered pending results of diagnostic tests— treatment for leptospirosis is most effective when initiated early in the disease process. Providers can contact their territorial or state health department or CDC for consultation.
Local health care providers are strongly encouraged to report patients for whom there is a high level of suspicion for leptospirosis, dengue, hepatitis A, typhoid, and vibriosis to their local health authorities, while awaiting laboratory confirmation.
Confirmed cases of leptospirosis, dengue, hepatitis A, typhoid fever, and vibriosis should be immediately reported to the territorial or state health department to facilitate public health investigation and, as appropriate, mitigate the risk of local transmission. While some of these conditions are not listed as reportable conditions in all states, they are conditions of public health importance and should be reported.
For More Information
---
Friday, September 8th, 2017
"…..The website, ProMED mail, has carried more than a dozen such reports since June, all involving mosquito species known to transmit human diseases.
Most reports have concerned the United States, where, for example, Aedes aegypti — the yellow fever mosquito, which also spreads Zika, dengue and chikungunya — has been turning up in counties in California and Nevada where it had never, or only rarely, been seen.
Other reports have noted mosquito species found for the first time on certain South Pacific islands, or in parts of Europe where harsh winters previously kept them at bay….."
---
Monday, August 21st, 2017
"…..A new article published by JAMA Neurology reports on a study of hospitalized adult patients with new-onset neurologic syndromes who were evaluated for Zika virus infection.
The single-center study of 40 patients, include 29 with Guillain-Barré syndrome (GBS), seven with encephalitis, three with transverse myelitis and one with newly diagnosed chronic inflammatory demyelinating polyneuropathy.
Of those 40 patients, 35 (88 percent) had evidence of recent Zika virus infection in the serum (blood) or cerebrospinal fluid, according to the results. Of the patients who were positive for Zika virus infection, 27 had GBS, five had encephalitis, two had transverse myelitis and one had chronic inflammatory demyelinating polyneuropathy, according to the results….."
---
Wednesday, July 19th, 2017
"A new test is the best-to-date in differentiating Zika virus infections from infections caused by similar viruses. The antibody-based assay, developed by researchers at UC Berkeley and Humabs BioMed, a private biotechnology company, is a simple, cost-effective way to determine if a person's infection is from the Zika virus or another virus of the same family, such as dengue and West Nile viruses…."
"…..This study demonstrates that the antibody-based assay we developed and implemented in five countries has high specificity and sensitivity in the detection of recent and past ZIKV infections. The ZIKV nonstructural protein 1 (NS1) blockade-of-binding ELISA assay is a simple, robust, and low-cost solution for Zika surveillance programs, seroprevalence studies, and intervention trials in flavivirus-endemic areas…."
---
Wednesday, June 14th, 2017
Leal MC, van der Linden V, Bezerra TP, de Valois L, Borges ACG, Antunes MMC, et al. Characteristics of dysphagia in infants with microcephaly caused by congenital Zika virus infection, Brazil, 2015. Emerg Infect Dis. 2017 Aug [date cited]. https://doi.org/10.3201/eid2308.170354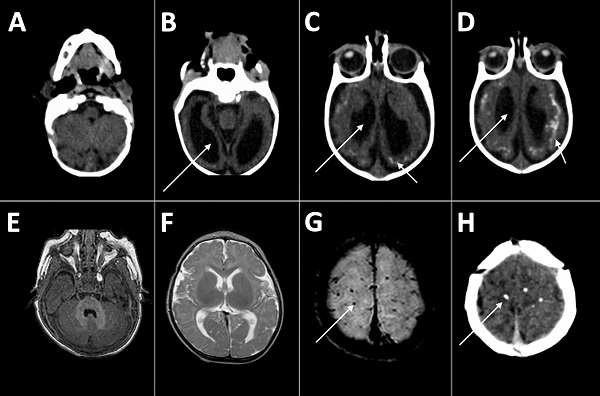 Computed tomography radiographs of the brains of 2 infants with dysphagia and microcephaly caused by congenital Zika virus infection, Brazil, 2015. A–D) Images for patient 4 show malformation of cortical development, ventriculomegaly (long arrows), and calcifications in cortical and subcortical white matter in transition between cortex and white matter (short arrows). E–H) Images for patient 6 show no malformation of cortical development or ventriculomegaly, but calcifications are visible in the cortical area (arrows).
---