December 11th, 2018
"…..Elizabeth Lecron was obsessed with the idea of carrying out mass murder. She was arrested Saturday after she purchased black powder and screws for making a bomb. She told an undercover agent she wanted to target a Toledo bar, and also discussed bombing a pipeline or attacking a farm…..21-year-old Damon Joseph, who investigators believe was radicalized by ISIS online, [allegedly] planned to target two Toledo area synagogues……."
"Protecting the United States from terrorist attacks is the FBI's number one priority. The Bureau employs a variety of disciplines and works closely with a range of partners to neutralize terrorist cells and operatives here in the U.S., help dismantle extremist networks worldwide, and cut off financing and other forms of support provided to foreign terrorist organizations by terrorist sympathizers. In particular, the FBI-led Joint Terrorism Task Forces (JTTFs) across the country are essential to the nation's success in combatting terrorism. These JTTFs bring federal, state, and local agencies together on one team, allowing members to leverage one another's skills, authorities, and accesses to prevent and disrupt terrorist attacks across the country. The JTTFs also build relationships between the community and law enforcement on the front line, which is particularly important to combatting terrorism."
---
December 11th, 2018
SITUATION ÉPIDÉMIOLOGIQUE DANS LES PROVINCES DU NORD-KIVU ET DE L'ITURI
Lundi 10 décembre 2018
La situation épidémiologique de la Maladie à Virus Ebola en date du 9 décembre 2018 :
Depuis le début de l'épidémie, le cumul des cas est de 498, dont 450 confirmés et 48 probables. Au total, il y a eu 285 décès (237 confirmés et 48 probables) et 167 personnes guéries.
73 cas suspects en cours d'investigation.
4 nouveaux cas confirmés, dont 3 à Katwa et 1 à Vuhovi.
2 nouveaux décès de cas confirmés (tous des décès communautaires), dont 1 à Katwa et 1 à Vuhovi.
2 nouvelles personnes guéries, dont 1 sortie du CTE de Beni et 1 du CTE de Butembo.
---
December 10th, 2018
Lanza murdered 20 children, six educators at Sandy Hook Elementary on 12/14/2012 
His list had 17 categories, including number of victims and what happened to killer 
It went all the way back to 1786 and ended with Derrick Bird's 2010 massacre 
Sandy Hook Elementary School Shooting
---
December 10th, 2018
---
December 10th, 2018
Elizabeth A Van Dyne, Paige Neaterour, Aidsa Rivera, Melissa Bello-Pagan, Laura Adams, Jorge Munoz-Jordan, Priscilla Baez, Myriam Garcia, Stephen H Waterman, Nimia Reyes, Lisa C Richardson, Brenda Rivera-Garcia, Tyler M Sharp; Incidence and Outcome of Severe and Non-severe Thrombocytopenia Associated with Zika Virus Infection — Puerto Rico, 2016, Open Forum Infectious Diseases, , ofy325, https://doi.org/10.1093/ofid/ofy325
"…..Of 37,878 patients with ZIKV infection, 47 (0.1%) had thrombocytopenia in the absence of an alternative etiology (1.4 cases/100,000 population), including 12 with severe thrombocytopenia. Most patients with thrombocytopenia were adult (77%) and male (53%). Platelet nadir occurred a median of six (range: 1–16) and five (range: 0–34) days after symptom onset for patients with severe and non-severe thrombocytopenia, respectively. Among patients with severe thrombocytopenia, all had bleeding, 33% were admitted to the ICU, and 8% died; 50% were treated for ITP. Among five patients with severe thrombocytopenia who received intravenous immunoglobulin, median platelet count increase was 112 X 10 9/L (range: 65–202 X 10 9/L). In contrast, among four patients who received platelet transfusion, median increase in platelet count was 8.5 X 10 9/L (range: -6–52 x 10 9/L)……"
---
December 9th, 2018
Outbreak Investigation of Nipah Virus Disease in Kerala, India, 2018
"…..Results:  During 2–29 May 2018, 23 cases were identified, including the index case; 18 were laboratory confirmed. The lineage of the NiV responsible for this outbreak was closer to the Bangladesh lineage. The median age of cases was 45 years; the sex of 15 (65%) was male. The median incubation period was 9.5 days (range, 6–14 days). Of the 23 cases, 20 (87%) had respiratory symptoms. The case-fatality rate was 91%; 2 cases survived. Risk factors for infection included close proximity (ie, touching, feeding, or nursing a NiV-infected person), enabling exposure to droplet infection. The public health response included isolation of cases, contact tracing, and enforcement of hospital infection control practices.
Conclusion:  This is the first recorded NiV outbreak in South India….."
"Nipah virus (NiV) is a member of the family Paramyxoviridae, genus Henipavirus. NiV was initially isolated and identified in 1999 during an outbreak of encephalitis and respiratory illness among pig farmers and people with close contact with pigs in Malaysia and Singapore. Its name originated from Sungai Nipah, a village in the Malaysian Peninsula where pig farmers became ill with encephalitis. Given the relatedness of NiV to Hendra virus, bat species were quickly singled out for investigation and flying foxes of the genus Pteropus were subsequently identified as the reservoir for NiV…."
Transmission
Transmission of Nipah virus to humans may occur after direct contact with infected bats, infected pigs, or from other NiV infected people.
In Malaysia and Singapore, humans were apparently infected with Nipah virus only through close contact with infected pigs. The NiV strain identified in this outbreak appeared to have been transmitted initially from bats to pigs, with subsequent spread within pig populations. Incidental human infections resulted after exposure to infected pigs. No occurrence of person-to-person transmission was reported in this outbreak.
Conversely, person-to-person transmission of Nipah virus in Bangladesh and India is regularly reported. This is most commonly seen in the family and caregivers of Nipah virus-infected patients. Transmission also occurs from direct exposure to infected bats. A common example is consumption of raw date palm sap contaminated with infectious bat excretions.
Signs and Symptoms
During the Nipah virus disease outbreak in 1998-99, 265 patients were infected with the virus. About 40% of those patients who entered hospitals with serious nervous disease died from the illness.
Long-term sequelae following Nipah virus infection have been noted, including persistent convulsions and personality changes.
Latent infections with subsequent reactivation of Nipah virus and death have also been reported months and even years after exposure.
Treatment
Treatment is limited to supportive care. Because Nipah virus encephalitis can be transmitted person-to-person, standard infection control practices and proper barrier nursing techniques are important in preventing hospital-acquired infections (nosocomial transmission).
The drug ribavirin has been shown to be effective against the viruses in vitro, but human investigations to date have been inconclusive and the clinical usefulness of ribavirin remains uncertain.
Passive immunization using a human monoclonal antibody targeting the Nipah G glycoprotein has been evaluated in the post-exposure therapy in the ferret model and found to be of benefit.
---
December 8th, 2018
The theater's iron fire curtain was not lowered
Available water hoses were not used immediately.
The stage managers panicked and shut off the gas totally, cutting off light in the theater.
The balconies became clogged as the exits jammed.
A fire brigade brought ladders, but they were too short to reach even the first balcony.
Some people jumped from the balconies, not only killing themselves but also crushing people on the ground floor.
---
December 8th, 2018
Case Report
Front. Public Health, 19 November 2018 |
First Case of Tularemia Reported in Portugal: Probably of Imported Origin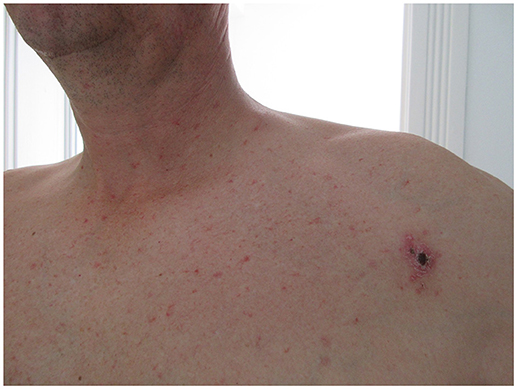 "……A previously healthy 47-years-old male developed abruptly malaise, high fever (40°C) and chills only 3 days after walking and sleeping in the countryside of the island of Bornholm (Denmark) during summer season. He also reported profuse night sweats, a small left infraclavicular non-painful cutaneous lesion. The patient did not report outdoor activities in the month before and did not recall any tick bite. Three days later the fever vanished and he was first observed in a hospital in Berlin. He was prescribed with amoxicillin/clavulanate 875mg/125mg twice-a-day for 7 days.
On the 15th day of disease, he was observed in Portugal because of ongoing malaise. During the observation he did not complain of respiratory symptoms nor headache.
He presented a non-pruritic macular erythematous rash of the trunk, a non-painful left infraclavicular cutaneous lesion covered with a black crust suggestive of a skin eschar and multiple small painless, non-adherent cervical, and axillar lymphadenopathies……"
---