Archive for the 'Events' Category
Tuesday, December 20th, 2016
UT Online is offering a series of faculty development workshops and online certificate courses for faculty and teaching assistants who are new to teaching online, as well as those with previous online experience.
Register for one or more sessions on the following topics:
Applying the Quality Matters Rubric (APPQMR) – Online
Applying the Quality Matters Rubric (APPQMR) – Face-to-Face/Whole Day
Customizing the Appearance of Your Course
Online Teaching Certificate
Improving Your Online Course (IYOC) – NEW!
Information Literacy Modules Workshop
If you have any questions, please contact UT Online at UTLV@utoledo.edu or (419) 530-8835.
Class size is limited. Register early.
---
Wednesday, September 28th, 2016
Date: September 30, 2016
Time: 9:30am – 11:00 am
Location: Rocket Hall Room 1530
Presented by: Matthew Pellish of the Education Advisory Board (EAB)
Hosted by: UT Online
---
About the Session:
Most are saying that yesterday's hottest trend, the MOOC, is no longer in vogue. But now higher education has turned its attention to the next potential disruption: competency-based education (CBE). As with MOOCs, the hope is the CBE will lower costs, increase access, and improve outcomes – and the fear is that those who don't adopt it will lose relevance and market share if new programs scale quickly. Higher education leaders are asking how fast and how far their institutions should venture into CBE. This presentation clarifies predominant myths about CBE, identifies lessons learned by early practitioners, and discusses what criteria to consider when deciding whether to launch CBE or another type of personalized learning program.
In this session, members will learn:
Industry standard definitions for competency-based education and prior learning assessment
Common misconceptions about competency-based education
Recent trends in personalized learning
Specific costs and risks that must be incorporated into new program implementation plans
About the Presenter: Matthew Pellish is the Senior Director of Strategic Research and Education and a national meeting speaker with the Education Advisory Board (EAB). In this capacity, he is responsible for the creation and delivery of strategic and custom research on such industry-spanning topics as higher education business models, online efficiency and effectiveness engagements, career services, social media and marketing, campus IT services, and the future of academic libraries.
---
Thursday, June 30th, 2016
Live Streaming Online: July 12th – 14th
BbWorld Live is comprised of single-day tracks focused on teaching, learning, and the school-to-home connection with sessions offered for K-12, Higher Education, or Corporate & Government Training.
The Higher Education sessions on July 14th will include:
11:30AM ET
Rocket session: great teaching in a world of connected students
Multiple presenters
Love a TED talk? Who doesn't! We took that format and supercharged it. Introducing rocket sessions: 7-minute sessions that pack a punch. Not sure what to expect? You won't be disappointed in these seven rocket sessions. Topics include:
Engaging your students via text message
Integrating video into your courses
Social presence in online learning
12:35PM ET
Superheros collaborate! Teaching virtual teamwork
Graceful Beam and Sharon Wilson
Georgia Northwestern Technical College
A once-feared online capstone class has been transformed into an epic adventure for students at Georgia Northwestern Technical College. Buckle up for an exciting ride with Graceful Beam and Sharon Wilson as they highlight how they used online collaboration tools to revamp a course that was once dreaded by all, and is now a student favorite.
1:30PM ET
KEYNOTE
Dr. Howard Gardner
Harvard Graduate School of Education
Dr. Gardner is best known in educational circles for his theory of multiple intelligences. However, he's a man with many hats. He's authored over 30 books and received honorary degrees from over 30 institutions in recognition of his work's impact on education. He's been named one of the 100 most influential public intellectuals in the world. Join us for this rare, online keynote address just for faculty.
*Note: Can't make all of the other sessions? Simply register for the KEYNOTE session only!
2:30PM ET
A week-long faculty institute drives big results
Michelle Dames
Austin Community College
Austin Community College developed a week-long faculty institute centered around instructional design. The program mirrored the focus of the Blackboard Exemplary Course Rubric's four key elements: course design, interaction & collaboration, assessment, and learner support. Tune in as Michelle Dames outlines the design of the institute, shares resources, lessons learned, and results of a self-efficacy survey.
3:00PM ET
The top 10 things you didn't know you could do in Blackboard Learn
Tammy Jolley
Blackboard
Your job is to deliver great teaching for your students. Our job is to make sure that you have access to the best tools for your classroom. In this session (included by popular demand) Tammy uses her 19 years of experience in education to highlight the most exciting capabilities of Blackboard Learn, our flagship LMS, that you can start using today.
3:30PM ET
Building (attr) active courses: A session on instructional design
Tim Boon
University of Leuven
Engaging students in online courses can be quite challenging. Good-looking and well-structured courses help students stay motivated. By embedding web 2.0 tools (Google Drive, Prezi, Padlet, …) and using just a tiny bit of coding you can make your Blackboard courses stunning and a lot more interactive. Tim Boon will show you how.
4:00PM ET
A response to the challenge of digital accessibility
Harriette Spiegel
University of Tennesse, Martin
What does it mean to create "accessible course documents"? At colleges and universities, we're all seeing a strong emphasis on ADA compliance, which has taken on new meaning as online courses and digital content become the norm. In this interactive session, accessibility expert Harriette Spiegel will walk through the step-by-step protocol for creating accessible content and discuss recent trends in accessibility.
4:30PM ET
Featured speaker: making sense of the new world of digital credentialing
Carla Casilli
Badging + Credentials expert
More than five years have passed since the inception of the open badges experiment, and in that time the concept of digital badges has moved steadily into the general consciousness. As this idea evolves, so do its many opportunities and challenges. Part technology and part conceptual approach, the digitization of representations of learning now includes wide-ranging considerations such as competency-based education and e-portfolios, as well as professional development. This presentation will explore the evolving dimensions of this work.
Join online for FREE!
Register by Midnight on July 1 for a chance to win an iPad.
---
Friday, April 1st, 2016
UT Online at The University of Toledo is proud to host
The Fourth Ohio Quality Matters Consortium 
Annual Member Meeting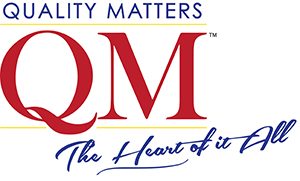 Thursday, May 12, 2016
The University of Toledo (Main Campus)
Student Union Ingman Room
8:30 AM to 3:30 PM (EDT)
The Fourth Ohio Quality Matters (QM) Consortium Annual Member Meeting will include hands-on sessions and opportunities to network with colleagues and peers from around the state. Topics include QM related research, QM related faculty development initiatives, meeting general review standards, competency-based education, and more.
This meeting is free to Ohio QM Consortium members, including UT faculty.
To learn more about the event and register, visit our online registration form.
---
Tuesday, January 19th, 2016
Save the Date! UT Online is proud to host the 4th Ohio Quality Matters (QM) Consortium's Annual Member Meeting on Thursday, May 12, 2016. The Annual Member Meeting will be a day of hands-on information sessions focusing on Quality Matters initiatives. There will also be time and opportunities for networking with your peers from around the state. This meeting is free to consortium members. Breakfast and lunch are included in the day's activities.
---
Friday, November 6th, 2015

Respondus, Inc. is offering a series of free webinars on Respondus LockDown Browser and Monitor.  Respondus LockDown Browser® is a custom browser that locks down the testing environment within Blackboard. Respondus Monitor® is a companion product for LockDown Browser that enables institutions to protect the integrity of non-proctored, online exams. Now is the perfect time to attend a session and prepare for the spring and summer terms.
To register, visit www.respondus.com/webinars. Each 45-minute webinar provides a live demo, as well tips that will help faculty to get started with these applications right away:
Introduction to LockDown Browser & Respondus Monitor
This introductory webinar provides an overview of two applications: Respondus Monitor and LockDown Browser. It is intended for anyone interested in learning how to protect the integrity of online exams, in both proctored and non-proctored settings. The session is 45 minutes, plus a Q&A period at the end.
Tuesday, November 10 at 4 pm EST
Instructor Training for LockDown Browser & Respondus Monitor: Prevent Cheating During Online Exams
This comprehensive training webinar is intended for instructors who plan to use LockDown Browser and/or Respondus Monitor with online exams. The session is 45 minutes, plus a Q&A period at the end.
Tuesday, November 17th at 1 pm EST
Tuesday, December 8th at 3 PM EST
To schedule a one-to-one consultation, please contact email utlv@utoledo.edu or call 419-530-8835.
---
Thursday, October 29th, 2015
Quality Matters (QM) celebrates National Distance Learning Week (November 9-13, 2015) with a focus on Accessibility. Hear from QM subscribers as they describe how they trained staff members to implement accessibility standards in their online courses, overcame resistance to these implementations, and how they were able to increase the accessibility of their online courses and programs. Register for one or all four free webinars led by QM subscribers who have taken the accessibility journey.
Beyond Standard 8: Universal Design and QM
Monday, November 9, 2015
Beginning at 10 AM EST
How We Overcame the Challenges of Implementing Standard 8
Tuesday, November 10, 2015
Beginning at 2 PM EST
Incorporating Accessibility Standards in Course Design and Materials
Thursday, November 12, 2015
Beginning at 2 PM EST
Feeding Many Birds With One Piece of Bread: Process and Impact of Providing Accessible Multimedia Course Materials
Friday, November 13, 2015
Beginning at 2 PM EST
Space is limited. Register now.
---
Monday, October 26th, 2015
Can't make it to San Antonio for Quality Matter's (QM) 7th Annual Conference? You can still get your next big idea, collaborate, and discover valuable research and tools on improving learner engagement. Register for FREE webcasting of select sessions. QM is making eight sessions available through live streaming from the conference. "Seating" is limited so consider having a viewing party with your colleagues. Register today!
Monday, November 2 Presentations:
Keynote Panel: Becoming Competent in CBE: What is it and What is Driving this Growing Movement?
10:30 a.m. to noon ET
Put on Your Cultural Glasses and Jump! Transforming Regular Assignments into Active Learning Experience
12:30 to 12:55 p.m. ET
Spicing It Up! Quality Course Design for the Digital Age
2:30 to 3:20 p.m. ET
Making Sense of the Competency-Based Education Learning Management Systems Landscape
4:35 to 5:25 p.m. ET
Going Beyond Course Design: Implementing Online Delivery Standards
5:35 to 6:00 p.m. ET
Tuesday, November 3 Presentations:
It's All In the Design — The Importance of Making Courses Legally Accessible
10:15 to 11:05 a.m. ET
Our Sneaky QM Implementation: Moving Past Posting Their Syllabus Online
2:45 to 3:10 p.m. ET
Creating the Perfect Module
3:20 to 4:10 p.m. ET
---
Wednesday, September 2nd, 2015
The month of September is Accessibility Month at WCET (WICHE Cooperative for Educational Technologies). To recognize the importance of accessibility, WCET is offering several blogs and free webcasts on accessibility issues and Best Practices:
Free 60 Minute Webcasts:
WCET's Frontier's Blog will also feature several blogs on accessibility:
Jarret Cummings, Director of Policy and External Relations, EDUCAUSE, will write a post about the new accessibility legislation that he is working on with the National Federation for the Blind.
Howard Kramer, Professional Research Assistant, University of Colorado Boulder, will blog about the why's of accessibility.
To learn more, visit WCET's website.
---
Friday, August 28th, 2015
Learning Ventures is offering a series of FREE online faculty development workshops, technology training sessions, and certificate courses this fall. All faculty and teaching assistants, with or without previous online teaching experience, are invited to attend.
Space is limited. Register now at:
Learning Ventures Workshop Registration Form
Accessibility
Accessible PDF Documents
Accessible Word and PowerPoint Basics
ADA Compliance and Online Courses**
Creating Accessible Blackboard Courses
Blackboard Learn
Blackboard Learn: Basics I
Blackboard Learn: Basics II
Blackboard Learn: Creating Tests, Assignments, and Surveys
Blackboard Learn: Managing Student Grades Using the Grade Center
Blackboard Learn: Importing Tests and Surveys Using Respondus
Instructional Design and Best Practices
Alignment 101
Applying the Quality Matters Rubric**
Blogs and Journals for Reflective Learning
Customizing the Appearance of Your Course
Designing an Online Module
Designing Your Course Structure
Getting Learners Started
Introduction to Blended Learning
Introduction to Online Teaching and Learning
Managing the Online Workload
Online Discussions
Online Teaching Certificate**
Promoting Online Instructor Presence
Rubrics
Using Video for Effective Online Learning
Wikis for Collaborative Learning
Writing Measurable Learning Objectives
Web Conferencing, Video, and Lecture Capture
Blackboard Collaborate (Web Conferencing) – Basics
Blackboard Collaborate (Web Conferencing) – Intermediate
Echo360 (Lecture Capture)
** Sessions marked with an asterisk are part of the Pathway to Master Online Instructor Program.
If you are not able to attend one of the workshops or certificate courses above, please email utlv@utoledo.edu to schedule a one-on-one or group consultation with an educational technologist or instructional designer.
If you have any questions, or encounter a problem with your registration, please contact Learning Ventures at utlv@utoledo.edu or 419-530-8835.
---