Posts Tagged 'Events'
Tuesday, December 20th, 2016
UT Online is offering a series of faculty development workshops and online certificate courses for faculty and teaching assistants who are new to teaching online, as well as those with previous online experience.
Register for one or more sessions on the following topics:
Applying the Quality Matters Rubric (APPQMR) – Online
Applying the Quality Matters Rubric (APPQMR) – Face-to-Face/Whole Day
Customizing the Appearance of Your Course
Online Teaching Certificate
Improving Your Online Course (IYOC) – NEW!
Information Literacy Modules Workshop
If you have any questions, please contact UT Online at UTLV@utoledo.edu or (419) 530-8835.
Class size is limited. Register early.
---
Friday, November 4th, 2016

In celebration of National Distance Learning Week (November 7-11, 2016), the Online Learning Consortium (OLC) invites you to explore resources that will help sharpen your skills and knowledge, along with some great tools to help enhance online programs.
To learn more, visit National Distance Learning Week 2016.
| | |
| --- | --- |
| Day | Topic |
| Monday | Focus on Learning Analytics |
| Tuesday | Focus on Digital Learning |
| Wednesday | Focus on OLC Conferences |
| Thursday | Focus on Community Colleges |
| Friday | Focus on Open Educational Resources (OER) |
| Beyond NDLW | Focus on Instructional Design & Digital Learning and Leadership Research |
---
Friday, April 1st, 2016
UT Online at The University of Toledo is proud to host
The Fourth Ohio Quality Matters Consortium 
Annual Member Meeting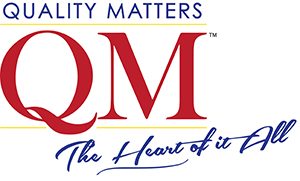 Thursday, May 12, 2016
The University of Toledo (Main Campus)
Student Union Ingman Room
8:30 AM to 3:30 PM (EDT)
The Fourth Ohio Quality Matters (QM) Consortium Annual Member Meeting will include hands-on sessions and opportunities to network with colleagues and peers from around the state. Topics include QM related research, QM related faculty development initiatives, meeting general review standards, competency-based education, and more.
This meeting is free to Ohio QM Consortium members, including UT faculty.
To learn more about the event and register, visit our online registration form.
---
Tuesday, January 19th, 2016
Save the Date! UT Online is proud to host the 4th Ohio Quality Matters (QM) Consortium's Annual Member Meeting on Thursday, May 12, 2016. The Annual Member Meeting will be a day of hands-on information sessions focusing on Quality Matters initiatives. There will also be time and opportunities for networking with your peers from around the state. This meeting is free to consortium members. Breakfast and lunch are included in the day's activities.
---
Friday, November 6th, 2015

Respondus, Inc. is offering a series of free webinars on Respondus LockDown Browser and Monitor.  Respondus LockDown Browser® is a custom browser that locks down the testing environment within Blackboard. Respondus Monitor® is a companion product for LockDown Browser that enables institutions to protect the integrity of non-proctored, online exams. Now is the perfect time to attend a session and prepare for the spring and summer terms.
To register, visit www.respondus.com/webinars. Each 45-minute webinar provides a live demo, as well tips that will help faculty to get started with these applications right away:
Introduction to LockDown Browser & Respondus Monitor
This introductory webinar provides an overview of two applications: Respondus Monitor and LockDown Browser. It is intended for anyone interested in learning how to protect the integrity of online exams, in both proctored and non-proctored settings. The session is 45 minutes, plus a Q&A period at the end.
Tuesday, November 10 at 4 pm EST
Instructor Training for LockDown Browser & Respondus Monitor: Prevent Cheating During Online Exams
This comprehensive training webinar is intended for instructors who plan to use LockDown Browser and/or Respondus Monitor with online exams. The session is 45 minutes, plus a Q&A period at the end.
Tuesday, November 17th at 1 pm EST
Tuesday, December 8th at 3 PM EST
To schedule a one-to-one consultation, please contact email utlv@utoledo.edu or call 419-530-8835.
---
Thursday, October 29th, 2015
Quality Matters (QM) celebrates National Distance Learning Week (November 9-13, 2015) with a focus on Accessibility. Hear from QM subscribers as they describe how they trained staff members to implement accessibility standards in their online courses, overcame resistance to these implementations, and how they were able to increase the accessibility of their online courses and programs. Register for one or all four free webinars led by QM subscribers who have taken the accessibility journey.
Beyond Standard 8: Universal Design and QM
Monday, November 9, 2015
Beginning at 10 AM EST
How We Overcame the Challenges of Implementing Standard 8
Tuesday, November 10, 2015
Beginning at 2 PM EST
Incorporating Accessibility Standards in Course Design and Materials
Thursday, November 12, 2015
Beginning at 2 PM EST
Feeding Many Birds With One Piece of Bread: Process and Impact of Providing Accessible Multimedia Course Materials
Friday, November 13, 2015
Beginning at 2 PM EST
Space is limited. Register now.
---
Monday, October 26th, 2015
Can't make it to San Antonio for Quality Matter's (QM) 7th Annual Conference? You can still get your next big idea, collaborate, and discover valuable research and tools on improving learner engagement. Register for FREE webcasting of select sessions. QM is making eight sessions available through live streaming from the conference. "Seating" is limited so consider having a viewing party with your colleagues. Register today!
Monday, November 2 Presentations:
Keynote Panel: Becoming Competent in CBE: What is it and What is Driving this Growing Movement?
10:30 a.m. to noon ET
Put on Your Cultural Glasses and Jump! Transforming Regular Assignments into Active Learning Experience
12:30 to 12:55 p.m. ET
Spicing It Up! Quality Course Design for the Digital Age
2:30 to 3:20 p.m. ET
Making Sense of the Competency-Based Education Learning Management Systems Landscape
4:35 to 5:25 p.m. ET
Going Beyond Course Design: Implementing Online Delivery Standards
5:35 to 6:00 p.m. ET
Tuesday, November 3 Presentations:
It's All In the Design — The Importance of Making Courses Legally Accessible
10:15 to 11:05 a.m. ET
Our Sneaky QM Implementation: Moving Past Posting Their Syllabus Online
2:45 to 3:10 p.m. ET
Creating the Perfect Module
3:20 to 4:10 p.m. ET
---
Friday, August 28th, 2015
Learning Ventures is offering a series of FREE online faculty development workshops, technology training sessions, and certificate courses this fall. All faculty and teaching assistants, with or without previous online teaching experience, are invited to attend.
Space is limited. Register now at:
Learning Ventures Workshop Registration Form
Accessibility
Accessible PDF Documents
Accessible Word and PowerPoint Basics
ADA Compliance and Online Courses**
Creating Accessible Blackboard Courses
Blackboard Learn
Blackboard Learn: Basics I
Blackboard Learn: Basics II
Blackboard Learn: Creating Tests, Assignments, and Surveys
Blackboard Learn: Managing Student Grades Using the Grade Center
Blackboard Learn: Importing Tests and Surveys Using Respondus
Instructional Design and Best Practices
Alignment 101
Applying the Quality Matters Rubric**
Blogs and Journals for Reflective Learning
Customizing the Appearance of Your Course
Designing an Online Module
Designing Your Course Structure
Getting Learners Started
Introduction to Blended Learning
Introduction to Online Teaching and Learning
Managing the Online Workload
Online Discussions
Online Teaching Certificate**
Promoting Online Instructor Presence
Rubrics
Using Video for Effective Online Learning
Wikis for Collaborative Learning
Writing Measurable Learning Objectives
Web Conferencing, Video, and Lecture Capture
Blackboard Collaborate (Web Conferencing) – Basics
Blackboard Collaborate (Web Conferencing) – Intermediate
Echo360 (Lecture Capture)
** Sessions marked with an asterisk are part of the Pathway to Master Online Instructor Program.
If you are not able to attend one of the workshops or certificate courses above, please email utlv@utoledo.edu to schedule a one-on-one or group consultation with an educational technologist or instructional designer.
If you have any questions, or encounter a problem with your registration, please contact Learning Ventures at utlv@utoledo.edu or 419-530-8835.
---
Wednesday, September 4th, 2013
The Blackboard Innovative Teaching Series (BITS) is a free weekly webinar series designed to help support and mentor faculty using Blackboard Learn. Harnessing its community of Blackboard users, BITS will share the top strategies and pedagogy for both increasing educator efficiency and improving learning outcomes. The program consists of weekly faculty training webinars that are taught by faculty and supported by Blackboard experts.
To register for one or more of the following sessions, visit:
http://www.blackboard.com/Platforms/Learn/Resources/Webinars/Events.aspx?categoryType=BITS
Accessibility Matters! – Part Two
A Systematic Approach to Creating Accessible Video Content for Online Courses
BITS Office Hours: Course Design
Blackboard in the Flipped Classroom
Incorporating Gamification Into Your Curriculum
Maximize Engagement & Extend the Learning Experience with Social Learning
Organizing Your Course in Blackboard Learn
Setting Up Your Course in Blackboard Learn Without a Template
Strategies for Providing Effective Feedback to Students
Supporting the Seven Principles with Blackboard Learn
The Online Collaborative Experience
---
Wednesday, July 17th, 2013
Using the Blackboard Exemplary Course (ECP) Rubric as a guide, Blackboard's Exemplary Course Cohort will provide theoretical concepts and practical tools for instructors to recognize, organize, and build online courses for both blended and online learners. Over the course of four weeks, ECP Directors and 2013 Exemplary Course Winners will expand upon each element of the rubric. This program is most beneficial to educators and designers who are new to online learning.
The cohort will not have weekly assignments, and there is no cost to participate. Live sessions will be held each Monday at 11 AM EDT and will run from July 22 until August 12. All sessions will be recorded and posted online.
To register and learn more, visit: http://learn.blackboard.com/ecpcohort
---