Archive for March, 2022
Friday, March 18th, 2022
---
Thursday, March 17th, 2022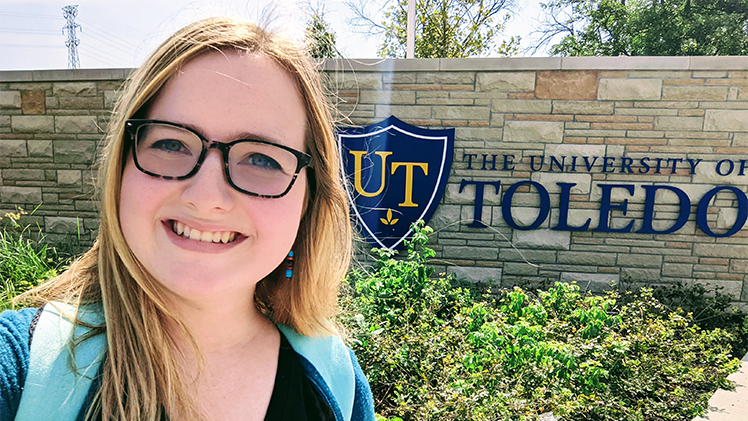 Madison Spears, a senior studying early childhood education at The University of Toledo, has spent many summers helping youngsters foster their love of scouting at Camp Miakonda in Toledo. Now, she does it all year long through the virtual Cub Scout pack she leads.  For more information click here.
---
Wednesday, March 9th, 2022
Dr. Kevin Gannon, the author of the viral blog post and subsequent book, Radical Hope: A Teaching Manifesto, gave a series of two workshops on themes very relevant to our campus efforts to improve teaching and learning and support the student experience.
This session explores the ways in which we can make the learning environments we create more transparent, and thus more equitable and successful as well. By examining research on student belonging and transparent teaching methods, we'll consider strategies that we can easily implement into our teaching to help our students see explicitly what is all too often only hinted at implicitly. We'll also ask ourselves how these transparent methods might inform the larger culture and practices at our institution, and what the implications are for equity and student success.
This session explores what it means to do the work of teaching and learning from a place of hope, even and especially in the difficult times in which we find ourselves. What does it mean to embody a pedagogy of hope in conditions that have made our work–and the work of our students–so difficult? How do we avoid cynicism and detachment without weakening our opposition to the things that are negatively affecting us and our institutions? In short–what gives meaning to our work of teaching and learning? A Pedagogy of Hope, based in practice instead of empty slogans, offers a compelling way forward for those of us committed to higher education as we know it can be at its best.
---
Wednesday, March 9th, 2022
---
Tuesday, March 8th, 2022
Recently aired on WGTE, Rocket Talk focused on the current teacher shortage, and the preparation of teachers. Guests on this episode are from the Judith Herb College of Education.
Most school-aged children are back in class after semesters of virtual or hybrid learning due to the pandemic. But some people didn't return. Assistant Professor of Science Education, Dr. Natasha Hillsman Johnson, and chair of the Department of Educational Studies, Dr. Edward Janak, discuss the nation-wide teacher shortage.
Click below to view the episode:
---
Thursday, March 3rd, 2022
United with Ukraine
Date: Thursday, March 3
Time: 5:30 p.m.
Location: Thompson Student Union Auditorium
Free "United with Ukraine" T-shirts will be given out to first 200 students.
The Toledo Helps Ukraine rally starts at 5:30 p.m. in the Thompson Student Union Auditorium. Attendees, who are encouraged to make signs, will then march to the Law Center.
Svetlana Beltyukova, PhD, is a Professor in Research and Measurement at the

Judith Herb College of Education

. Her passion and expertise are in the development of meaningful assessments and measurement of perceptions. Some of her most prominent projects include development of a measure of passenger experience for Boeing Commercial Airplanes and development of measures of perceptions of NATO in Asia-Pacific countries and perceptions of EU in Israel and Ukraine.
My name is Alona Matchenko and I am a business owner, a resident of northwest Ohio, a student at the University of Toledo College of Law, and a native of Ukraine. I am married to Jesse Smith and we have a four year old daughter named Jasmine. My husband and I own a residential care business in Perrysburg.

I earned a bachelors in education and two masters degrees in Ukraine and was a primary school teacher in Kyiv for six years before coming to the United States in 2016, fleeing the revolution in Ukraine. I am a 2L at the College of Law with a desire to work in government.

Currently my entire extended family including Mother, Step father and two minor siblings remain under fire in Ukraine. I will continue to actively engage with the Toledo community to build support and aid for Ukraine.
Professor Natalia Chaban focuses her interdisciplinary research on political and media discourses, image and perceptions studies within the EU and IR contexts, and public diplomacy and political communication. She is a twice awarded Jean Monnet Chair, President of Ukrainian Studies Association of Australia and New Zealand, co-editor of the peer-reviewed "Australian and New Zealand Journal of European Studies" and leader of a number of transnational research projects supported by the European Commission and NATO.
My name is Tetyana Fedorova-McGowan, I was born and raised in Lviv, Ukraine. I moved to the US in 2008. I am married to Brandon McGowan and we have two beautiful children, Valentine, 10 and Petra, 7. Currently I am Vascular Sonography student at Owens Community College.

In Ukraine I received bachelor's and master's degree in Apllied Linguistic and shortly after graduation I moved to USA. My parents and grandparents still live in Ukraine. Before the pandemic my family and I traveled to Ukraine. It was our first time going all together. It

was one of the best experiences for my husband, kids and of course me.

Russian aggression against Ukraine is very heartbreaking. We are here far away from home and our families feeling hopeless, but we are doing our best to spread the word, build support and aid Ukraine
---