Archive for the 'Uncategorized' Category
Monday, October 30th, 2023
Dr. Mark Templin, a professor of science education in the Judith Herb College of Education, talks about how COVID-related online learning cost students hands-on learning experience.
---
Friday, October 27th, 2023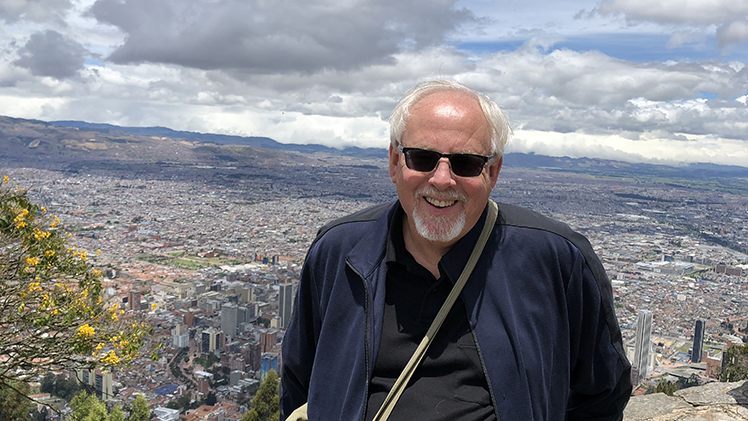 Dr. Dale Snauwaert, a professor in the Department of Educational Studies, wrote his eight book titled "Teaching Peace as a Matter of Justice: Toward a Pedagogy of Moral Reasoning."  His goal for the book is to inform both the theory and practice of moral reasoning concerning matters of justice.
Read more here https://news.utoledo.edu/index.php/10_27_2023/a-new-book-by-educational-studies-professor-makes-international-impact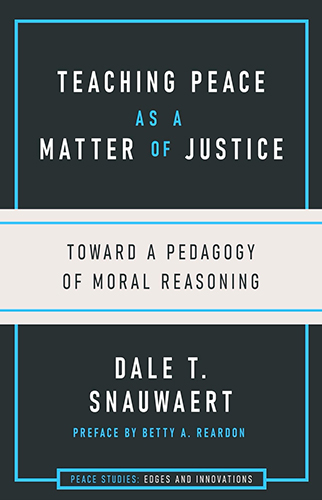 ---
Wednesday, October 18th, 2023
Dr. J. Lee Johnson joined the Distinguished Leader Dialogue Series of the UT Higher Education Program (https://mailchi.mp/rockets/september-2023-newsletter) on October 17 to share his academic and professional experiences and achievements with the higher education community. Dr. Johnson is the Judith Herb College of Education Distinguished Alumnus of the Year (2023) and an alumnus of the PhD Higher Education program ('99). Some of his professional achievements include his positions as the senior vice president and treasurer at Siena Heights University, a peer reviewer and team chair for the Higher Learning Commission (HLC), and a board member of the UT Alumni Association and the UT Foundation. Dr. Johnson and his wife are the namesakes for the "Dr. J. Lee and Dr. Deborah A. Johnson Scholarship" that supports graduate students in higher education.
---
Monday, October 16th, 2023
Danielle Robinson, a middle childhood education student in the Judith Herb College of Education, poses with a rainbow flag in a photo shoot as part of UToledo's celebration of LGBTQA and History Month.  The theme of the celebration was "Loving Your Queerness; Coming Out Day".
---
Monday, October 9th, 2023
Dr. Katherine Delaney, Professor in the Judith Herb College of Education, helps secure the foundation for children across the state with a new project funded by $1.15 million from the Ohio Department of Education's Office of Whole Child Supports.
For details click here.
---
Monday, October 9th, 2023
Jenna Pittman is a history and education major who is scheduled to graduate in May.  She has studied in Lueneburg, Germany from May to August 2023 through the US Studies Abroad Consortium at UToledo.
To read more click here.
---
Thursday, September 28th, 2023
Join Us: Behavioral Threat Assessment Seminar with Dr. Lisa Pescara-Kovach
Oct. 17  |  6 p.m.
Join The University of Toledo Judith Herb College of Education and the Health and Human Services Alumni Affiliates for an informative seminar with Dr. Lisa Pescara-Kovach '90, '94, '97, director of UToledo's Center for Education in Mass Violence and Suicide.The seminar will be held Tuesday, Oct. 17 from 6 – 7:30 p.m. in the Thompson Auditorium at the Center for Alumni and Donor Engagement. This seminar is free, but seating is limited. Reservations are requested.

Dr. Pescara-Kovach will speak on recognizing the warning signs that someone is at risk of suicide or targeted violence (e.g., school shootings). She will also share best practices in working to prevent the senseless loss of our youth.

In addition, Rockets are encouraged to support the UToledo Center for Education in Mass Violence and Suicide so Dr. Pescara-Kovach and her team can continue providing resources and education to prevent additional, preventable tragedies.
---
Monday, September 25th, 2023
The Bored Teachers Comedy Tour is the Self-Care Teachers Need in Their Lives Right Now!
More than ever, teachers need an outlet to find kick back and laugh at the trials and tribulations of daily classroom life.
Toledo, OH — For the first time in Toledo, The University of Toledo will bring the biggest
entertainment platform for teachers in the world, to the area at the University of Toledo's
Lancelot Auditorium. Bored Teachers presents the funniest teacher-comedians in the world all on one
stage. Their hilarious skits have amassed hundreds of millions of views on the internet, and
they're all joining comic forces for a night of laughter you do not want to miss on November 19th
2023. With over 5 million followers across social platforms (Instagram, Facebook, TikTok, YouTube)
and+20 million views every month on their viral comedy videos. The tour includes the most hilarious
and well-known teacher comedians in the business with millions of combined followers as well. This
comedy powerhouse is making its way around the country with +120 shows booked so far this year!
Teachers everywhere need the night of laughter and the Bored Teachers Comedy Tour is the perfect
fix. For a complete listing of all tour stops visit the Comedy Tour page.
Show Information:

Sunday November 19 2023 7:30pm
Bored Teachers: We Can't Make This Stuff Up? Comedy Tour Lancelot Auditorium
2965 W Centennial Dr, Toledo, OH 43606
buy tickets at: https://www.tix.com/ticket-sales/rocketevents/7253
ticket prices: $50/$45/$35: Limited VIP meet and greets are available
Tour Media Contact: James Tarantino, (772) 828-0730, james@boredteachers.com
---
Monday, August 28th, 2023
---
Thursday, August 24th, 2023
Periods of unguided play can give students opportunities to discover and invent on their own, and there are ways educators can involve themselves in playtime without interrupting that sense of discovery for students, said Ruslan Slutsky, a professor of teacher education at the University of Toledo's Judith Herb College of Education.  Read more here
---