May 2nd, 2023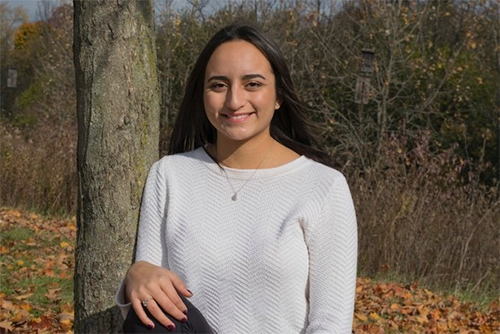 Isabella Garza, an honors student, is graduating with a double major in disability studies and special education.  Isabella has a passion about accessibility and plans to continue her education through the Judith Herb College of Education's Licensure and Master's Program (LAMP) in special education.
Click below for details:
https://news.utoledo.edu/index.php/05_02_2023/teaching-helped-fuel-seniors-passion-for-advocacy
---
March 17th, 2023
Dr. Ruslan Slutzky, professor of early childhood education, talks about how taking an active role in a child's life can motivate them to do better during their education.
For more on the topic click here.
---
March 7th, 2023
Dr. Revathy Kumar was recognized with the faculty honor for her exemplary achievements in teaching, research, scholarship and professional service.
To learn more click on the following link:
https://news.utoledo.edu/index.php/03_06_2023/three-faculty-members-named-distinguished-university-professors-2
---
December 16th, 2022
Mitchell Grilliot expected to graduate from UToledo with a degree in engineering.
After three semesters at the College of Engineering, however, Grilliot, a resident of Perrysburg, realized he didn't enjoy coding at all.
In a quick attempt to find a new career path, he switched into the Judith Herb College of Education, and now he's set to walk across the stage Saturday with a bachelor's degree in early childhood education.
"It was honestly a shot in the dark," Grilliot said. "There were many signs in my mind that I should be a teacher, but I didn't know for sure. I heard students would be put in the classroom really quickly, so I would know pretty soon if teaching wasn't for me."
His college experience immediately turned around with the literal course change; Grilliot said he couldn't get enough of the classroom. It also provided the opportunity for both self-reflection and appreciation of his grandfather and the inspiration he provided.
"I realized his lessons had a silent impact on me as a child and teenager," Grilliot said. "No matter what conversation we were having, he always ended up giving us something to learn from at the end of it. A lot of these life lessons guided me to be a good person.
"After realizing this in college, it gave me the desire to teach others in the same way."
Three semesters into his teaching journey, Grilliot stumbled upon a work-study opportunity called the TaLK (Teach and Learn in Korea) program. Although it has since been shut down, it was created by the Korean Education Department to give students in rural communities in Korea the opportunity to learn English from a native English speaker.
"I began to self-study Korean and I fell in love with it," Grilliot said. "I looked into the food, culture and way of life there and wanted to experience living there for myself."
He applied in the fall of 2019 and after a series of interviews, he received a letter of acceptance, put his college experience on hold and moved to Korea for a year and a half."It was so impactful to my life and my view of the world," Grilliot said. "I was placed in a city named Buan. The school where I taught at that time had a whopping 30 students across grades 1 through 6. I was given a rural, real experience in Korea and it was fantastic."
Grilliot said that he learned a great deal about teaching globally and was able to take what he learned into the classroom in Toledo.
"From my field experiences, one thing I have learned is that rapport really matters," Grilliot said. "Students will always remember a teacher they connected with, and they always learn the most from those teachers."
Reflecting on his own experiences in elementary school, Grilliot said he wishes to be the role model he wanted growing up.
"When I started studying at the College of Education, I realized I only had a couple of teachers who really stuck with me in elementary school," he said. "There are a lot of male students who grow up and don't have this male figure in their daily school lives until middle or even high school."
Dr. Rhonda Aguiton, an assistant lecturer in the Judith Herb College of Education, said that Grilliot brought enthusiasm and insight to the classroom.
"Mitchell came into my courses with an eye into looking at the education system, not just locally but from a global perspective," Aguiton said. "His discussions and thoughts were insightful, and his willingness to share his experiences with his classmates were always teachable moments that were inspiring to the students as well as myself.
"I'm excited to see the teacher that he will evolve into as he teaches a variety of international curricula."
Following graduation, Grilliot is set to move back to Korea, where he will begin a classroom teacher position at a private international school in mid-February.
"I feel like my time there was rather short, especially due to COVID," Grilliot said. "From January to June 2020 I didn't see my students at all. I want more of the experience that got cut short."
---
December 8th, 2022
GREAT NEWS!  Rocket Kids Youth Services is now funded and awarded.  Dr. Sammy Spann, Vice President for Student Affairs, is the PI for this grant.  The 11.5 million dollar grant was awarded to the University of Toledo and the Judith Herb College of Education.  Every student who participates in this program will receive airfare to Europe, housing, room and board, and be positioned in a Child Development Center or summer camp program with over 60 hours of training and certifications (CPR, First Aid, child development).  Each student will receive a living stipend of about $2800 for a 12-week term.  This program will operate year round and will expose UToledo to students from all over the United States.  See below for more details.
---
December 7th, 2022
"The Judith Herb College of Education wants to congratulate the winners of the second annual THInC-3M-Research Competition, a competition that gives JHCOE students an opportunity to showcase their important research and talents for a chance to win money. Here are the winners of this year's competition."
Angelica Johnson, (doctoral student) of Foundations of Education, won first place for her presentation titled, "The Road to a Sense of Belonging for Students of Color at Predominately White Institutions."
Pierrette Dagg, (doctoral candidate) of Social and Philosophical Foundations of Education, won second place for her presentation titled, "Components of an Ethical Framework for Artificial Intelligence in Education."
---