May 11th, 2022
Roseline Nyaboke, who completed her Ph.D. in curriculum and instruction, is hooded by Dr. Rebecca Schneider, professor of science and teacher education and associate dean of graduate studies in the Judith Herb College of Education, during the Graduate Commencement and Doctoral Hooding Ceremony on May 6 in Savage Arena.
---
May 10th, 2022
Congratulations Herb Scholars!
We are pleased to announce that Elle Hurst, Lauren Perry and Katelyn Petrie are the most recent recipients of the Judith Herb Scholarship, the most prestigious scholarship in the college.  The Herb Scholars Program will provide a full academic ride, including tuition, room and board, for each of these students at a projected value of $100,000 dollars.
Elle Hurst will graduate from Toledo School for the Arts and plans to major in Middle Childhood Education.
Lauren Perry will graduate from Lakeside High School and plans to major in Early Childhood Education.
Katelyn Petrie will graduate from Perrysburg High School and plans to major in Early Childhood Education.
Welcome Elle, Lauren and Katelyn and Go Rockets!
---
May 9th, 2022
Two monuments were unveiled on Friday, May 6th.  Seen here is the unveiling of the monument named for the Judith Herb College of Education.
---
May 4th, 2022
Join us for a special occasion on May 6, at 11:00 a.m.  The University of Toledo will unveil a monument at the West Entrance to Gillham Hall that celebrates the generosity of Judith Herb, the namesake of the Judith Herb College of Education.
---
April 26th, 2022
Max Venia's career path led him directly to UToledo, where he could have the most impact as a future educator — just like his mother, a kindergarten teacher.
The full article can be found here: http://news.utoledo.edu/index.php/04_26_2022/education-graduate-relishes-the-importance-of-teaching
---
April 26th, 2022
The Foundation for Child Development is proud to announce the 2022 Promising Scholars. Congratulations to this new cohort!
Promising Scholars were Young Scholars Program applicants who demonstrated exceptional potential to conduct rigorous high-quality implementation research focused on the early care and education workforce. Over the next year, they will receive resources and supports to further refine their research skills and knowledge.
Katherine K. Delaney, Ph.D. 
Associate Professor of Early Childhood Education
Department of Teacher Education
University of Toledo
Research Interest Area: Supporting early childhood educators' professional practices to facilitate access to and utilization of early intervention evaluation and services for children with potential developmental delays and disabilities, and their families
"I am honored to be chosen as a Promising Scholar by the Foundation. This program offers an incredible opportunity to continue to develop my line of research, to build relationships with scholars working in other disciplines, and to gain new skills. I look forward to continuing to develop my research agenda to better understand how to best support diverse populations of early childhood educators, working in varied auspices of care, in the identification and inclusion of young children with developmental needs and/or disabilities. Including the voices, perspectives, and experiences of early childhood educators in the design of professional learning experiences is key to building truly responsive systems of early childhood professional education."
---
March 18th, 2022
---
March 17th, 2022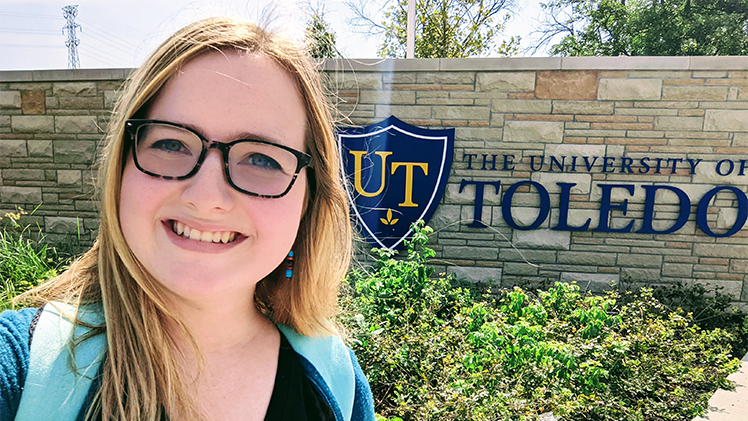 Madison Spears, a senior studying early childhood education at The University of Toledo, has spent many summers helping youngsters foster their love of scouting at Camp Miakonda in Toledo. Now, she does it all year long through the virtual Cub Scout pack she leads.  For more information click here.
---
March 9th, 2022
Dr. Kevin Gannon, the author of the viral blog post and subsequent book, Radical Hope: A Teaching Manifesto, gave a series of two workshops on themes very relevant to our campus efforts to improve teaching and learning and support the student experience.
This session explores the ways in which we can make the learning environments we create more transparent, and thus more equitable and successful as well. By examining research on student belonging and transparent teaching methods, we'll consider strategies that we can easily implement into our teaching to help our students see explicitly what is all too often only hinted at implicitly. We'll also ask ourselves how these transparent methods might inform the larger culture and practices at our institution, and what the implications are for equity and student success.
This session explores what it means to do the work of teaching and learning from a place of hope, even and especially in the difficult times in which we find ourselves. What does it mean to embody a pedagogy of hope in conditions that have made our work–and the work of our students–so difficult? How do we avoid cynicism and detachment without weakening our opposition to the things that are negatively affecting us and our institutions? In short–what gives meaning to our work of teaching and learning? A Pedagogy of Hope, based in practice instead of empty slogans, offers a compelling way forward for those of us committed to higher education as we know it can be at its best.
---