Archive for the 'Anthrax' Category
Wednesday, January 22nd, 2020
| | |
| --- | --- |
| | McLaughlin HP, Bugrysheva JV, Conley AB, Gulvik CA, Cherney B, Kolton CB, et al. Rapid Nanopore Whole-Genome Sequencing for Anthrax Emergency Preparedness. Emerg Infect Dis. 2020;26(2):358-361. https://dx.doi.org/10.3201/eid2602.191351 |
"……as few as 8.5 hours would be required to find evidence of known AMR genes/markers or engineering, including gene insertions and extrachromosomal plasmids from B. anthracis. Although conventional AST remains essential for characterizing functional antimicrobial resistance in B. anthracis, nanopore sequencing provided same-day, on-site genomic characterization useful for an anthrax emergency response.…."
---
Friday, June 14th, 2019
Nicastri Emanuele, Vairo Francesco, Mencarini Paola, Battisti Antonio, Agrati Chiara, Cimini Eleonora, Carrara Stefania, D'Arezzo Silvia, Adone Rosanna, Vulcano Antonella, Iannetta Marco, Capone Alessandro, Petrosillo Nicola, Fasanella Antonio, Ippolito Giuseppe, Italian Anthrax Team members. Unexpected human cases of cutaneous anthrax in Latium region, Italy, August 2017: integrated human–animal investigation of epidemiological, clinical, microbiological and ecological factors. Euro Surveill. 2019;24(24):pii=1800685. https://doi.org/10.2807/1560-7917.ES.2019.24.24.1800685

Case 1
"……The veterinarian had contaminated his left hand with the animal's blood during removal of the disposable gloves. Ten days later, on 29 August, he noticed the appearance of two skin lesions on his left hand. As he was affected by psoriasis, he considered them psoriatic lesions and applied topical steroids, but 24 h later, the lesion on the index finger evolved to a black eschar, surrounded by erythema and oedema……
A man in his 40s looked for medical care at the local Emergency Department in a city 30 km from Rome, on 25 August and 31 August. He presented with several vesicular lesions on his right forearm and was initially treated with topical steroid therapy and parenteral ceftriaxone (1 g/day)…..
[H]is clinical condition deteriorated….
At admission, he was in critical condition, with relevant bilateral oedema of the upper extremity up to the shoulders, associated with ulcerated and necrotising skin lesions covered by black eschars. He revealed to be a farmworker but did not report any contact or exposure to sick animals. He had worked on a horse farm bordering the one where the anthrax epidemic had occurred….."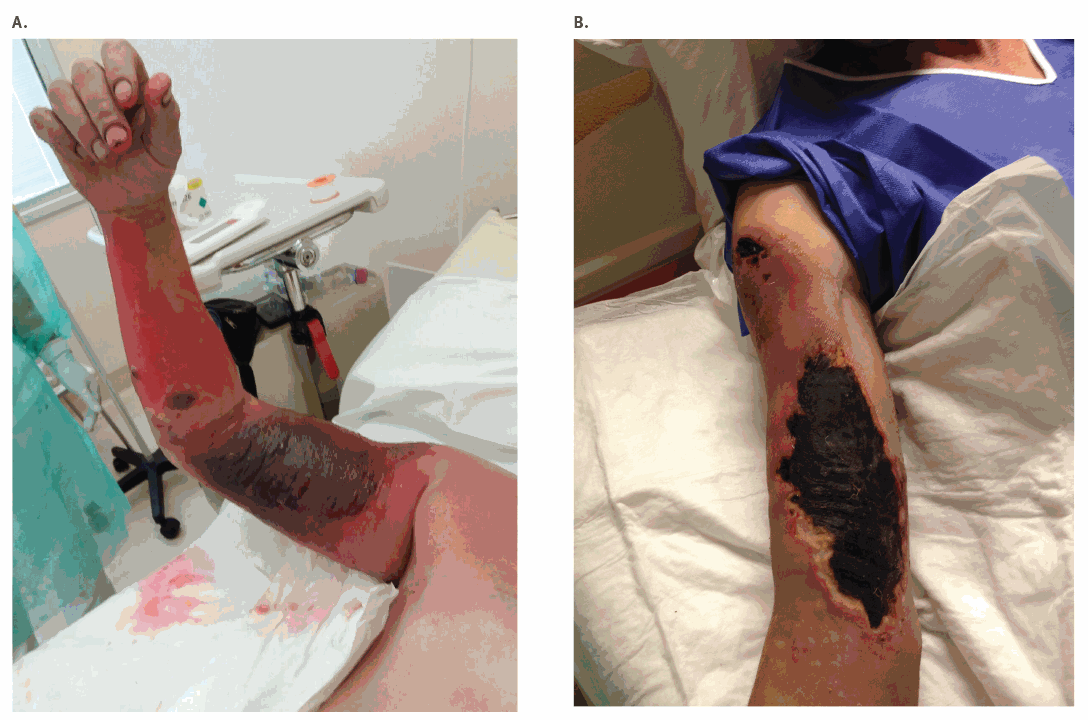 ---
Friday, April 5th, 2019
"….Over the summer of 1942 and 1943, sheep were placed in open pens and then exposed to bombs, dropped from a Vickers Wellington bomber plane, that scattered anthrax spores across the land. The power of anthrax became quickly clear when the sheep started dying after three days with its potential to cause mass destruction summed up in the report of the tests……"
---
Tuesday, April 2nd, 2019
"……workers at the Ekaterinburg weapons plant failed to replace a crucial filter, causing a release of anthrax spores into the outside air. The wind carried the spores to a farming area and infected people and livestock in the area.…."
---
Friday, March 8th, 2019
"……19 letters containing potentially deadly toxins addressed to prominent journalists, politicians and trade unionists, have been intercepted by police at the central Post Office in Tunis and taken for testing.
The National Unit of Investigation for Terrorist Affairs and Organized Crime revealed that the toxic substance was made in Tunisia inside a laboratory.
The Ministry of Interior indicated that it is monitoring the movements of the terrorist cells that plotted the attack, especially that the deadly poison was made with local Tunisian expertise and required huge financial support. ….."
---
Tuesday, March 5th, 2019
"……Twenty public figures were targeted in this horrifying terrorist plot, including 10 prominent politicians, seven journalists and activists in syndicates and human rights, they continued.
Moreover, they said that the terrorist groups have shifted their tactics after security measures against them have limited their activity.
For years, they have relied on armed attacks, but they are now forced to resort to poisoning their victims, said the security agencies….."
---
Thursday, February 14th, 2019
Weir GM, MacDonald LD, Rajagopalan R, et al. Single dose of DPX-rPA,
an enhanced-delivery anthrax vaccine formulation, protects against a
lethal _Bacillus anthracis_ spore inhalation challenge. npj Vaccines,
Abstract
——–
Anthrax is a serious biological threat caused by pulmonary exposure to
aerosolized spores of _Bacillus anthracis_. Biothrax® (anthrax
vaccine adsorbed (AVA)) is the only Food and Drug
Administration-licensed vaccine and requires 5 administrations over 12
months with annual boosting to maintain pre-exposure prophylaxis. Here
we report the evaluation of a single intramuscular injection of
recombinant _B. anthracis_-protective antigen (rPA) formulated in the
DPX delivery platform. Immune responses were compared to an alum-based
formulation in mice and rabbits. Serological analysis of anti-rPA
immunoglobulin G and toxin neutralization activity demonstrated higher
responses induced by DPX-rPA when compared to rPA in alum. DPX-rPA was
compared to AVA in rabbits and non-human primates (NHPs). In both
species, DPX-rPA generated responses after a single immunization,
whereas AVA required two immunizations. In rabbits, single injection
of DPX-rPA or two injections of AVA conferred 100% protection from
anthrax challenge. In NHPs, single-dose DPX-rPA was 100% protective
against challenge, whereas one animal in the 2-dose AVA group and all
saline administered animals succumbed to infection. DPX-rPA was
minimally reactogenic in all species tested. These data indicate that
DPX-rPA may offer improvement over AVA by reducing the doses needed
for protective immune responses and is a promising candidate as a
new-generation anthrax vaccine.
---
Thursday, December 20th, 2018
BioThrax is indicated for active immunization for the prevention of disease caused by Bacillus anthracis, in individuals 18 through 65 years of age, whose occupation or other activities place them at risk of exposure, regardless of the route of exposure.
BioThrax is administered in a three-dose primary schedule (0, 1 and 6 months) with boosters at three-year intervals recommended thereafter.
---
Thursday, December 6th, 2018
The Emergency Use Authorization (EUA) authority allows FDA to help strengthen the nation's public health protections against CBRN threats by facilitating the availability and use of MCMs needed during public health emergencies.
Under section 564 of the Federal Food, Drug, and Cosmetic Act (FD&C Act), the FDA Commissioner may allow unapproved medical products or unapproved uses of approved medical products to be used in an emergency to diagnose, treat, or prevent serious or life-threatening diseases or conditions caused by CBRN threat agents when there are no adequate, approved, and available alternatives.
Section 564 of the FD&C Act was amended by the Project Bioshield Act of 2004 and the Pandemic and All-Hazards Preparedness Reauthorization Act of 2013 (PAHPRA), which was enacted in March 2013
Current EUAs
The tables below provide information on current EUAs:
---
Wednesday, December 5th, 2018
"…..We engineered a virus nanoparticle vaccine using bacteriophage T4 by incorporating key antigens of both
B. anthracis
and
Y. pestis
into one formulation. Two doses of this vaccine provided complete protection against both inhalational anthrax and pneumonic plague in animal models. This dual anthrax-plague vaccine is a strong candidate for stockpiling against a potential bioterror attack involving either one or both of these biothreat agents. Further, our results establish the T4 nanoparticle as a novel platform to develop multivalent vaccines against pathogens of high public health significance……"
---