Archive for the 'Documents' Category
Wednesday, September 25th, 2019
NYT:  "……Earth's oceans are under severe strain from climate change, a major new United Nations report warns, threatening everything from the ability to harvest seafood to the well-being of hundreds of millions of people living along the coasts.
Rising temperatures are contributing to a drop in fish populations in many regions, and oxygen levels in the ocean are declining while acidity levels are on the rise, posing risks to important marine ecosystems, according to the report issued Wednesday by the Intergovernmental Panel on Climate Change, a group of scientists convened by the United Nations to guide world leaders in policymaking.
In addition, warmer ocean waters, when combined with rising sea levels, threaten to fuel ever more powerful tropical cyclones and floods, the report said, further imperiling coastal regions and worsening a phenomenon that is already contributing to storms like Hurricane Harvey, which devastated Houston two years ago……"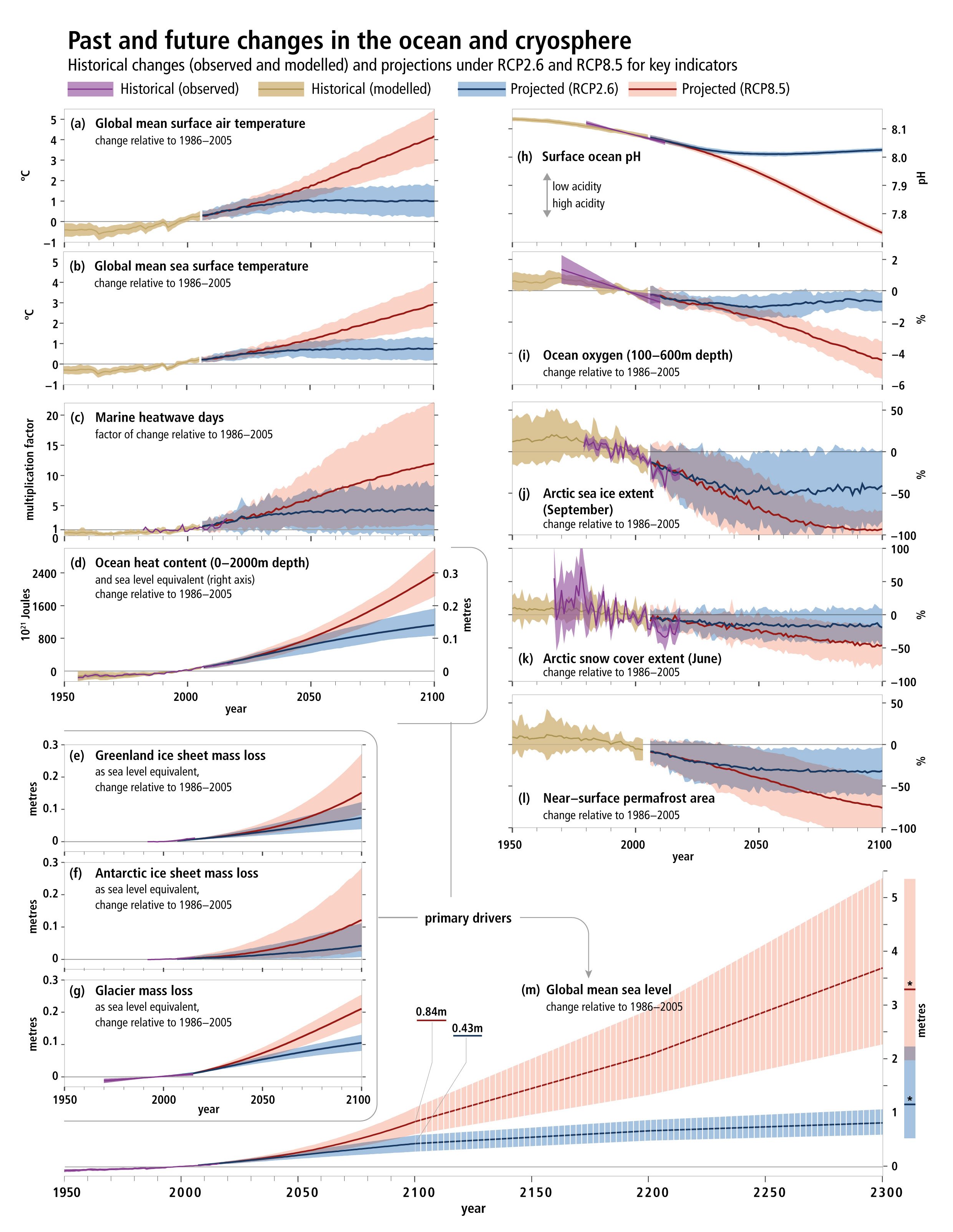 ---
Wednesday, August 14th, 2019
Nourishing Lives and Building the Future: the History of Nutrition at USAID
Chapter 1: Introduction and Overview
USAID's nutrition programming was established in the 1960s, and the U.S government was providing food assistance even earlier through Title II, or the Food for Peace Act, which built the foundation for nutrition at USAID. In addition to detailing the origins of nutrition at USAID, this chapter also outlines the evolution of USAID's nutrition programming and investments over time.
Chapter 2: Improving Nutrition for Women and Young Children
Improving the dietary practices and nutritional status of women and children has always been at the core of USAID's nutrition and health programs. This chapter presents the history of USAID's advancements to cross-cutting approaches for improving the delivery of nutrition services and enhance maternal, infant and young child nutrition, including the Agency's community-based focus and its innovations in social and behavior change.
Chapter 3: From Vitamin A to Zinc: Addressing Micronutrient Malnutrition
Micronutrients are essential for good nutrition, proper growth and development, and overall health. As this chapter details, USAID has worked for decades to ensure individuals in need receive the nutrients they lack– particularly vitamin A, iron, iodine, and zinc which have a direct impact on maternal and child survival.
Chapter 4: Combating the HIV Epidemic through Food and Nutrition
Poor nutrition magnifies HIV infection for affected individuals, including increasing the risk of infection, hospitalization, and mortality. Since the early 2000s, USAID has supported critical research on nutrition and HIV, developed country guidance and training materials, strengthened health systems, and provided HIV-affected families with food commodities and nutrition support to meet the nutritional needs of individuals living with HIV.
Chapter 5: Multi-sectoral Nutrition and Food Security
In the early 1970s, USAID and other global actors recognized the need for a multi-sectoral approach to reducing malnutrition— working across sectors to address the many causes and consequences of inadequate nutrition. Working closely with partners, USAID has played a key role in identifying the causes of malnutrition, addressing them through a multi-sectoral lens, and exploring how to improve nutrition through agriculture and food security efforts.
Chapter 6: Research and Measurement for Understanding and Reducing Malnutrition
Findings from nutrition research are critical to advancing the work of country governments, foundations, international organizations, partners, and the entire nutrition community. For decades, USAID has supported cutting-edge research, translated key findings into practice, and invested to improve how nutritional status is measured, examples of which are described throughout this chapter.
Spotlight: Capacity Building and Knowledge Management
Long-term support for the development of country-level human and institutional capacity is a vital component of sustaining the results of USAID's investments beyond the end of external assistance. Capacity building and knowledge management are therefore important elements of our nutrition investments, and this spotlight section offers examples of the Agency's support.
Chapter 7: Adapting to a Changing World
Nutrition programming will need to seek creative new ways to improve food systems, food quality, nutrition behaviors, and social norms around eating, in addition to continuing to implement and scale up established approaches to improve nutrition. To achieve this, USAID will seek out strategic and innovative ways to support partner countries in becoming more self-reliant and capable of leading their own development journeys.
---
Saturday, August 10th, 2019
Overview
Why eliminate rabies?
An estimated 59 000 people die from rabies each year. That's one person every nine minutes of every day, 40% of whom are children living in Asia and Africa. As dog bites cause almost all human cases, we can prevent rabies deaths by increasing awareness, vaccinating dogs to prevent the disease at its source and administering life-saving treatment after people have been bitten. We have the vaccines, medicines, tools and technologies to prevent people from dying from dog-mediated rabies. For a relatively low cost it is possible to break the disease cycle and save lives.
A country's health system benefits from the capacity-building required for rabies surveillance. This core activity strengthens the health system by improving the mechanisms for surveillance of other disease and expanding access to health care. Minimizing duplication and improving efficiencies by pooling resources and developing strong health service networks saves money and makes the most of resources. Countries can maximize the impact of each dollar invested.
Investing in rabies elimination saves lives and strengthens both human and veterinary health systems. A collaborative response, through rabies programmes, contributes to disease prevention and preparedness. This means integrated rabies elimination is a model for One Health collaboration.
In the past, the global response has been fragmented and uncoordinated. We need to break the status quo and come together with a combined will, an achievable goal and a common plan. That combined will was evident in 2015, and the resulting global call to action made it clear that now is the time to act.
A call for action
In 2015, the world called for action by setting a goal of zero human dog-mediated rabies deaths by 2030, worldwide. Now, for the first time, four organizations – the World Health Organizaton (WHO), the World Organisation for Animal Health (OIE), the Food and Agriculture Organization of the United Nations (FAO) and the Global Alliance for Rabies Control (GARC) – have joined forces, as the United Against Rabies collaboration, and are determined to reach this goal.
The United Against Rabies collaboration leverages existing tools and expertise in a coordinated way to empower, engage and enable countries to save human lives from this preventable disease. The global strategic plan puts countries at the centre with renewed international support to act.This country-centric engagement will be flexible and consider different contexts and capacities. Countries will lead efforts, driving the changes needed to reach Zero by 30, empowered by the United Against Rabies collaboration, as they build sustainable institutional capacity and end human deaths from dog-mediated rabies.
---
Wednesday, July 3rd, 2019
Document:
Countries and territories with established Aedes aegypti mosquito vectors, but no known cases of Zika virus transmission:
AFRO
Benin; Botswana; Chad; Comoros; Congo; Democratic Republic of the Congo; Equatorial Guinea; Eritrea; Gambia; Ghana; Guinea; Kenya; Liberia; Madagascar; Malawi; Mali; Mauritius; Mayotte; Mozambique; Namibia; Niger; Réunion; Rwanda; Sao Tome and Principe; Seychelles; Sierra Leone; South Africa; South Sudan; Togo; United Republic of Tanzania; Zambia; Zimbabwe
32
AMRO/PAHO Uruguay 1 EMRO Djibouti; Egypt; Oman; Pakistan; Saudi Arabia; Somalia; Sudan; Yemen 8 EURO Georgia; Região Autónoma da Madeira – Portugal; Russian Federation; Turkey 4 SEARO Bhutan; Nepal; Sri Lanka; Timor-Leste                                                                                                                                                                                                      4
WPRO
Australia; Brunei Darussalam; China; Christmas Island; Guam; Kiribati; Nauru; Niue; Northern Mariana Islands (Commonwealth of the); Tokelau; Tuvalu; Wallis and Futuna
12
61
---
Monday, July 1st, 2019
Abstract
Henry B on behalf of the Canadian Pandemic Influenza Preparedness Task Group. Canadian pandemic influenza preparedness: Public health measures strategy. Can Commun Dis Rep 2019;45(6):159–63. https://doi.org/10.14745/ccdr.v45i06a03
"Public health measures, also known as non-pharmaceutical interventions, are basic actions aimed at slowing the community spread of a communicable disease outbreak. In the event of an influenza pandemic, public health measures and antiviral drugs are the only tools available to mitigate the effects of the pandemic during the months before a vaccine becomes available. The Canadian Pandemic Influenza Preparedness: Planning Guidance for the Health Sector (CPIP) outlines how federal, provincial and territorial governments will work together to ensure a coordinated and consistent health sector approach to pandemic influenza preparedness and response.
This article summarizes Canada's pandemic public health measures strategy, as described in the recently updated CPIP Public Health Measures Annex. The strategy builds on lessons learned during the 2009 H1N1 pandemic.
Key elements of the public health measures strategy include individual measures (e.g. hand hygiene, self-isolation when ill), community-based measures (e.g. school closures, cancellation of mass gatherings), management of cases and close contacts, travel and border-related actions and public education. Factors that influence the effectiveness of public health measures in a pandemic include the pandemic epidemiology, timing of implementation, how the measures are used (i.e. alone or in combination), their scalability and flexibility and public compliance. The CPIP is an evergreen guidance document and the Annex will be updated as new information warrants."
---
Saturday, June 29th, 2019
"…..UN aid agencies and NGOs warned today that surging armed violence in the Sahel has propelled forced displacement and humanitarian emergency to unprecedented levels. They called for stepped-up support and greater efforts to address the causes of the region's crises.
In the past year, around 1 million people had to flee their homes due to insecurity and violence. In Burkina Faso, Mali and western Niger displacement has increased five-fold, and the Lake Chad Basin is witnessing a new spike in displacement and attacks. Across the Sahel, 4.2 million people are uprooted….."
HUMANITARIAN EMERGENCY AT UNPRECEDENTED LEVEL IN SAHEL
Dakar, 27 June 2019 – UN aid agencies and NGOs warned today that surging armed violence in the Sahel has propelled forced displacement and humanitarian emergency to unprecedented levels. They called for stepped-up support and greater efforts to address the causes of the region's crises.     In the past year, around 1 million people had to flee their homes due to insecurity and violence. In Burkina Faso, Mali and western Niger displacement has increased five-fold, and the Lake Chad Basin is witnessing a new spike in displacement and attacks. Across the Sahel, 4.2 million people are uprooted.
"The impact of the crisis, in one of the world's most vulnerable regions, is dramatic. The extent and intensity of the attacks have left communities suffering untold devastation," said Chris Nikoi, Regional Director of the World Food Programme. "Millions of people have yet to recover from last year's food and nutrition crisis. With the lean season underway, we must provide quick and sustained help to save lives and avert a deeper crisis."
The violence is disrupting livelihoods and deepening the impact of chronic vulnerabilities such as food insecurity, malnutrition and epidemics in affected communities in Burkina Faso, Cameroon (Far North), Chad, Mali, Niger and north-east Nigeria. More than 7 million people are struggling with food insecurity. Malnutrition is threatening the lives of 5 million children. Education has been significantly hit, with more than 4,000 schools closed or not functional and 900,000 pupils affected.
"With armed violence comes destitution and deprivation. We must safeguard the dignity of people affected by conflict and ensure their protection from threats, exploitation and abuse," said Liz Ahua, the UN Refugee Agency (UNHCR) Regional Representative for West Africa. "Beyond the humanitarian response, the Sahel needs support to tackle the root causes of the recurrent crises besetting the region. Crucially, the Sahel needs more robust investment in public services, infrastructure and economic development to bring about lasting solutions for all its people."
Although conflict and its devastating impact have plagued the Sahel for many years, insecurity has never spread so fast, in such vast areas and affected as many people. The risk of spill-over beyond the Sahel and into coastal countries is growing.
"Humanitarian access continues to be under threat. Insecurity and restrictions imposed during military operations hinder the delivery of aid. Faced with these difficulties, we must insist on humanitarian principles. We are there to stay and assist the affected communities wherever they are," said Marianne Irion, Regional Director of the Norwegian Refugee Council.
"If we want to reverse the trend in the Sahel, the security-centric focus must change," said Mamadou Diop, Regional Director of Action Contre la Faim. "We must ensure people's access to basic services, especially in the conflict-affected areas, where needs are outpacing available resources. And we need flexible funding to build resilience and address the root causes of the crises."
The humanitarian community has requested for US$ 2.4 billion to assist 15.3
---
Friday, June 21st, 2019
Crisis In Yemen : Document 2019
"…….The Scale of the Conflict:
ACLED (Armed Conflict Location & Event Data) records over 91,600 total reported fatalities from the start of 2015 to the present

Approximately 17,100 were reported in 2015; 15,100 in 2016; 16,800 in 2017; 30,800 in 2018; and 11,900 in 2019 thus far

More than 39,700 conflict events have been reported since the start of 2015

Approximately 7,700 in 2015; 8,700 in 2016; 7,900 in 2017; 10,200 in 2018; and 4,900 in 2019 thus far

Overall, 2018 is the war's deadliest and most violent year on record
Impact on Civilians:
ACLED records nearly 4,500 direct civilian targeting events resulting in approximately 11,700 reported civilian fatalities since 2015

Approximately 4,500 reported fatalities in 2015; 2,200 in 2016; 1,900 in 2017; 2,400 in 2018; and 600 in 2019 thus far

2015 is the deadliest year for direct anti-civilian violence on record, with almost twice the number of reported fatalities recorded during 2018, the second-most lethal year
The Saudi-led coalition and its allies remain responsible for the highest number of reported civilian fatalities from direct targeting, with over 8,000 since 2015….."
---
Wednesday, June 5th, 2019
The Third Plague Pandemic in Europe
"……The Third Plague Pandemic originated in the Yunnan region of southwest China, where plague caused multiple outbreaks since 1772 [15–17]. In 1894, plague reached Canton and then spread to Hong Kong, where Alexandre Yersin identified the bacterium.It was then carried by ships to Japan, Singapore, Taiwan and the Indian subcontinent [18,19]. Over the next few years, plague spread to many cities around the world: Bombay, Singapore, Alexandria, Buenos Aires, Rio de Janeiro, Honolulu, San Francisco and Sidney, among others [20]. The earliest known European cases occurred in September and October 1896, when two sailors from Bombay died of plague on ships docked in London on the Thames [21]…….There were 1692 cases and 457 deaths from plague reported in Europe between 1899 and 1947 (figure 1; electronic supplementary material, table S1), with the largest number of cases in the years 1899 and 1920. Cases were geographically widespread, although they were primarily found in coastal or inland port cities (figure 2). Plague was reported in 11 countries, and many cities, including Lisbon, Marseille, Paris and Pireas, experienced multiple outbreaks……."
---
Wednesday, May 1st, 2019
Ethical Challenges in Humanitarianism during Violent Situations
Reality Makes Our Decisions: Ethical Challenges in Humanitarian Health in Situations of Extreme Violence
Report and recommendations: a collaboration among Center for Public Health and Human Rights, Center for Humanitarian Health, Johns Hopkins Bloomberg School of Public Health | International Rescue Committee | Syrian American Medical Society
"…….The ethical principles include respect for persons (i.e., respect for human dignity and for individuals' autonomous choices), beneficence (the promotion of others' well-being), non-maleficence "do no harm", and justice (in both fair distribution of resources and fair processes for decision-making). These four principles, can be adapted to the provision of health care to communities, though how the principles are weighed and applied might differ….."
---
Wednesday, January 30th, 2019
The WHO Humanitarian Response Plans for 2018 are based on rigorous assessment and analysis of need in 26 countries. The plans include an overview of the situation, WHO's objectives to address the health aspects of the crisis, and the funds that will be required to do so. They form part of the overall humanitarian response plans developed by partners in the wider humanitarian response.
Reviewing 2017 • In 2017, humanitarian agencies reached more people in need than ever before: tens of millions of them, saving millions of lives; • Donors provided record levels of funding to Humanitarian Response Plans—nearly $13 billion by the end of November; • Humanitarian agencies helped stave off famines in South Sudan, Somalia, north-east Nigeria and Yemen, through effective scale-up and the rapid release of funds by donors; • Agencies stepped up to provide rapid assistance to refugees fleeing violence in Myanmar; and • Mobilized to support countries in the Caribbean to prepare for and respond to successive hurricanes of a ferocity rarely seen before. • Despite conflict and other constraints complicating the provision of assistance, plans were implemented effectively, with costs averaging approximately $230 a year per person for essential needs.
In 2018 • Conflict will continue to be the main driver of humanitarian needs. • Protracted violence will force people to flee from their homes, deny them access to enough food, and rob them of their means of making a living. • Droughts, floods, hurricanes and other natural disasters will also create humanitarian needs. Although the risk of El Niño or La Niña is low next year, some scientists forecast an increased risk of earthquakes in 2018. • In a number of countries, humanitarian needs will fall, but still remain significant, including Afghanistan, Ethiopia, Iraq, Mali, and Ukraine. • However, needs are rising substantially in Burundi, Cameroon, Central African Republic, the Democratic Republic of the Congo, Libya, Somalia and Sudan. • And needs will remain at exceptionally high levels in Nigeria, South Sudan, the Syria region, and Yemen, which is likely to remain the world's worst humanitarian crisis. • Overall, 136 million people across the world will need humanitarian assistance and protection. • UN-coordinated response plans costed at $22.5 billion can help 91 million. • The overall number of people in need is more than 5% higher than in the 2017 GHO. The cost of the response plans sets a new record, about 1% higher than at the start of 2017. • Humanitarian agencies will become more effective, efficient and cost-effective. They will respond faster to crises, in a way more attuned to the needs of those they are trying to help. They will undertake more comprehensive, cross-sectoral and impartial needs assessments. They will also contribute more to long-term solutions by working more closely with development agencies. • Larger country-based pooled funds will improve the agility and prioritised use of funds in the places where they operate. An expanded Central Emergency Response Fund will better support the least-funded major crises.
PEOPLE IN NEED PEOPLE TO RECEIVE AID 135.7M 90.9M
FINANCIAL REQUIREMENTS $22.5B
---