Archive for the 'Zika virus' Category
Sunday, June 2nd, 2019
Overview
Almost everyone has been bitten by a mosquito, tick, or flea. These can be vectors for spreading pathogens (germs). A person who gets bitten by a vector and gets sick has a vector-borne disease, like dengue, Zika, Lyme, or plague. Between 2004 and 2016, more than 640,000 cases of these diseases were reported, and 9 new germs spread by bites from infected mosquitoes and ticks were discovered or introduced in the US. State and local health departments and vector control organizations are the nation's main defense against this increasing threat. Yet, 84% of local vector control organizations lack at least 1 of 5 core vector control competencies. Better control of mosquitoes and ticks is needed to protect people from these costly and deadly diseases.
State and local public health agencies can
Build and sustain public health programs that test and track germs and the mosquitoes and ticks  that spread them.
Train vector control staff on 5 core competencies for conducting prevention and control activities.  http://bit.ly/2FG1OMw

External

Educate the public about how to prevent bites and control germs spread by mosquitoes, ticks,  and fleas in their communities.
Problem
Increasing threat, limited capacity to respond
More cases in the US (2004-2016)
The number of reported cases of disease from mosquito, tick, and flea bites has more than tripled.
More than 640,000 cases of these diseases were reported from 2004 to 2016.
Disease cases from ticks have doubled.
Mosquito-borne disease epidemics happen more frequently.
More germs (2004-2016)
Chikungunya and Zika viruses caused outbreaks in the US for the first time.
Seven new tickborne germs can infect people in the US.
More people at risk
Commerce moves mosquitoes, ticks, and fleas around the world.
Infected travelers can introduce and spread germs across the world.
Mosquitoes and ticks move germs into new areas of the US, causing more people to be at risk.
The US is not fully prepared
Local and state health departments and vector control organizations face increasing demands to respond to these threats.
More than 80% of vector control organizations report needing improvement in 1 or more of 5 core competencies, such as testing for pesticide resistance.
More proven and publicly accepted mosquito and tick control methods are needed to prevent and control these diseases.
---
Friday, April 5th, 2019
"…..The observation that such music can delay host attack, reduce blood feeding, and disrupt mating provides new avenues for the development of music-based personal protective and control measures against Aedes-borne diseases….."
Volume 194, June 2019, Pages 93-99
The electronic song "Scary Monsters and Nice Sprites" reduces host attack and mating success in the dengue vector Aedes aegypti
---
Monday, December 10th, 2018
Elizabeth A Van Dyne, Paige Neaterour, Aidsa Rivera, Melissa Bello-Pagan, Laura Adams, Jorge Munoz-Jordan, Priscilla Baez, Myriam Garcia, Stephen H Waterman, Nimia Reyes, Lisa C Richardson, Brenda Rivera-Garcia, Tyler M Sharp; Incidence and Outcome of Severe and Non-severe Thrombocytopenia Associated with Zika Virus Infection — Puerto Rico, 2016, Open Forum Infectious Diseases, , ofy325, https://doi.org/10.1093/ofid/ofy325
"…..Of 37,878 patients with ZIKV infection, 47 (0.1%) had thrombocytopenia in the absence of an alternative etiology (1.4 cases/100,000 population), including 12 with severe thrombocytopenia. Most patients with thrombocytopenia were adult (77%) and male (53%). Platelet nadir occurred a median of six (range: 1–16) and five (range: 0–34) days after symptom onset for patients with severe and non-severe thrombocytopenia, respectively. Among patients with severe thrombocytopenia, all had bleeding, 33% were admitted to the ICU, and 8% died; 50% were treated for ITP. Among five patients with severe thrombocytopenia who received intravenous immunoglobulin, median platelet count increase was 112 X 10 9/L (range: 65–202 X 10 9/L). In contrast, among four patients who received platelet transfusion, median increase in platelet count was 8.5 X 10 9/L (range: -6–52 x 10 9/L)……"
---
Thursday, December 6th, 2018
The Emergency Use Authorization (EUA) authority allows FDA to help strengthen the nation's public health protections against CBRN threats by facilitating the availability and use of MCMs needed during public health emergencies.
Under section 564 of the Federal Food, Drug, and Cosmetic Act (FD&C Act), the FDA Commissioner may allow unapproved medical products or unapproved uses of approved medical products to be used in an emergency to diagnose, treat, or prevent serious or life-threatening diseases or conditions caused by CBRN threat agents when there are no adequate, approved, and available alternatives.
Section 564 of the FD&C Act was amended by the Project Bioshield Act of 2004 and the Pandemic and All-Hazards Preparedness Reauthorization Act of 2013 (PAHPRA), which was enacted in March 2013
Current EUAs
The tables below provide information on current EUAs:
---
Wednesday, November 28th, 2018
Alexander G Watts, M S A Carmen Huber, Isaac I Bogoch, Oliver J Brady, Moritz U G Kraemer, Kamran Khan; Potential Zika virus spread within and beyond India, Journal of Travel Medicine, , tay132, https://doi.org/10.1093/jtm/tay132
"……By the end of October, 147 cases had been reported in Jaipur, a popular tourist destination, and as of Nov 2, neighboring Gujarat state reported 1 case and Madhya Pradesh state reported 3 infections….."
---
Friday, October 5th, 2018
---
Friday, October 5th, 2018
---
Sunday, August 19th, 2018
The World Health Organization R&D Blueprint aims to accelerate the availability of medical technologies during epidemics by focusing on a list of prioritized emerging diseases for which medical countermeasures are insufficient or nonexistent. The prioritization process has 3 components: a Delphi process to narrow down a list of potential priority diseases, a multicriteria decision analysis to rank the short list of diseases, and a final Delphi round to arrive at a final list of 10 diseases.
A group of international experts applied this process in January 2017, resulting in a list of 10 priority diseases. The robustness of the list was tested by performing a sensitivity analysis. The new process corrected major shortcomings in the pre–R&D Blueprint approach to disease prioritization and increased confidence in the results.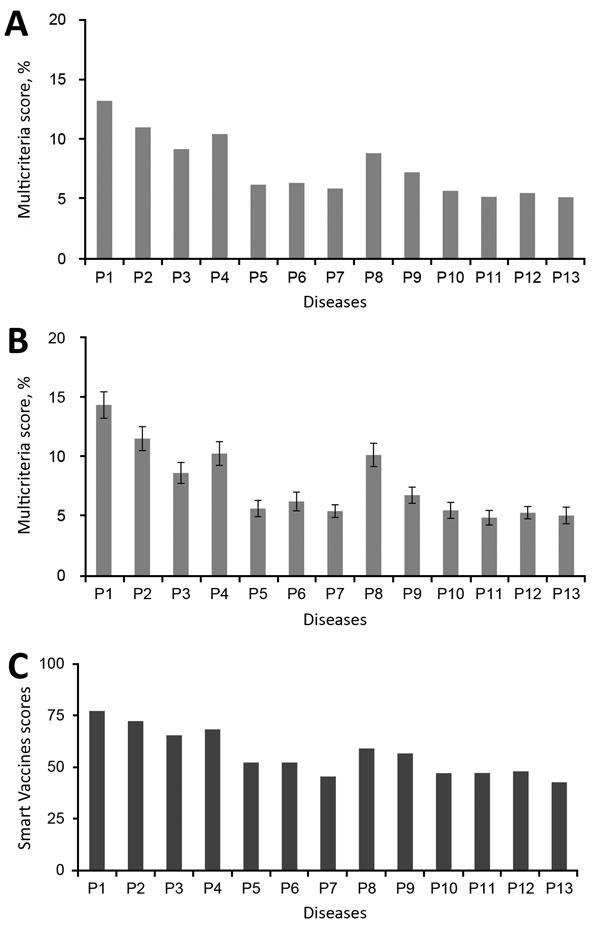 ---
Monday, July 16th, 2018
In an international partnership between CSIRO, Verily and James Cook University, scientists used specialised technology to release millions of sterilised male Aedes aegypti mosquitoes across the Cassowary Coast in Queensland in a bid to combat the global pest.
CSIRO Director of Health and Biosecurity Dr Rob Grenfell said the results were a major win in the fight against diseases-spreading mosquitoes.
"The invasive Aedes aegypti mosquito is one of the world's most dangerous pests, capable of spreading devastating diseases like dengue, Zika and chikungunya and responsible for infecting millions of people with disease around the world each year," Dr Grenfell said.
"Increased urbanisation and warming temperatures mean that more people are at risk, as these mosquitoes which were once relegated to areas near the equator forge past previous climatic boundaries.
"Although the majority of mosquitoes don't spread diseases, the three mostly deadly types the Aedes, Anopheles and Culex are found almost all over the world and are responsible for around 17 per cent of infectious disease transmissions globally."
From November 2017 to June this year, non-biting male Aedes aegypti mosquitoes sterilised with the natural bacteria Wolbachia were released in trial zones along the Cassowary Coast in North Queensland.
They mated with local female mosquitoes, resulting in eggs that did not hatch and a significant reduction of their population.
"Our heartfelt thanks goes out to the Innisfail community who literally opened their doors to our team, letting us install mosquito traps around their homes and businesses – we couldn't have done this without your support," Dr Grenfell said.
The process, known as the Sterile Insect Technique, has been successfully used since the 1950s but the challenge in making it work for mosquitoes like the Aedes aegypti has been rearing enough mosquitoes, removing biting females, identifying the males and then releasing the huge numbers needed to suppress a population.
To address this challenge, Verily, an affiliate of Alphabet Inc, developed a mosquito rearing and sex sorting and release technology as part of its global Debug project.
"We're very pleased to see strong suppression of these dangerous biting female Aedes aegypti mosquitoes," Verily's Nigel Snoad said.
"We are particularly thankful to the people of Innisfail for their strong support, which has been incredible.
"We came to Innisfail with CSIRO and JCU to see how this approach worked in a tropical environment where these mosquitoes thrive, and to learn what it was like to operate our technology with research collaborators as we work together to find new ways to tackle these dangerous mosquitoes."
Scientists compared the number of Aedes aegypti mosquitoes trapped in release sites and control zones to monitor and track populations.
The millions of mosquitoes needed for the trial were reared at James Cook University in Cairns.
To produce the three million male mosquitoes needed for the trial, researchers at James Cook University (JCU) in Cairns set out to raise almost 20 million Aedes aegypti.
"We allowed for the possibility of deaths during the process, as well as the need to sift out the female half of the population," Dr Kyran Staunton from James Cook University said.
"Verily's technology enabled us to do the sex sorting faster and with much higher accuracy.
"We learnt a lot from collaborating on this first tropical trial and we're excited to see how this approach might be applied in other regions where Aedes aegypti poses a threat to life and health."
"The health of our nation is paramount as we help Australia achieve its vision to become one of the healthiest nations on earth," CSIRO Chief Executive Dr Larry Marshall said.
"By enabling industry partners like Verily to leverage the world-leading health capability we have built in CSIRO we can deliver this moonshot and tackle some of the world's most wicked challenges with science."
---
Thursday, June 28th, 2018
Yan G, Pang L, Cook AR, Ho HJ, Win MS, Khoo AL, et al. Distinguishing Zika and dengue viruses through simple clinical assessment, Singapore. Emerg Infect Dis. 2018 Aug [date cited]. https://doi.org/10.3201/eid2408.171883
"…Conjunctivitis strongly indicated Zika virus infection (odds ratio [OR] 30.1, 95% CI 9.57–94.44; p < 0.001). In contrast, fever (OR 0.05, 95% CI 0.01–0.47; p = 0.008), myalgia (OR 0.20, 95% CI 0.08–0.48; p<0.001), and headache (OR 0.12, 95% CI 0.05–0.30; p<0.001) were more prominent in patients with DENV infection.
Further, DENV patients tended to have thrombocytopenia (median platelet count 132 × 109/µL, range 15–386 × 109/µL) and monocytosis (median monocyte count 0.50 × 109/µL, range 0.11–1.70 × 109/µL), whereas Zika patients tended to have normal platelet (median 225 × 109/µL, range 128–326 × 109/µL; p<0.001) and monocyte (median 0.35 × 109/µL, range 0.13–1.00 × 109/µL; p = 0.021) counts……"
---