Archive for the 'Zika virus' Category
Thursday, November 9th, 2017
 For Release:  November 7, 2017
On November 3, 2017, EPA registered a new mosquito biopesticide – ZAP Males® – that can reduce local populations of the type of mosquito (Aedes albopictus, or Asian Tiger Mosquitoes) that can spread numerous diseases of significant human health concern, including the Zika virus.
ZAP Males® are live male mosquitoes that are infected with the ZAP strain, a particular strain of the Wolbachia bacterium. Infected males mate with females, which then produce offspring that do not survive. (Male mosquitoes do not bite people.) With continued releases of the ZAP Males®, local Aedes albopictus populations decrease. Wolbachia are naturally occurring bacteria commonly found in most insect species.
This time-limited registration allows MosquitoMate, Inc. to sell the Wolbachia-infected male mosquitoes for five years in the District of Columbia and the following states: California, Connecticut, Delaware, Illinois, Indiana, Kentucky, Massachusetts, Maine, Maryland, Missouri, New Hampshire, New Jersey, Nevada, New York, Ohio, Pennsylvania, Rhode Island, Tennessee, Vermont, and West Virginia. Before the ZAP Males® can be used in each of those jurisdictions, it must be registered in the state or district.
When the five-year time limit ends, the registration will expire unless the registrant requests further action from EPA.
EPA's risk assessments, along with the pesticide labeling, EPA's response to public comments on the Notice of Receipt, and the proposed registration decision, can be found on www.regulations.gov under docket number EPA-HQ-OPP-2016-0205.
---
Wednesday, October 25th, 2017
Advice for Providers Treating Patients in or Recently Returned from Hurricane-Affected Areas, Including Puerto Rico and US Virgin Islands
Distributed via the CDC Health Alert Network
October 24, 2017, 1330 ET (1:30 PM ET)
CDCHAN-00408
Summary
The Centers for Disease Control and Prevention (CDC) is working with federal, state, territorial, and local agencies and global health partners in response to recent hurricanes. CDC is aware of media reports and anecdotal accounts of various infectious diseases in hurricane-affected areas, including Puerto Rico and the US Virgin Islands (USVI). Because of compromised drinking water and decreased access to safe water, food, and shelter, the conditions for outbreaks of infectious diseases exist.
The purpose of this HAN advisory is to remind clinicians assessing patients currently in or recently returned from hurricane-affected areas to be vigilant in looking for certain infectious diseases, including leptospirosis, dengue, hepatitis A, typhoid fever, vibriosis, and influenza. Additionally, this Advisory provides guidance to state and territorial health departments on enhanced disease reporting.
Background
Hurricanes Irma and Maria made landfall in Puerto Rico and USVI in September 2017, causing widespread flooding and devastation. Natural hazards associated with the storms continue to affect many areas. Infectious disease outbreaks of diarrheal and respiratory illnesses can occur when access to safe water and sewage systems are disrupted and personal hygiene is difficult to maintain. Additionally, vector borne diseases can occur due to increased mosquito breeding in standing water; both Puerto Rico and USVI are at risk for outbreaks of dengue, Zika, and chikungunya.
Health care providers and public health practitioners should be aware that post-hurricane environmental conditions may pose an increased risk for the spread of infectious diseases among patients in or recently returned from hurricane-affected areas; including leptospirosis, dengue, hepatitis A, typhoid fever, vibriosis, and influenza. The period of heightened risk may last through March 2018, based on current predictions of full restoration of power and safe water systems in Puerto Rico and USVI.
In addition, providers in health care facilities that have experienced water damage or contaminated water systems should be aware of the potential for increased risk of infections in those facilities due to invasive fungi, nontuberculous Mycobacterium species, Legionella species, and other Gram-negative bacteria associated with water (e.g., Pseudomonas), especially among critically ill or immunocompromised patients.
Cholera has not occurred in Puerto Rico or USVI in many decades and is not expected to occur post-hurricane.
Recommendations
These recommendations apply to healthcare providers treating patients in Puerto Rico and USVI, as well as those treating patients in the continental US who recently traveled in hurricane-affected areas (e.g., within the past 4 weeks), during the period of September 2017 – March 2018.
Health care providers and public health practitioners in hurricane-affected areas should look for community and healthcare-associated infectious diseases.
Health care providers in the continental US are encouraged to ask patients about recent travel (e.g., within the past 4 weeks) to hurricane-affected areas.
All healthcare providers should consider less common infectious disease etiologies in patients presenting with evidence of acute respiratory illness, gastroenteritis, renal or hepatic failure, wound infection, or other febrile illness. Some particularly important infectious diseases to consider include leptospirosis, dengue, hepatitis A, typhoid fever, vibriosis, and influenza.
In the context of limited laboratory resources in hurricane-affected areas, health care providers should contact their territorial or state health department if they need assistance with ordering specific diagnostic tests.
For certain conditions, such as leptospirosis, empiric therapy should be considered pending results of diagnostic tests— treatment for leptospirosis is most effective when initiated early in the disease process. Providers can contact their territorial or state health department or CDC for consultation.
Local health care providers are strongly encouraged to report patients for whom there is a high level of suspicion for leptospirosis, dengue, hepatitis A, typhoid, and vibriosis to their local health authorities, while awaiting laboratory confirmation.
Confirmed cases of leptospirosis, dengue, hepatitis A, typhoid fever, and vibriosis should be immediately reported to the territorial or state health department to facilitate public health investigation and, as appropriate, mitigate the risk of local transmission. While some of these conditions are not listed as reportable conditions in all states, they are conditions of public health importance and should be reported.
For More Information
---
Friday, September 8th, 2017
"…..The website, ProMED mail, has carried more than a dozen such reports since June, all involving mosquito species known to transmit human diseases.
Most reports have concerned the United States, where, for example, Aedes aegypti — the yellow fever mosquito, which also spreads Zika, dengue and chikungunya — has been turning up in counties in California and Nevada where it had never, or only rarely, been seen.
Other reports have noted mosquito species found for the first time on certain South Pacific islands, or in parts of Europe where harsh winters previously kept them at bay….."
---
Monday, August 21st, 2017
"…..A new article published by JAMA Neurology reports on a study of hospitalized adult patients with new-onset neurologic syndromes who were evaluated for Zika virus infection.
The single-center study of 40 patients, include 29 with Guillain-Barré syndrome (GBS), seven with encephalitis, three with transverse myelitis and one with newly diagnosed chronic inflammatory demyelinating polyneuropathy.
Of those 40 patients, 35 (88 percent) had evidence of recent Zika virus infection in the serum (blood) or cerebrospinal fluid, according to the results. Of the patients who were positive for Zika virus infection, 27 had GBS, five had encephalitis, two had transverse myelitis and one had chronic inflammatory demyelinating polyneuropathy, according to the results….."
---
Wednesday, July 19th, 2017
"A new test is the best-to-date in differentiating Zika virus infections from infections caused by similar viruses. The antibody-based assay, developed by researchers at UC Berkeley and Humabs BioMed, a private biotechnology company, is a simple, cost-effective way to determine if a person's infection is from the Zika virus or another virus of the same family, such as dengue and West Nile viruses…."
"…..This study demonstrates that the antibody-based assay we developed and implemented in five countries has high specificity and sensitivity in the detection of recent and past ZIKV infections. The ZIKV nonstructural protein 1 (NS1) blockade-of-binding ELISA assay is a simple, robust, and low-cost solution for Zika surveillance programs, seroprevalence studies, and intervention trials in flavivirus-endemic areas…."
---
Wednesday, June 14th, 2017
Leal MC, van der Linden V, Bezerra TP, de Valois L, Borges ACG, Antunes MMC, et al. Characteristics of dysphagia in infants with microcephaly caused by congenital Zika virus infection, Brazil, 2015. Emerg Infect Dis. 2017 Aug [date cited]. https://doi.org/10.3201/eid2308.170354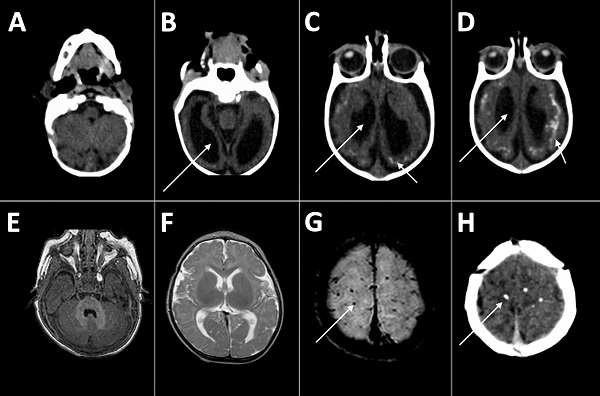 Computed tomography radiographs of the brains of 2 infants with dysphagia and microcephaly caused by congenital Zika virus infection, Brazil, 2015. A–D) Images for patient 4 show malformation of cortical development, ventriculomegaly (long arrows), and calcifications in cortical and subcortical white matter in transition between cortex and white matter (short arrows). E–H) Images for patient 6 show no malformation of cortical development or ventriculomegaly, but calcifications are visible in the cortical area (arrows).
---
Friday, June 2nd, 2017
The call came from the WHO Director-General in May 2016 for a renewed attack on the global spread of vector-borne diseases.
"What we are seeing now looks more and more like a dramatic resurgence of the threat from emerging and re-emerging infectious diseases," Dr Margaret Chan told Member States at the Sixty-ninth World Health Assembly. "The world is not prepared to cope."
Dr Chan noted that the spread of Zika virus disease, the resurgence of dengue, and the emerging threat from chikungunya were the result of weak mosquito control policies from the 1970s. It was during that decade that funding and efforts for vector control were greatly reduced.
'Vector control has not been a priority'
Dr Ana Carolina Silva Santelli has witnessed this first-hand. As former head of the programme for malaria, dengue, Zika and chikungunya with Brazil's Ministry of Health, she saw vector-control efforts wane over her 13 years there. Equipment such as spraying machines, supplies such as insecticides and personnel such as entomologists were not replaced as needed. "Vector control has not been a priority," she said.
Today more than 80% of the world's population is at risk of vector-borne disease, with half at risk of two or more diseases. Mosquitoes can transmit, among other diseases, malaria, lymphatic filariasis, Japanese encephalitis and West Nile; flies can transmit onchocerciasis, leishmaniasis and human African trypanosomiasis (sleeping sickness); and bugs or ticks can transmit Chagas disease, Lyme disease and encephalitis.
Together, the major vector-borne diseases kill more than 700 000 people each year, with populations in poverty-stricken tropical and subtropical areas at highest risk. Other vector-borne diseases, such as tick-borne encephalitis, are of increasing concern in temperate regions.
Rapid unplanned urbanization, massive increases in international travel and trade, altered agricultural practices and other environmental changes are fuelling the spread of vectors worldwide, putting more and more people at risk. Malnourished people and those with weakened immunity are especially susceptible.
A new approach
Over the past year, WHO has spearheaded a new strategic approach to reprioritize vector control. The Global Malaria Programme and the Department of Control of Neglected Tropical Diseases – along with the Special Programme for Research and Training in Tropical Diseases, have led a broad consultation tapping into the experience of ministries of health and technical experts. The process was steered by a group of eminent scientists and public health experts led by Dr Santelli and Professor Thomas Scott from the Department of Entomology and Nematology at the University of California, Davis and resulted in the Global Vector Control Response (GVCR) 2017–2030.
At its Seventieth session, the World Health Assembly unanimously welcomed the proposed response.
The GVCR outlines key areas of activity that will radically change the control of vector-borne diseases:
Aligning action across sectors, since vector control is more than just spraying insecticides or delivering nets. That might mean ministries of health working with city planners to eradicate breeding sites used by mosquitoes;
Engaging and mobilizing communities to protect themselves and build resilience against future disease outbreaks;
Enhancing surveillance to trigger early responses to increases in disease or vector populations, and to identify when and why interventions are not working as expected; and
Scaling-up vector-control tools and using them in combination to maximize impact on disease while minimizing impact on the environment.
Specifically, the new integrated approach calls for national programmes to be realigned so that public health workers can focus on the complete spectrum of relevant vectors and thereby control all of the diseases they cause.
Recognizing that efforts must be adapted to local needs and sustained, the success of the response will depend on the ability of countries to strengthen their vector-control programmes with financial resources and staff.
A call to pursue novel interventions aggressively
The GVCR also calls for the aggressive pursuit of promising novel interventions such as devising new insecticides; creating spatial repellents and odour-baited traps; improving house screening; pursuing development of a common bacterium that stops viruses from replicating inside mosquitoes; and modifying the genes of male mosquitoes so that their offspring die early.
Economic development also brings solutions. "If people lived in houses that had solid floors and windows with screens or air conditioning, they wouldn't need a bednet," said Professor Scott. "So, by improving people's standard of living, we would significantly reduce these diseases."
WHO/S. Torfinn
The call for a more coherent and holistic approach to vector control does not diminish the considerable advances made against individual vector-borne diseases.
Malaria is a prime example. Over the past 15 years, its incidence in sub-Saharan Africa has been cut by 45% – primarily due to the massive use of insecticide-treated bed nets and spraying of residual insecticides inside houses.
But that success has had a down side.
"We've been so successful, in some ways, with our control that we reduced the number of public health entomologists – the people who can do this stuff well," said Professor Steve Lindsay, a public health entomologist at Durham University in Britain. "We're a disappearing breed."
The GVCR calls for countries to invest in a vector-control workforce trained in public health entomology and empowered in health care responses.
"We now need more nuanced control – not one-size-fits-all, but to tailor control to local conditions," Professor Lindsay said. This is needed to tackle new and emerging diseases, but also to push towards elimination of others such as malaria, he said.
Dr Lindsay noted that, under the new strategic approach, individual diseases such as Zika, dengue and chikungunya will no longer be considered as separate threats. "What this represents is not three different diseases, but one mosquito – Aedes aegypti," said Professor Lindsay.
GVCR dovetails with Sustainable Development Goals
The GVCR will also help countries achieve at least 6 of the 17 Sustainable Development Goals. Of direct relevance are goal 3 on good health and well-being, goal 6 on clean water and sanitation, and goal 11 on sustainable cities and communities.
The GVCR goals are ambitious – to reduce mortality from vector-borne diseases by at least 75% and incidence by at least 60% by 2030 – and to prevent epidemics in all countries.
The annual price tag is US$ 330 million globally, or about 5 cents per person – for workforce, coordination and surveillance costs. This is a modest additional investment in relation to insecticide-treated nets, indoor sprays and community-based activities, which usually exceed US$ 1 per person protected per year.
It also represents less than 10% of what is currently spent each year on strategies to control vectors that spread malaria, dengue and Chagas disease alone. Ultimately, the shift in focus to integrated and locally adapted vector control will save money.
'A call for action'
Dr Santelli expressed optimism that the GVCR will help ministries of health around the world gain support from their governments for a renewed focus on vector control.
"Most of all, this document is a call for action," said Dr Santelli, who now serves as deputy director for epidemiology in the Brasilia office of the U.S. Centers for Disease Control and Prevention.
It will not be easy, she predicts. The work to integrate vector-control efforts across different diseases will require more equipment, more people and more money as well as a change in mentality. "The risk of inaction is greater," said Dr Santelli, "given the growing number of emerging disease threats." The potential impact of the GVCR is immense: to put in place new strategies that will reduce overall burden and, in some places, even eliminate these diseases once and for all.
---
Friday, June 2nd, 2017
Outcomes for Completed Pregnancies in the US States and District of Columbia, 2016-2017
Completed pregnancies with or without birth defects:  1,579
Includes aggregated data reported to the US Zika Pregnancy Registry*
Liveborn infants with birth defects*:  72
Pregnancy losses with birth defects**:  8
*As of May 23, 2017
What these numbers show
The number of completed pregnancies with or without birth defects include those that ended in a live birth, miscarriage, stillbirth, or termination.
The number of liveborn infants and pregnancy losses with birth defects include those among completed pregnancies with laboratory evidence of possible Zika virus infection that have been reported to the US Zika Pregnancy Registry.
These numbers rely on reporting to the US Zika Pregnancy Registry and may increase or decrease as new cases are added or information on existing cases is clarified. For example, CDC cannot report the number of completed pregnancies with or without poor pregnancy outcomes that have not yet been reported to the US Zika Pregnancy Registry.
The number of liveborn infants and pregnancy losses with birth defects are combined for the 50 US states, and the District of Columbia. CDC is not reporting individual state, tribal, territorial or jurisdictional level data to protect the privacy of the women and children affected by Zika. CDC is using a consistent case inclusion criteria to monitor brain abnormalities and other adverse pregnancy outcomes potentially related to Zika virus infection during pregnancy in the US states and territories. Puerto Rico is not using the same inclusion criteria; CDC is not reporting numbers for adverse pregnancy outcomes in the territories at this time.
Birth defects reported include those that have been detected in infants infected with Zika before, during, or shortly after birth, including microcephaly, calcium deposits in the brain indicating possible brain damage, excess fluid in the brain cavities and surrounding the brain, absent or poorly formed brain structures, abnormal eye development, or other problems resulting from damage to brain that affects nerves, muscles and bones, such as clubfoot or inflexible joints, and confirmed hearing loss.
What these new numbers do not show
These numbers are not real time estimates. They reflect the outcomes of pregnancies with any laboratory evidence of possible Zika virus infection reported to the US Zika Pregnancy Registry as of 12 noon Tuesday the week prior. Additionally, there may be delays in reporting of pregnancy outcomes from the jurisdictions.
Although these outcomes occurred in pregnancies with laboratory evidence of possible Zika virus infection, we do not know whether they were caused by Zika virus infection or other factors.
Where do these numbers come from?
These data reflect pregnancies reported to the US Zika Pregnancy Registry

(https://www.cdc.gov/zika/hc-providers/registry.html)

. CDC, in collaboration with state, local, tribal and territorial health departments, established this system for comprehensive monitoring of pregnancy and infant outcomes following Zika virus infection.
The data collected through this system will be used to update recommendations for clinical care, to plan for services and support for pregnant women and families affected by Zika virus, and to improve prevention of Zika virus infection during pregnancy.
The US Zika Pregnancy Registry and the Puerto Rico Zika Active Pregnancy Surveillance System are covered by an assurance of confidentiality(https://www.cdc.gov/od/science/integrity/confidentiality/index.htm). This protection requires us to safeguard the information collected for the pregnant women and infants in the registries.
Detailed case inclusion criteria for healthcare providers
The following details the inclusion criteria for brain abnormalities and other adverse outcomes potentially related to Zika virus infection during pregnancy. All pregnancy outcomes are monitored, but weekly reporting of adverse outcomes is limited to those meeting the criteria below. All prenatal and postnatal adverse outcomes are reported for both Zika Pregnancy Registries (US Zika Pregnancy Registry, Zika Active Pregnancy Surveillance System) and Active Birth Defects Surveillance; however, case finding methods dictate some differences in specific case definitions.
Brain abnormalities with and without microcephaly
Confirmed or possible congenital microcephaly#
Intracranial calcifications
Cerebral atrophy
Abnormal cortical formation (e.g., polymicrogyria, lissencephaly, pachygyria, schizencephaly, gray matter heterotopia)
Corpus callosum abnormalities
Cerebellar abnormalities
Porencephaly
Hydranencephaly
Ventriculomegaly / hydrocephaly (excluding "mild" ventriculomegaly without other brain abnormalities)
Fetal brain disruption sequence (collapsed skull, overlapping sutures, prominent occipital bone, scalp rugae)
Other major brain abnormalities, including intraventricular hemorrhage in utero (excluding post-natal IVH)
Neural tube defects and other early brain malformations
Neural tube defects (NTD)

Anencephaly / Acrania
Encephalocele
Spina bifida

Holoprosencephaly / Arhinencephaly
Structural eye abnormalities
Microphthalmia / Anophthalmia
Coloboma
Cataract
Intraocular calcifications
Chorioretinal anomalies involving the macula (e.g., chorioretinal atrophy and scarring, macular pallor, gross pigmentary mottling and retinal hemorrhage); excluding retinopathy of prematurity
Optic nerve atrophy, pallor, and other optic nerve abnormalities
Consequences of central nervous system (CNS) dysfunction
Congenital contractures (e.g., arthrogryposis, club foot, congenital hip dysplasia) with associated brain abnormalities
Congenital deafness documented by postnatal testing
#Live births: measured head circumference (HC) adjusted for gestational age and sex <3rd percentile at birth, or if not measured at birth, within first 2 weeks of life; pregnancy loss: prenatal HC* more than 3 SD below the mean based on ultrasound or postnatal HC <3rd percentile. Birth measurements based on intergrowth21 standards which are based on measurements within 24 hours of birth, and therefore measurements within 24 hours of birth are appropriate for this assessment.
---