Archive for the 'Weather' Category
Wednesday, February 21st, 2018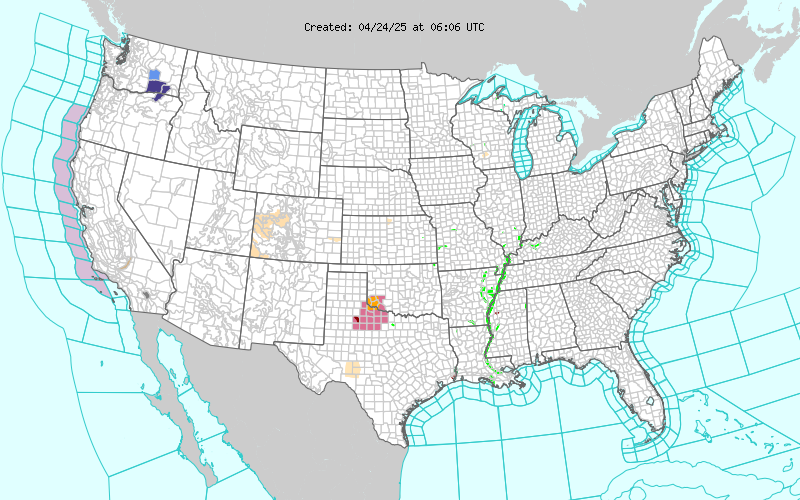 Short Range Forecast Discussion
NWS Weather Prediction Center College Park MD
300 AM EST Wed Feb 21 2018
Valid 12Z Wed Feb 21 2018 – 12Z Fri Feb 23 2018
…Cold temperatures across the West and warm across the East with a
continuing active wet pattern across the central U.S…
Excessive rain and areal flooding will continue from portions of the
Southern Plains to the Great Lakes Region as warm Gulf moisture lifts
northward along a slow moving frontal boundary. Cold air behind the front
will allow for snow,or possible a wintry mix/ freezing rain. Numerous
Winter Weather Advisories are in effect from central Texas to Illinois.
Minor flooding is being observed across western portions of the Tennessee
and Mid-Mississippi Valleys. Several locations across Lower Great
Lakes/western Ohio Valley already have minor to moderate flooding, any
additional rainfall will likely exacerbate the situation.
Temperatures across much of the Eastern Seaboard will be above-to-well
above normal for late February. Widespread highs in the 70s with some
lower 80s are expected, and this has the potential to set record highs.
These late Spring-like temperatures will be short-lived. The strong front
over the central U.S. will finally cross the Central/Northern Appalachians
and cold air will spill into the Northeast and Mid-Atlantic regions by the
end of the week.
Upper-level energy will move southward though the Pacific Northwest will
spread snow spread from the coast inland and south to northern California.
Much of the West will have temperatures warmer than seasonal average
Campbell
Graphics available at www.wpc.ncep.noaa.gov/basicwx/basicwx_ndfd.php
---
Monday, February 12th, 2018
A

t least 100,000 refugees could be in grave danger from landslides and floods.

Up to one third of the settlement area could be flooded

More than 85,000 refugees could lose their shelters.

Another 23,000 refugees living on steep slopes within the site could be at risk of landslides.

key services in the settlement are also at risk of being washed away, including latrines, washrooms, tube wells, and health centers.
---
Sunday, February 4th, 2018
The animation below depicts satellite-based measurements of precipitation in Western Europe from January 1 to 25, 2018. The brightest areas reflect the highest precipitation amounts. The measurements are a product of the Global Precipitation Measurement (GPM) mission, which is a partnership between NASA, the Japan Aerospace Exploration Agency, and five other national and international partners.
acquired January 1 – 25, 2018
These precipitation totals are regional, remotely-sensed estimates of precipitation (liquid and frozen mix); they do not reflect pure snowfall. Each pixel shows 0.1 degrees of the globe (about 7 miles at the equator), and the data are averaged across each pixel. Individual ground-based measurements within a pixel can be significantly higher or lower than the average.
In addition to the snowfall in the mountains, rainfall has been frequent and severe in the lowlands, particularly in France. The Seine River crested at nearly 6 meters (20 feet) in Paris in late January. The warm winter in Europe also means that a fair bit of snow has been melting off and running downstream, even as fresh snow is piling up in the hills.
References

Meteo France (2018, January) Hiver 2018 : une pluviométrie exceptionnelle. Accessed January 31, 2018.
The Washington Post (2018, January 23) Heavy snow and avalanches strand thousands at ski villages across the Alps. Accessed January 31, 2018.
Weather.com (2018, January 23) Heavy Snow Buries Davos, Switzerland, During Meeting of World Leaders. Accessed January 31, 2018.
Weather Underground (2018, January 27) Floods, Record Warmth, High Winds: It's the Winter of 2018, European Edition. Accessed January 31, 2018.
NASA Earth Observatory images by Joshua Stevens, using MODIS data from LANCE/EOSDIS Rapid Response and IMERG data from the Global Precipitation Mission (GPM) at NASA/GSFC. Caption by Mike Carlowicz.
Instrument(s):

Terra – MODIS
GPM
---
Sunday, January 21st, 2018
---
Friday, January 19th, 2018
"….. wind gusts of up to 87 mph in the southern port of Hook of Holland…."
---
Thursday, January 18th, 2018
---
Saturday, December 30th, 2017
As 2017 drew toward a close, Arctic air spilled into the eastern United States and Canada for several days. Blasts of bitterly cold air set up a white Christmas for many Americans, and forecasters are expecting New Year's Eve celebrations to be the coldest in recent memory for many areas.
The Moderate Resolution Imaging Spectroradiometer (MODIS) on NASA's Terra satellite captured this image of the frozen Northeast landscape on December 28, 2017. Brisk northwesterly winds created rows of "cloud streets" as cold air blew over Lake Ontario and the Atlantic Ocean. A layer of snow covered much of New England and upstate New York.
Cloud streets are long parallel bands of cumulus clouds that form when cold air blows over warmer waters and a warmer air layer (temperature inversion) rests over the top of both. The comparatively warm water gives up heat and moisture to the cold air above, and columns of heated air called thermals naturally rise through the atmosphere. The temperature inversion acts like a lid. When the rising thermals hit it, they roll over and loop back on themselves, creating parallel cylinders of rotating air. As this happens, the moisture cools and condenses into flat-bottomed, fluffy-topped cumulus clouds that line up parallel to the direction of the prevailing winds.
While the cold streak has not broken all-time records, it is breaking records for individual days. On the day the image was acquired, weather observers on Mount Washington (New Hampshire) recorded a daily record low of -34 degrees Fahrenheit (-36° Celsius). Baltimore, Boston, Flint, New York, Montreal, and Toronto Cities have seen records fall during this cold snap.
When the ball drops in New York City on New Year's Eve, forecasters expect air temperatures of 10°F (-12°C), with wind chills of -5°F ( -15°C). The last time it was so cold was in 1962; the record for the coldest ball drop occurred in 1917, when the air temperature was just 1°F (-17°C), according to Jason Samenow of the Capital Weather Gang.
The cold weather pattern has its origins in a large bulge, or ridge, in the jet stream that has brought unseasonably warm weather to Alaska. On the east side of this ridge, a trough in the jet stream plunged southward, bringing plenty of Arctic air with it. This orientation of the jet stream, which looks similar to the greek letter omega, is known as an omega block.
References and Further Reading

Forbes (2017, December 28) A Response For People Using Record Cold U.S. Weather To Refute Climate Change. Accessed December 29, 2017.
Mashable (2017, December 29) There's no end in sight to the frigid weather in the U.S. and Canada. Accessed December 29, 2017.
The Boston Globe (2017, December 28) Mt. Washington summit breaks daily record low. Accessed December 29, 2017.
The Washington Post (2017, December 29) Eastern U.S. to endure most numbing New Year's Eve cold in memory. Accessed December 29, 2017.
The Weather Channel (2017, December 29) Arctic Cold Outbreak to Bring Record Lows to the Plains, Midwest and East Into the New Year. Accessed December 29, 2017.
Weather Underground (2017, December 25) Almost Half of the Lower 48 States Had Snow Cover Christmas Morning 2017, Including a Rare White Christmas in Seattle. Accessed December 29, 2017.
NASA image by Jeff Schmaltz, LANCE/EOSDIS Rapid Response. Story by Adam Voiland.
Instrument(s):

Terra – MODIS
---
Saturday, December 30th, 2017
La Niña is the cooler sister to El Niño. La Niña draws cool water up from the depths of the eastern Pacific, energizes the easterly winds, and pushes warm surface water back toward Asia. (Note the ripples of warm water moving west across the equator.) In turn, global atmospheric circulation and jet streams shift with the changing heat and moisture supply from the vast Pacific Ocean.
During La Niña events, the weather tends to grow warmer and drier across the southern portion of North America, from California to Florida. Cooler than normal temperatures usually prevail across western Canada, Alaska, and the U.S. Pacific Northwest. Over the central and eastern Pacific Ocean, clouds and rainfall become more sporadic, while rainfall tends to increase dramatically in Indonesia and the western Pacific. Weather conditions in late 2017 seemed to fit with that pattern.
---