Archive for the 'Flood' Category
Wednesday, February 21st, 2018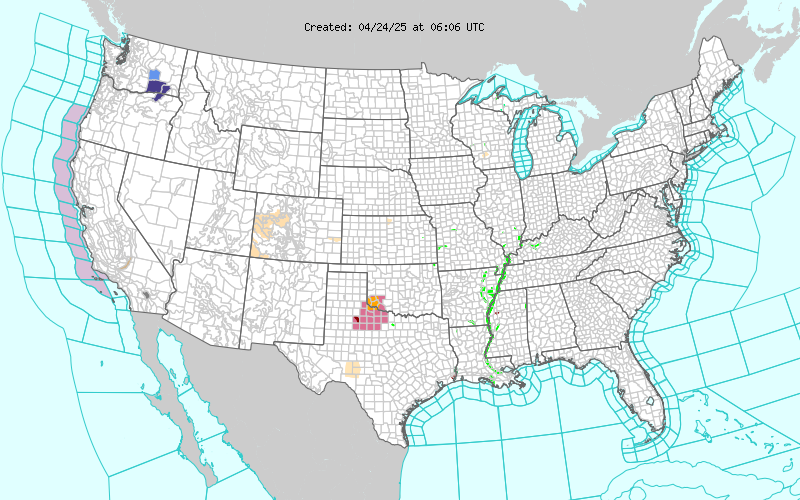 Short Range Forecast Discussion
NWS Weather Prediction Center College Park MD
300 AM EST Wed Feb 21 2018
Valid 12Z Wed Feb 21 2018 – 12Z Fri Feb 23 2018
…Cold temperatures across the West and warm across the East with a
continuing active wet pattern across the central U.S…
Excessive rain and areal flooding will continue from portions of the
Southern Plains to the Great Lakes Region as warm Gulf moisture lifts
northward along a slow moving frontal boundary. Cold air behind the front
will allow for snow,or possible a wintry mix/ freezing rain. Numerous
Winter Weather Advisories are in effect from central Texas to Illinois.
Minor flooding is being observed across western portions of the Tennessee
and Mid-Mississippi Valleys. Several locations across Lower Great
Lakes/western Ohio Valley already have minor to moderate flooding, any
additional rainfall will likely exacerbate the situation.
Temperatures across much of the Eastern Seaboard will be above-to-well
above normal for late February. Widespread highs in the 70s with some
lower 80s are expected, and this has the potential to set record highs.
These late Spring-like temperatures will be short-lived. The strong front
over the central U.S. will finally cross the Central/Northern Appalachians
and cold air will spill into the Northeast and Mid-Atlantic regions by the
end of the week.
Upper-level energy will move southward though the Pacific Northwest will
spread snow spread from the coast inland and south to northern California.
Much of the West will have temperatures warmer than seasonal average
Campbell
Graphics available at www.wpc.ncep.noaa.gov/basicwx/basicwx_ndfd.php
---
Saturday, December 9th, 2017
"…..The Times's analysis found that in the 42 days after Hurricane Maria made landfall on Sept. 20 as a Category 4 storm, 1,052 more people than usual died across the island. The analysis compared the number of deaths for each day in 2017 with the average of the number of deaths for the same days in 2015 and 2016.….."
---
Wednesday, December 6th, 2017
---
Saturday, October 28th, 2017
Notes from the Field: Postflooding Leptospirosis — Louisiana, 2016
Weekly / October 27, 2017 / 66(42);1158–1159
In August 2016, extensive flooding occurred in south-central Louisiana. Approximately 1 month after the flood, the Louisiana Office of Public Health received notification through electronic laboratory reporting of two patients with serologic evidence of leptospirosis (immunoglobulin M antibodies to Leptospira species). Both patients were hospitalized with severe illness at the time of laboratory testing and recovered after appropriate treatment. Hospital record review revealed that both patients were exposed to floodwater before illness onset. Because these two (sentinel) patients with leptospirosis represented a marked increase over the three cases reported in their respective parishes of residence during the previous 28 years (1), an investigation was undertaken to identify other cases of leptospirosis related to the 2016 flood.
Leptospirosis is a bacterial disease caused by infection with pathogenic Leptospira species (2). Humans can be infected through direct contact with urine from an infected animal or by contact with urine-contaminated soil or water, often during flooding (3). Approximately 90% of patients with leptospirosis experience a nonspecific, self-limited illness with symptoms of fever, chills, nausea, or headache (2). Pain in the calf and low back muscles and conjunctival suffusion without purulent discharge are distinctive features (2). Approximately 10% of patients develop severe illness, which is characterized by any combination of jaundice, renal failure, aseptic meningitis, cardiac arrhythmia, gastrointestinal symptoms, pulmonary hemorrhage, or circulatory collapse and is associated with a 5%–15% case fatality rate (2).
Suspected leptospirosis cases were defined as the occurrence of fever with at least two nonspecific symptoms (myalgia, headache, jaundice, conjunctival suffusion, or maculopapular or petechial rash), or at least one diagnosis indicating severe illness (aseptic meningitis, renal insufficiency, pulmonary complications, electrocardiogram abnormalities, gastrointestinal symptoms, hemorrhage, or jaundice with acute renal failure) during August 13–September 21, 2016 in a patient exposed to floodwater (4). The Louisiana Early Events Detection System (LEEDS), a statewide electronic syndromic surveillance system, was queried to identify patients treated in hospitals serving the flood region during August 13–September 21 who had signs, symptoms, or diagnoses compatible with leptospirosis. The dates were selected to include the flooding period (August 11–August 20) and a leptospirosis incubation period beginning 2 days after flooding started and continuing through 30 days after water recession (2). Hospital records of patients meeting the symptoms or diagnosis components of the case definition were reviewed; patients without fever or with laboratory evidence supporting an alternative diagnosis were eliminated. The remaining patients were interviewed to ascertain floodwater exposure; those with floodwater exposure provided whole blood and urine specimens for leptospirosis polymerase chain reaction (PCR) testing and a serum specimen for microscopic agglutination test (MAT) testing. MAT was also performed on serum from both sentinel patients. An acute urine specimen from one sentinel patient was tested by PCR. All laboratory testing was performed by CDC.
LEEDS queries yielded 69 patients warranting medical record review. After eliminating patients who did not meet the case definition based on medical record review, 13 of 18 patients who met the case definition were contacted for interview; among these, four reported floodwater exposure and submitted blood and urine specimens. MAT and PCR were negative for Leptospira spp. infection among all LEEDS-identified patients. Leptospirosis was confirmed by MAT in both sentinel patients; urine PCR identified Leptospira kirschneri DNA in one sentinel patient.
Leptospira species are prevalent among Louisiana wildlife. According to the Louisiana Department of Wildlife and Fisheries (LDWF), anti-Leptospira spp. seroprevalence in the Louisiana feral swine population was 71% in 2015 (Rusty Berry, DVM, LDWF, personal communication, November 9, 2016), which is markedly higher than the 26% estimated by the United States Department of Agriculture in 2012 (5). LDWF surveillance also identified a substantial increase in leptospirosis in the deer population, from an average seroprevalence of 7% during 2007–2012 to 42% during the 2015–2016 hunting season. (Rusty Berry, DVM, LDWF, personal communication, November 9, 2016 and July 6, 2017).
No additional confirmed cases of postflooding leptospirosis were identified. Nonetheless, cases might have been missed because of flood-related access to care difficulties and patients not seeking medical care for less than severe illness. However, given the endemicity of Leptospira spp. among Louisiana wildlife, including documented L. kirschneri in feral swine isolates (6), and the two recent flood-related cases of leptospirosis, a high index of suspicion for leptospirosis among patients with compatible symptoms and exposure to untreated water is warranted, especially during flooding. Educating the public about leptospirosis prevention and clinicians about its clinical presentation might decrease the prevalence of severe disease by enabling early identification and treatment.
---
Wednesday, October 25th, 2017
Advice for Providers Treating Patients in or Recently Returned from Hurricane-Affected Areas, Including Puerto Rico and US Virgin Islands
Distributed via the CDC Health Alert Network
October 24, 2017, 1330 ET (1:30 PM ET)
CDCHAN-00408
Summary
The Centers for Disease Control and Prevention (CDC) is working with federal, state, territorial, and local agencies and global health partners in response to recent hurricanes. CDC is aware of media reports and anecdotal accounts of various infectious diseases in hurricane-affected areas, including Puerto Rico and the US Virgin Islands (USVI). Because of compromised drinking water and decreased access to safe water, food, and shelter, the conditions for outbreaks of infectious diseases exist.
The purpose of this HAN advisory is to remind clinicians assessing patients currently in or recently returned from hurricane-affected areas to be vigilant in looking for certain infectious diseases, including leptospirosis, dengue, hepatitis A, typhoid fever, vibriosis, and influenza. Additionally, this Advisory provides guidance to state and territorial health departments on enhanced disease reporting.
Background
Hurricanes Irma and Maria made landfall in Puerto Rico and USVI in September 2017, causing widespread flooding and devastation. Natural hazards associated with the storms continue to affect many areas. Infectious disease outbreaks of diarrheal and respiratory illnesses can occur when access to safe water and sewage systems are disrupted and personal hygiene is difficult to maintain. Additionally, vector borne diseases can occur due to increased mosquito breeding in standing water; both Puerto Rico and USVI are at risk for outbreaks of dengue, Zika, and chikungunya.
Health care providers and public health practitioners should be aware that post-hurricane environmental conditions may pose an increased risk for the spread of infectious diseases among patients in or recently returned from hurricane-affected areas; including leptospirosis, dengue, hepatitis A, typhoid fever, vibriosis, and influenza. The period of heightened risk may last through March 2018, based on current predictions of full restoration of power and safe water systems in Puerto Rico and USVI.
In addition, providers in health care facilities that have experienced water damage or contaminated water systems should be aware of the potential for increased risk of infections in those facilities due to invasive fungi, nontuberculous Mycobacterium species, Legionella species, and other Gram-negative bacteria associated with water (e.g., Pseudomonas), especially among critically ill or immunocompromised patients.
Cholera has not occurred in Puerto Rico or USVI in many decades and is not expected to occur post-hurricane.
Recommendations
These recommendations apply to healthcare providers treating patients in Puerto Rico and USVI, as well as those treating patients in the continental US who recently traveled in hurricane-affected areas (e.g., within the past 4 weeks), during the period of September 2017 – March 2018.
Health care providers and public health practitioners in hurricane-affected areas should look for community and healthcare-associated infectious diseases.
Health care providers in the continental US are encouraged to ask patients about recent travel (e.g., within the past 4 weeks) to hurricane-affected areas.
All healthcare providers should consider less common infectious disease etiologies in patients presenting with evidence of acute respiratory illness, gastroenteritis, renal or hepatic failure, wound infection, or other febrile illness. Some particularly important infectious diseases to consider include leptospirosis, dengue, hepatitis A, typhoid fever, vibriosis, and influenza.
In the context of limited laboratory resources in hurricane-affected areas, health care providers should contact their territorial or state health department if they need assistance with ordering specific diagnostic tests.
For certain conditions, such as leptospirosis, empiric therapy should be considered pending results of diagnostic tests— treatment for leptospirosis is most effective when initiated early in the disease process. Providers can contact their territorial or state health department or CDC for consultation.
Local health care providers are strongly encouraged to report patients for whom there is a high level of suspicion for leptospirosis, dengue, hepatitis A, typhoid, and vibriosis to their local health authorities, while awaiting laboratory confirmation.
Confirmed cases of leptospirosis, dengue, hepatitis A, typhoid fever, and vibriosis should be immediately reported to the territorial or state health department to facilitate public health investigation and, as appropriate, mitigate the risk of local transmission. While some of these conditions are not listed as reportable conditions in all states, they are conditions of public health importance and should be reported.
For More Information
---
Sunday, October 22nd, 2017
Puerto Rico
• Shelters: 92 shelters open with 4,154 (-102) occupants
• Disaster Assistance Registrations: 792k Power Outages / Restoration
• 21.6% (+5%) of customers with power restored
• 25.4% of transmission lines energized; 36.5% substations energized
• Generator failure reported in Centro Medico; emergency generators to be installed
• PREPA estimating 95% to be restored by December 15
Communications:
• 85% (+24) of population live in areas where wireless coverage is available for voice and text messages
Health & Medical
• 61 (-2) of 67 hospitals open
• 2 Federal Medical Stations operational Water Restoration
• 72% of PRASA customers have potable water service
• 65 water filter plants are operating
Guajataca Dam
• Water has stopped flowing over spillway; reservoir pool is 4 feet below spillway; there is no longer any seepage noted under spillway slabs

U.S. Virgin Islands
• Shelters: 5 shelters open with 290 (-17) occupants
• Disaster Assistance Registrations: 14.9k
Power Outages / Restoration
• Customers receiving power from grid: St. Thomas: 29% St. Croix: 1.6%; St. John: no grid power, restoration expected in 2-3 weeks Communications:
• 88% of population lives in area where wireless coverage is available for voice and text
Health & Medical
• St. Thomas: Schneider Medical Center sustained damage; established mobile medical facility
• St. Croix: Charles Harwood Facility closed; Governor Juan Luis Hospital partially open despite damage

FEMA Response
• NRCC: Modified Level III (day shift, 8:00 am – 6:00 pm EDT)
• National IMAT East-1 & 2, & Region III IMAT deployed to PR
• FEMA Region II & X IMATs: deployed to USVI • MERS teams deployed to both USVI & PR
---