Archive for the 'Flood' Category
Monday, October 1st, 2018
The National Weather Service office in Raleigh offered a preliminary estimate that nearly 8 trillion gallons of rain fell on North Carolina from Sept 13 to 17, 2018. That led to catastrophic flooding across many parts of the state.
Before and after Hurricane Florence swept through the Carolinas, the Operational Land Imager (OLI) on the Landsat 8 satellite observed several residential areas and major rivers. The image pair above shows the Trent River on July 14, 2017, and September 19, 2018. These false-color images use a combination of visible and infrared light (OLI bands 6-5-4) to make it easier to distinguish between flood waters and land.
The Trent River reached an all-time high of 29 feet (8.8 meters) on September 17, more than twice the flood stage (the height at which the river will overflow and cause damage). Water levels decreased to 24 feet (7.3 meters) by September 20, but many homes, public buildings, and roads leading to the town of Trenton are full of standing water.
---
Monday, October 1st, 2018
---
Friday, September 21st, 2018
"When Atrium Health's mobile hospital unit arrived into Burgaw, N.C., on Tuesday from its home-base in Charlotte, residents of the rural area had been without medical care for days in the wake of Hurricane Florence. They lined up for help even as the medical team was setting up in a Family Dollar parking lot.
The area's Pender Memorial Hospital, a critical access hospital, was evacuated ahead of the storm and remained closed because of flooding. The nearest open hospital sat at least 50 miles to the south in Wilmington, N.C., a city unreachable by ground transportation after rising floodwaters cut if off from the rest of the state.
Within 18 hours Atrium Health's Med-1 mobile hospital team of 32 physicians, nurses and other clinicians had treated more than 50 patients, many with chronic diseases, such as heart disease or diabetes. Their conditions had been exacerbated by the stress of the hurricane, loss of electricity or homes and the lack of medical care. Others suffered minor injuries that turned major after becoming infected by unclean water and debris…..Hospitals prepared extensively for the hurricane by stocking up on fuel, water, food and medical supplies as part of emergency plans that had been tested and honed by past disasters.
Many had evacuated patients well enough to be moved to make room for the injured they expected to see after the storm.
Others had sheltered in place—their nurses, physicians, management and other essential staff working in shifts day after day to care for their communities. Once the winds subsided, hospitals worked with their suppliers to get additional food, water and medicine before flooding became worse……"

---
Thursday, September 20th, 2018
Flood Statement
National Weather Service Raleigh, NC
945 PM EDT Wed Sep 19 2018
…The Flood Warning continues for the following rivers in North
Carolina…
Little River At Manchester affecting Cumberland County
PRECAUTIONARY/PREPAREDNESS ACTIONS…
Safety message. If you encounter deep water while driving, do not
attempt to drive through. Turn around, dont drown.
&&
NCC051-201344-
/O.EXT.KRAH.FL.W.0011.000000T0000Z-180924T1648Z/
/MANN7.3.ER.180915T1619Z.180917T2200Z.180924T0448Z.NR/
945 PM EDT Wed Sep 19 2018
The Flood Warning continues for
the Little River At Manchester.
* At  9:30 PM Wednesday the stage was 28.0 feet.
* Flood stage is 18.0 feet.
* Major flooding is occurring and Major flooding is forecast.
* Forecast…The river will continue to fall to below flood stage by
early Monday morning.
* Impact…At 30.0 feet, Water reaches the base of the Bragg Blvd (Hwy
24/87) bridge across the Little River.
* Impact…At 28.0 feet, Flooding reaches the road surface of the
Manchester Road bridge.
* Impact…At 27.0 feet, Major flood stage. The Starlite motel is
flooded and Manchester Road is closed.
* Impact…At 25.0 feet, Water reaches the base of the Manchester Road
bridge and the foundation of the Starlite motel at the intersection
of Manchester Road and Bragg Blvd (Hwy 24/87).
* Impact…At 24.0 feet, Moderate flood stage. Manchester Road is
flooded.
* Impact…At 23.0 feet, Minor flooding begins on Manchester Road near
the Fort Bragg water treatment plant.
* Impact…At 18.0 feet, Flood stage. Minor flood problems begin in
Fort Bragg near the water treatment plant.
---
Wednesday, September 19th, 2018
---
Wednesday, September 19th, 2018
Legend description:
Occurring or Imminent – Significant flooding is already occurring or is forecast to occur during the outlook period.
Likely – Weather conditions indicate that significant flooding can be expected during the outlook period.
Possible – Weather conditions indicate that significant flooding could occur. Such flooding is neither certain nor imminent.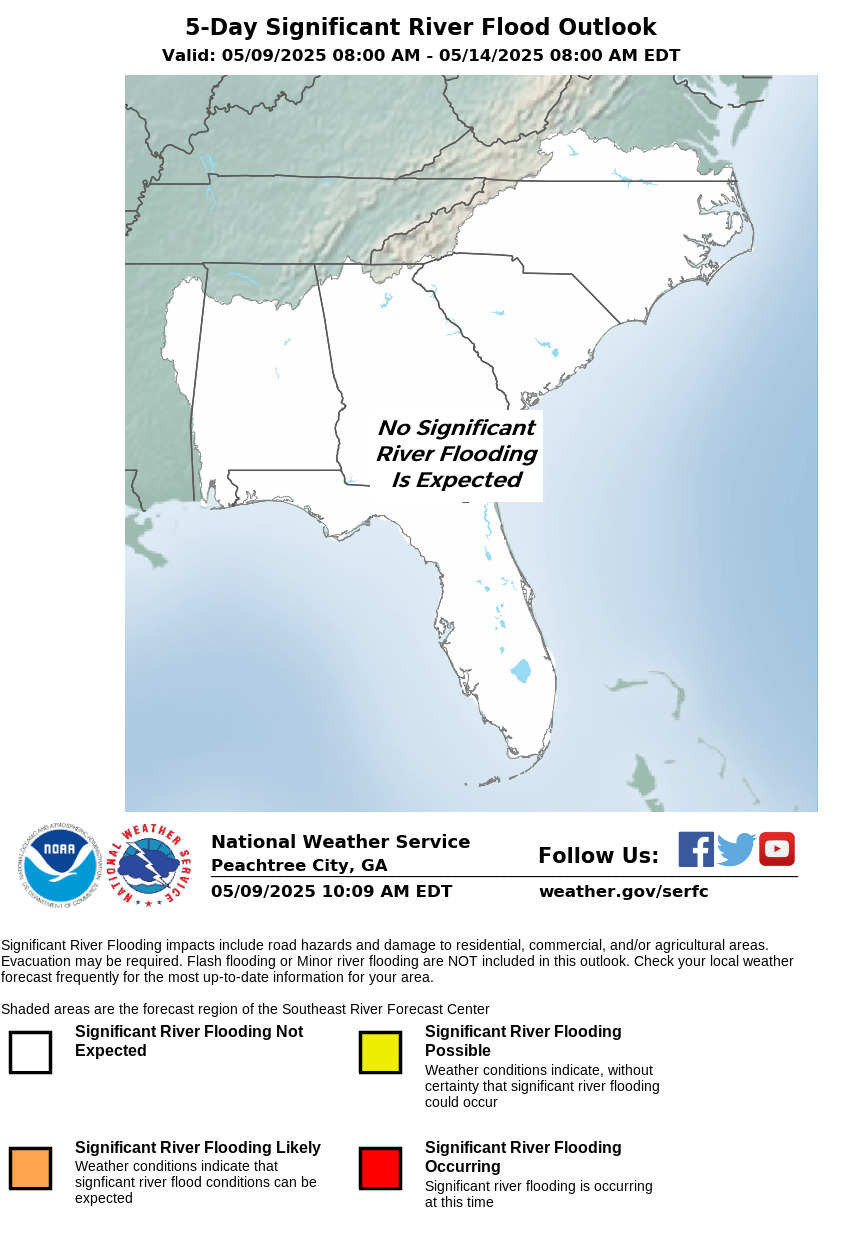 ---
Tuesday, September 18th, 2018
---
Sunday, September 16th, 2018
As of Sunday morning, there were more than 600 road closures across the state.
TRAVEL EXTREMELY HAZARDOUS ACROSS NORTH CAROLINA
Travel is hazardous in North Carolina on
all roads south of US 64
and
east of I-73/74
.  Motorists should not drive in these areas.
GPS systems are routing users into areas NCDOT is not recommending for travel.
To avoid North Carolina if traveling south on I-95 drivers should use I-64 West in Virginia to I-81 south, to I-75 south in Tennessee to I-16 East in Georgia back to I-95.
This is an extremely long detour, but it is the detour that offers the lowest risk of flooding at this time.
Through traffic from I-95 in Georgia is advised to use I-16 West to I-75 North to I-81 North to I-64 East back to I-95 in Virginia.
If you are already in North Carolina on I-95 you may use US 64 west to I-540 west to I-40 west to I-85 south into South Carolina.
Follow South Carolina DOT instructions to return to I-95.
Conditions are constantly changing please check back before you travel.
I-40 CLOSED BETWEEN WILMINGTON AND I-95
Motorists are advised not to travel on I-40 between I-95 and Wilmington due to the uncertainty of flooding conditions.
As the situation is rapidly changing NCDOT is doing our best to report these closures.
For the most current list of road conditions choose a Region, Route or County from the drop down menus below.
NC roads affected by the storm: List of Affected Roads / For areas without specific location details there is general information about roadway conditions: Road Conditions by County
For weather updates visit the National Weather Service  / For the latest on hurricane readiness and response visit ReadyNC.org
For other storm related travel info visit https://www.ncdot.gov/travel-maps/traffic-travel/severe-weather/Pages/summer.aspx.
NCDOT's latest press release
Note:  On the map below, if there are no bright colored red/orange/yellow/green lines on the map there is not enough data to provide speed information on that segment of road.
Red and white striped lines mean that the road is closed.
---
Sunday, September 16th, 2018
---