Archive for the 'Tropical cyclones' Category
Sunday, June 16th, 2019
PRESS RELEASE-7
Time of issue: 1530 hours IST                                                         Dated: 15-06-2019
Sub: Very Severe Cyclonic Storm 'VAYU' over northeast & adjoining eastcentral Arabian Sea
Yesterday's very severe cyclonic storm "VAYU" over northeast & adjoining eastcentral Arabian Sea (AS) moved nearly westwards during past 24 hours and lay centred at 1430 hrs IST of today, the 15th June, 2019 near latitude 20.7°N and longitude 66.7°E over the same region about 325 km west-southwest of Porbandar (Gujarat), 380 km west-southwest of Veraval (Gujarat) and 435 km nearly west of Diu.
The system is very likely to move nearly westwards during next 24 hours with gradual weakening and recurve northeastwards thereafter and cross north Gujarat coast as a Depression by the evening of 17th June 2019.
Forecast track and intensity are given in the following table: Date/Time(IST) Position (Lat. 0N/ long. 0E) Maximum sustained surface wind speed (Kmph)
Category of cyclonic disturbance
15.06.19/1430 20.7/66.7 120-130 gusting to 145
Very Severe Cyclonic Storm 15.06.19/1730 20.7/66.4 120-130 gusting to 145
Very Severe Cyclonic Storm 15.06.19/2330 20.7/66.0 120-130 gusting to 145
Very Severe Cyclonic Storm 16.06.19/0530 20.9/65.7 100-110 gusting to 125
Severe Cyclonic Storm 16.06.19/1130 21.2/65.9 100-110 gusting to 125
Severe Cyclonic Storm 16.06.19/2330 21.8/66.6 80-90 gusting to 100
Cyclonic Storm 17.06.19/1130 22.5/67.6 55-65 gusting to 75
Deep Depression 17.06.19/2330 23.5/69.0 40-50 gusting to 60 Depression
---
Saturday, June 15th, 2019
---
Wednesday, June 12th, 2019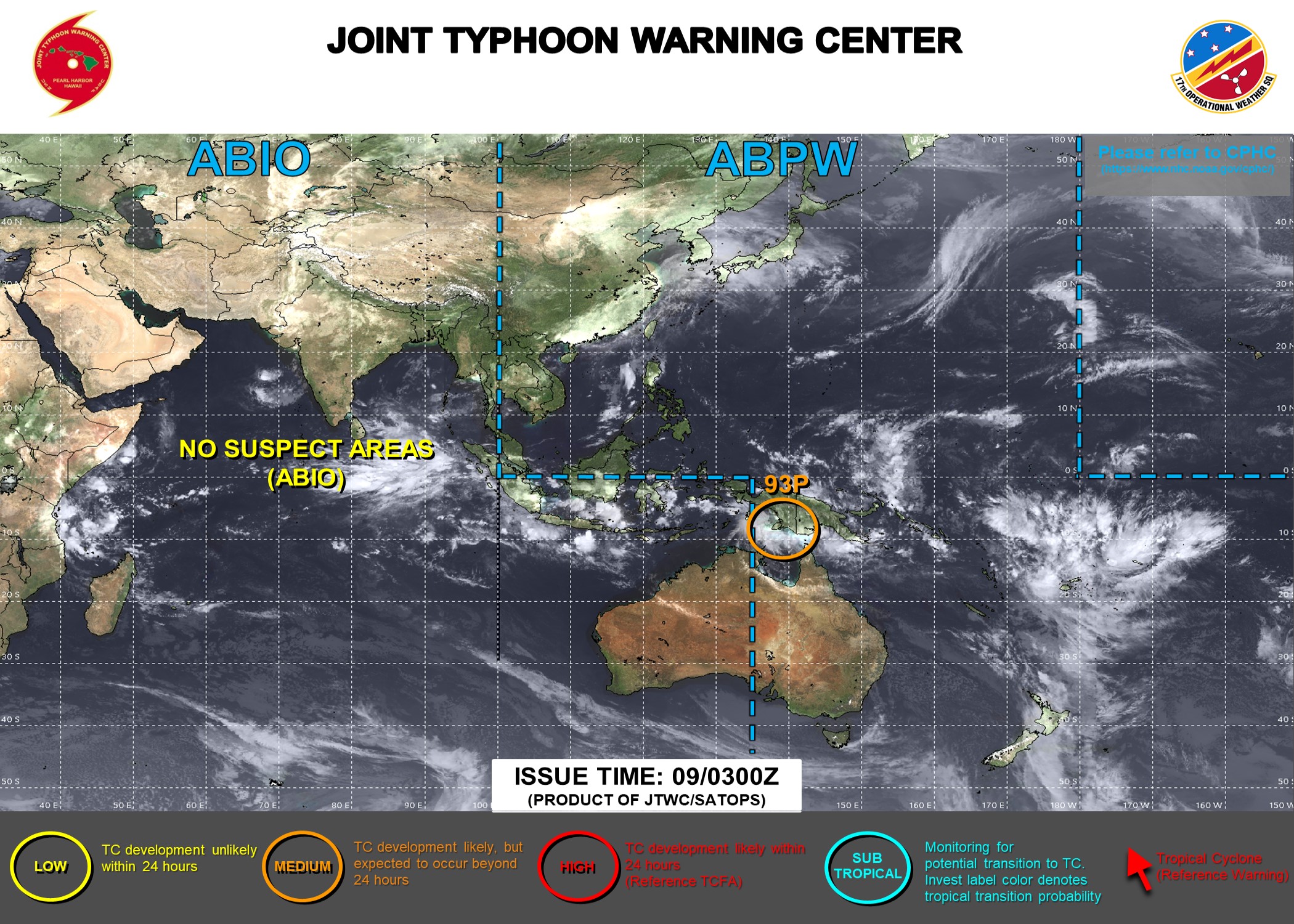 ---
Saturday, June 1st, 2019
"…..NOAA's Climate Prediction Center is predicting that a near-normal Atlantic hurricane season is most likely this year. This outlook forecasts a 40% chance of a near-normal season, a 30% chance of an above-normal season and a 30% chance of a below-normal season. The hurricane season officially extends from June 1 to November 30.
For 2019, NOAA predicts a likely range of 9 to 15 named storms (winds of 39 mph or higher), of which 4 to 8 could become hurricanes (winds of 74 mph or higher), including 2 to 4 major hurricanes (category 3, 4 or 5; with winds of 111 mph or higher). NOAA provides these ranges with a 70% confidence. An average hurricane season produces 12 named storms, of which 6 become hurricanes, including 3 major hurricanes……"
---
Monday, May 20th, 2019
"….More than 1.8 million people have struggled to recover from the damaging cyclones, but Mozambique's mothers might be the most in need of help.
Mothers who need to have their babies weighed, immunised or measured, have to consult with doctors outdoors.
A temporary unit for gynaecological examinations and assisted procedures has been set up by the medical charity, Doctors Without Borders, known by its French initials MSF, but a better-equipped structure is urgently needed at this rural hospital where on average 120 women give birth each month…..
According to the World Health Organization (WHO), it is critical for lactating mothers to have energy and protein-rich foods during emergencies to ensure a baby is breastfed well.
"Breastfeeding is the best protection against diseases. Breastfed babies face much less risk of illness than babies who are not breastfed and, if they are sick, the duration of their illness is usually less," Dr Nellia Mutisse, a specialist in child health with WHO Mozambique……"
---
Tuesday, May 14th, 2019
Credit:  NOAA
"……These storm surge hazard mapsoffsite link enable people living in hurricane-prone coastal areas to evaluate their risk of coastal flooding due to storm surge. And don't forget, storm surge is not just a beachfront problem. The hazard extends many miles inland from the immediate coastline in some areas. Understanding this risk gives you the time to take action when emergency managers tell you to evacuate……"
1. Storm surge is often the greatest threat to life and property from a hurricane. It poses a significant threat for drowning. A mere six inches of fast-moving flood water can knock over an adult. It takes only two feet of rushing water to carry away most vehicles— including pickups and SUVs.
2. Storm surge can cause water levels to rise quickly and flood large areas—sometimes in just minutes, and you could be left with no time to take action if you haven't already evacuated as instructed.
3. Storm surge values do not correspond well to the hurricane wind categories (of the Saffir-Simpson Hurricane Wind Scale) that range from 1 to 5. These categories are based only on winds and do not account for storm surge.
4. Tropical storms, category 1 or 2 hurricanes, major (category 3 to 5) hurricanes, and post-tropical cyclones can all cause life-threatening storm surge.
5. Storm surge can also occur with non-tropical storms like Nor'easters and other winter storms.
6. Many U.S. Gulf and East Coast areas are vulnerable to storm surge, including areas up to several miles inland from the coastline. Find out today, well before a hurricane ever approaches, if you live in a storm surge evacuation zone.
7. Storm surge can occur before, during, or after the center of a storm passes through an area. Storm surge can sometimes cut off evacuation routes, so do not delay leaving if an evacuation is ordered for your area.
8. During the peak of a storm surge event, it is unlikely that emergency responders will be able to reach you if you are in danger.
9. Even if your community is not directly affected by storm surge, it could experience other hazards from the storm and face dangerous conditions such as impassable roads, water and sewage problems, and power outages. If power remains on, downed electrical wires can pose an electrocution risk.
10. Weather conditions and the forecast can change. Local officials could issue evacuation or other instructions for many reasons. Always follow the instructions of local officials.
---
Sunday, May 5th, 2019
"……To warn people of what was coming, they deployed everything they had: 2.6 million text messages, 43,000 volunteers, nearly 1,000 emergency workers, television commercials, coastal sirens, buses, police officers, and public address systems blaring the same message on a loop, in local language, in very clear terms: "A cyclone is coming. Get to the shelters."
[Update: "The worst is over": A sigh of relief in India, mostly spared by cyclone.]
It seems to have largely worked….."
---
Sunday, May 5th, 2019
At 5 dead and over 60 injured;
---