Archive for the 'Ebola' Category
Tuesday, December 11th, 2018
SITUATION ÉPIDÉMIOLOGIQUE DANS LES PROVINCES DU NORD-KIVU ET DE L'ITURI
Lundi 10 décembre 2018
La situation épidémiologique de la Maladie à Virus Ebola en date du 9 décembre 2018 :
Depuis le début de l'épidémie, le cumul des cas est de 498, dont 450 confirmés et 48 probables. Au total, il y a eu 285 décès (237 confirmés et 48 probables) et 167 personnes guéries.
73 cas suspects en cours d'investigation.
4 nouveaux cas confirmés, dont 3 à Katwa et 1 à Vuhovi.
2 nouveaux décès de cas confirmés (tous des décès communautaires), dont 1 à Katwa et 1 à Vuhovi.
2 nouvelles personnes guéries, dont 1 sortie du CTE de Beni et 1 du CTE de Butembo.
---
Friday, December 7th, 2018
"The Ministry of Health (MoH), WHO and partners continue to respond to the Ebola virus disease (EVD) outbreak in the Democratic Republic of the Congo, and remain confident that the outbreak can be contained, despite ongoing challenges. During the reporting period (27 November – 3 December 2018), 31 new confirmed cases and one new probable case were detected. The cases were reported from eight health zones in North Kivu Province: Beni (n=8), Katwa (n=8), Vuhovi (n=3), Kalunguta (n=2), Butembo (n=1), Masereka (n=1), Mutwanga (n=1) and Mabalako (n=1), as well as Komanda Health Zone (n=7) in Ituri Province. A total of 27 deaths occurred during the reporting period.
As of 3 December 2018, a total of 453 EVD cases, including 405 confirmed and 48 probable cases (Table 1), have been reported from 14 health zones in the two neighbouring provinces of North Kivu and Ituri (Figure 2). The health zones of Komanda, Masereka and Mabalako have reported one new confirmed case each, respectively 61 days, 48 days and 56 days after confirmation of previously confirmed cases, and investigations are ongoing regarding links and travel history from other areas to these cases. Over the last 21 days (13 November to 3 December 2018), 110 confirmed and probable cases were reported from 11 health zones. The majority were reported from Beni (n=35), Katwa (n=34), Kalunguta (n=15) and Butembo (n=10). The other affected health zones were Komanda, Kyondo, Mabalako, Masereka, Mutwanga, Oicha and Vuhovi. Of the 453 cases, 268 died (case fatality rate 59%), including 220 among confirmed cases. Females account for 59% of all confirmed and probable cases. Two health workers were among the new confirmed cases, bringing the total number of health workers infected to 44, including 12 deaths.
As of 3 December 2018, 144 confirmed cases have recovered and been discharged from Ebola Treatment Centres (ETCs). On this day, 114 patients were hospitalised in transit centres and ETCs, of which 35 were laboratory confirmed and are receiving compassionate therapy under the monitored emergency use of unregistered and experimental interventions (MEURI) guidelines….."
---
Thursday, December 6th, 2018
The Emergency Use Authorization (EUA) authority allows FDA to help strengthen the nation's public health protections against CBRN threats by facilitating the availability and use of MCMs needed during public health emergencies.
Under section 564 of the Federal Food, Drug, and Cosmetic Act (FD&C Act), the FDA Commissioner may allow unapproved medical products or unapproved uses of approved medical products to be used in an emergency to diagnose, treat, or prevent serious or life-threatening diseases or conditions caused by CBRN threat agents when there are no adequate, approved, and available alternatives.
Section 564 of the FD&C Act was amended by the Project Bioshield Act of 2004 and the Pandemic and All-Hazards Preparedness Reauthorization Act of 2013 (PAHPRA), which was enacted in March 2013
Current EUAs
The tables below provide information on current EUAs:
---
Tuesday, December 4th, 2018
SITUATION ÉPIDÉMIOLOGIQUE DANS LES PROVINCES DU NORD-KIVU ET DE L'ITURI

Lundi 3 décembre 2018
La situation épidémiologique de la Maladie à Virus Ebola en date du 2 décembre 2018 :
Depuis le début de l'épidémie, le cumul des cas est de 444, dont 396 confirmés et 48 probables. Au total, il y a eu 260 décès (212 confirmés et 48 probables) et 140 personnes guéries.
72 cas suspects en cours d'investigation.
4 nouveaux cas confirmés, dont 2 à Beni, 1 à Katwa et 1 à Kalunguta.
5 nouveaux décès de cas confirmés, dont 3 à Beni, 1 à Butembo et 1 à Kalunguta.
1 nouvelle personne guérie sortie du CTE de Butembo.
---
Friday, November 30th, 2018
"……We therefore believe that the U.S. government should allow CDC staff to return to the field for as long as the WHO and others deem necessary. Security arrangements should be made to ensure that any deployed teams could operate safely in affected areas. Options for the safe deployment of CDC personnel may include using existing security forces, such as the United Nations Organization Stabilization Mission in the DR Congo (MONUSCO), which is currently protecting WHO staff. Ideally, epidemic response agencies and organizations from other countries with Ebola experience that are not already engaged in the current response would similarly offer assistance to the WHO and the DRC.
The WHO has transformed its ability to respond to emergencies, but it remains dependent on international support, both technical and financial. It has requested that member states create a Contingency Fund for Emergencies (CFE) to support its work in responding to disease and other crises. To date, however, the CFE has received less than a third of its $100 million annual target. More support is clearly needed; it's estimated that the response to the DRC Ebola outbreak alone will cost $44 million……"
---
Thursday, November 29th, 2018
28 November 2018 | BENI: A spike in malaria cases is threatening the health of people in parts of the eastern Democratic Republic of the Congo (DRC) where health workers are also battling an Ebola outbreak.  In response, a four-day mass drug administration (MDA) campaign was launched today in the Northern Kivu province town of Beni, with a target to reach up to 450 000 people with anti-malarial drugs combined with the distribution of insecticide-treated mosquito nets.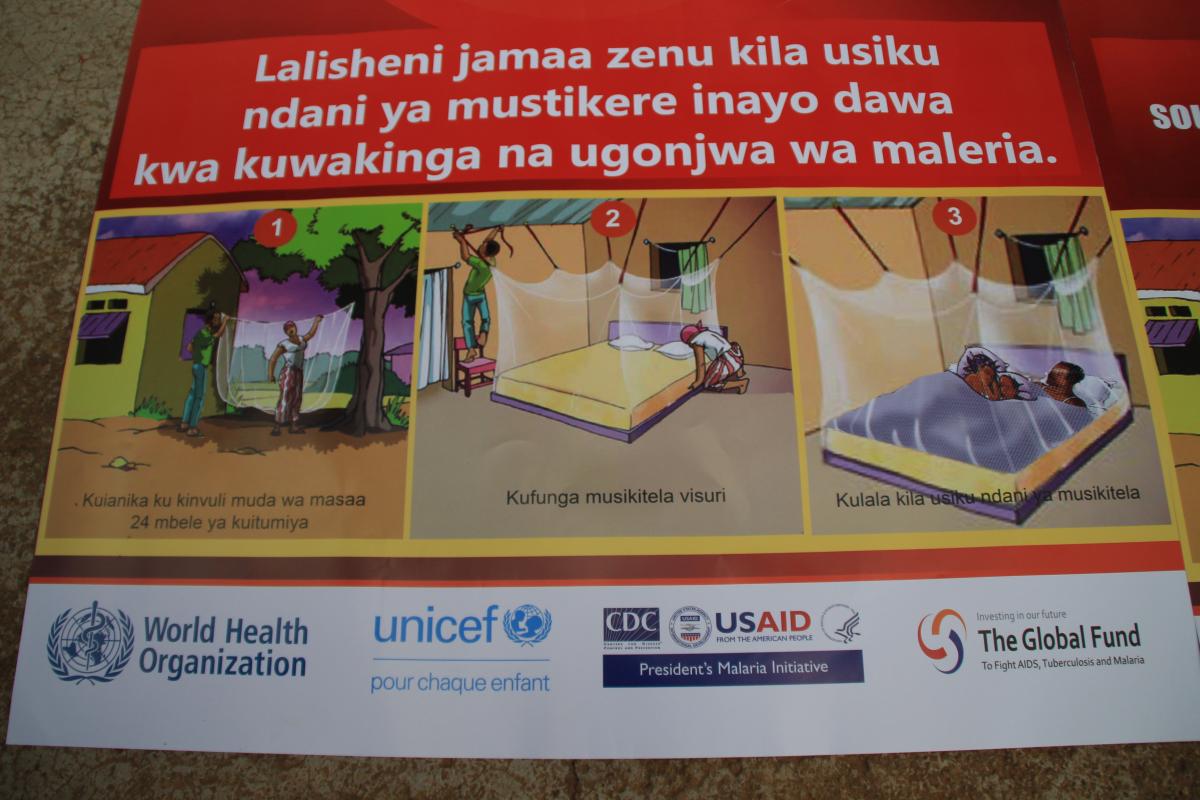 The malaria control campaign is being led by the DRC National Malaria Control Programme, supported by the World Health Organization (WHO), UNICEF, the Global Fund and the United States President's Malaria Initiative (PMI). The campaign is modelled after the campaign implemented in Sierra Leone during the 2014 Ebola outbreak in West Africa, which was instrumental in lowering illness and deaths from malaria in the areas reached.
"Controlling malaria is critical in areas like North Kivu, as it causes widespread disease and death, especially among the region's children," says Dr Yokouide Allarangar, WHO's Representative to the DRC. "This anti-malaria campaign will also help reduce the pressure on the overall health system, which is currently striving to protect people from the ongoing Ebola threat in the region."
One campaign impacting two diseases
North Kivu's malaria outbreak has overburdened Ebola responders; many suspected cases of Ebola have turned out to be malaria, as early symptoms of both diseases are similar. Up to 50% of people screened in Ebola treatment centers have been found to only have malaria.
Therefore, the anti-malaria campaign has two main aims.
Firstly, the distribution of insecticide-treated mosquito nets will prevent malaria transmission and its accompanying health consequences, thus saving lives.
Secondly, the mass drug administration will treat people who have already contracted malaria and curtail transmission of malaria among Ebola-affected populations and health centres. Having fewer people present with malaria will lessen the workload  on already stretched Ebola treatment centres.
DRC's malaria challenge
From 2016-2017, DRC observed an estimated increase of more than half a million malaria cases (24.4 million to 25 million), according to the WHO World malaria report 2018. DRC is the second-leading country in the world for malaria cases, after Nigeria, accounting for 11% of the 219 million cases and 435 000 deaths from malaria in 2017.
In North Kivu province, the area experiencing the brunt of the Ebola outbreak, there has already been an up to eight-fold increase in malaria incidence as of early September 2018 (or approximately 2000 cases registered per week) compared to the same period in 2017.
Despite recent improvements in coverage of malaria interventions, DRC continues to experience challenges in access to preventive and curative malaria interventions, as well as an environment that supports very high transmission rates. Funding, infrastructure challenges and insecurity are all key obstacles to achieving the intervention coverage needed to protect populations at risk.
Ongoing Ebola outbreak in North Kivu Province
North Kivu province is the epicentre of an Ebola outbreak that was announced on 2 August and has caused more than 365 cases and 236 deaths. The town of Beni has been one of the most affected. Political instability, violence, and a refugee and internally-displaced people crisis have made the current Ebola outbreak one of the most complex and difficult public health challenges in recent history.
---
Saturday, November 17th, 2018
"…..Dr. Pierre Rollin is an expert on Ebola with the U.S. Centers for Disease Control and Prevention…..Rollin has been visiting for more than 20 years to respond to periodic Ebola outbreaks. And he says there's a pattern to these eruptions.
"Usually you have one or two months before you detect it," explains Rollin. By then enough cases start cropping up that one of them reaches a health worker who recognizes that it might be Ebola and orders up a test.
As soon as the case is identified as Ebola, response teams flood into the outbreak zone. They isolate those who are already sick and identify anyone who has had contact with them — and any contacts of those contacts – so they can be monitored and, if necessary, isolated in turn. Within a short time the outbreak is quashed. "Three, four months maximum," says Rollin.
But that's how long the current outbreak has been spreading through DRC. And Rollin says by many measures this time around it's as if they're stuck at square one.
"It's as if we're just starting now when in fact we started three months ago," says Rollin. "We're not making any progress."….."
---
Saturday, November 17th, 2018
"……Rebel attacks have forced suspension of efforts to contain the Ebola outbreak in some areas.
Dr. Peter Salama, the emergencies chief for the World Health Organization, predicted Tuesday that Congo's Ebola outbreak, which has killed more than 200 people, will last at least six more months.
The outbreak is "arguably the most difficult context that we've ever encountered," Dr. Salama said, pointing to activities of the armed rebel groups in the region……"
---
Tuesday, November 13th, 2018
"…..efforts to contain the deadly outbreak have been thwarted by violence against health officials and civilians as militant groups battle for control in the affected region.  The minister said two health workers were killed in one attack……"
---