Archive for the 'Ebola' Category
Wednesday, August 2nd, 2017
Health Secur.
2017 May/Jun;15(3):253-260. doi: 10.1089/hs.2017.0005.
The National Ebola Training and Education Center: Preparing the United States for Ebola and Other Special Pathogens.
Kratochvil CJ
1
,
Evans L
1
,
Ribner BS
1
,
Lowe JJ
1
,
Harvey MC
1
,
Hunt RC
1
,
Tumpey AJ
1
,
Fagan RP
1
,
Schwedhelm MM
1
,
Bell S
1
,
Maher J
1
,
Kraft CS
1
,
Cagliuso NV Sr
1
,
Vanairsdale S
1
,
Vasa A
1
,
Smith PW
1
.
Abstract
The National Ebola Training and Education Center (NETEC) was established in 2015 in response to the 2014-2016 Ebola virus disease outbreak in West Africa. The US Department of Health and Human Services office of the Assistant Secretary for Preparedness and Response and the US Centers for Disease Control and Prevention sought to increase the competency of healthcare and public health workers, as well as the capability of healthcare facilities in the United States, to deliver safe, efficient, and effective care to patients infected with Ebola and other special pathogens nationwide. NYC Health + Hospitals/Bellevue, Emory University, and the University of Nebraska Medical Center/Nebraska Medicine were awarded this cooperative agreement, based in part on their experience in safely and successfully evaluating and treating patients with Ebola virus disease in the United States. In 2016, NETEC received a supplemental award to expand on 3 initial primary tasks: (1) develop metrics and conduct peer review assessments; (2) develop and provide educational materials, resources, and tools, including exercise design templates; (3) provide expert training and technical assistance; and, to add a fourth task, create a special pathogens clinical research network.
---
Sunday, July 9th, 2017
Scientists at the U.S. Food and Drug Administration (FDA) have developed an assay that assesses the ability of antibodies to neutralize Ebola virus, using a technique that does not require the use of Ebola virus itself and can be automated for rapid testing of large numbers of samples.
The new FDA assay is important because the effectiveness of most licensed viral vaccines is based on their ability to trigger production of neutralizing antibodies. Therefore, methods for assessing neutralization activity of antibodies will likely be an important component for evaluating the effectiveness of Ebola virus vaccines and identifying correlates of protection (measurable signs of immunity).
The assay is based on a widely used technique called micro-neutralization, which measures the ability of antibodies to prevent viruses from infecting animal cells and reproducing themselves. The greater the neutralization of a virus by antibodies, the fewer the number of viruses are able to infect cells and the less the viruses can replicate themselves by making copies of viral genetic material.
A key attribute of the assay is built upon the use of a genetically modified, non-disease-causing virus called vesicular stomatitis virus (VSV). The modified VSV carries part of the genome from Ebola virus and can substitute for Ebola virus in certain assays—an approach previously used at FDA.
The use of genetically engineered VSV eliminates the need for additional precautions, like a BSL-4 laboratory, because the modified virus is incapable of causing Ebola disease. These laboratories are designed for working with pathogens that pose a high risk of life-threatening disease through aerosol transmission and for which there is no vaccine or treatment. The FDA assay is appropriate for BSL-2 laboratories, which are widely available and do not require the more elaborate containment requirements of BSL-4. The need for BSL-4 laboratories for scientists to work with Ebola virus has complicated the worldwide effort to study the virus and develop and assess the effectiveness of Ebola virus vaccines.
The FDA scientists genetically modified different versions of VSV, so each one carried on its surface one of four variations of a molecule called an envelope glycoprotein (GP) found on different strains of the Ebola virus. Then they used a technique called quantitative polymerase chain reaction to measure the amount of genetic material produced by the hybrid VSV after it had been exposed to commercially available antibodies to Ebola virus. Automating the process should offer an important time advantage to public health scientists during investigations of an outbreak. The assay can determine within 6 to 16 hours if antibodies are effective against the Ebola virus.
The scientists showed that the assay was able to assess whether specific antibodies targeting each GP neutralized the different hybrid VSV variants, preventing the virus from infecting the cells and multiplying. Moreover, the results of the Ebola antibody assays agreed with those obtained by other, more complex assays, now used for such testing. This suggests that the assay will be useful in evaluating the ability of antibodies, triggered either by vaccines or natural infection, to neutralize specific varieties of the virus. Moreover, it might be possible to adapt the assay to assess neutralizing antibodies against other viral pathogens.
Title
Development of a micro-neutralization assay for ebolaviruses using a replication-competent vesicular stomatitis hybrid virus and a quantitative PCR readout
Vaccine 17 April 2017
DOI: 10.1016/j.vaccine.2017.03.019
Authors
Stella S. Lee, Kathryn Phy, Keith Peden ⇑, Li Sheng-Fowler
Laboratory of DNA Viruses, Division of Viral Products, Office of Vaccines Research and Review, Center for Biologics Evaluation and Research, Food and Drug Administration, Silver Spring, MD 20993, United States
⇑ Corresponding author at: Building 52/72, Room 1220, CBER, FDA, 10903 New Hampshire Avenue, Silver Spring, MD 20993, United States.
E-mail address: keith.peden@fda.hhs.gov (K. Peden).
---
Sunday, June 25th, 2017
Tiffany A, Dalziel BD, Kagume Njenge H, Johnson G, Nugba Ballah R, James D, et al. (2017) Estimating the number of secondary Ebola cases resulting from an unsafe burial and risk factors for transmission during the West Africa Ebola epidemic. PLoS Negl Trop Dis 11(6): e0005491. https://doi.org/10.1371/journal.pntd.0005491
"……Red Cross safe and dignified burial (SDB) activities….may have reduced the epidemic by 4.9% to 36.5%….."
---
Saturday, June 3rd, 2017
Volume 23, Number 6—June 2017
Dispatch
Sustainability of High-Level Isolation Capabilities among US Ebola Treatment Centers
Main Article(https://wwwnc.cdc.gov/eid/article/23/6/17-0062_article)
Figure 1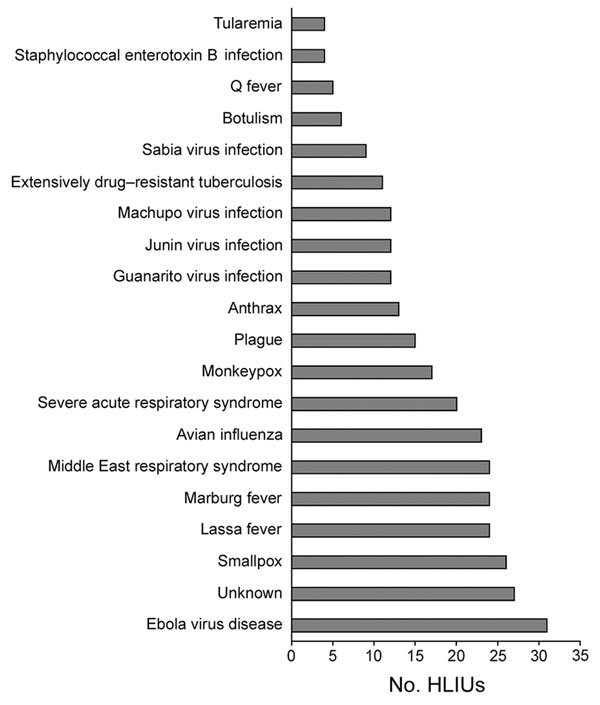 Main Article(https://wwwnc.cdc.gov/eid/article/23/6/17-0062_article)
---
Thursday, June 1st, 2017
New technology allows for rapid diagnosis of Ebola in the Democratic Republic of the Congo
Laboratory testing of samples is essential to rapidly assess the scope and spread of any Ebola outbreak. Since the major outbreak in West Africa in 2014, an increasing number of diagnostic tools have become available to perform rapid initial testing of samples. The Democratic Republic of the Congo is using these new tools, as well as classic ones, to respond to an ongoing outbreak of the virus in a very remote area of the north east of the country.
WHO/A. Clements-Hunt
A small cluster of undiagnosed illness and deaths with haemorrhagic signs was reported in the Province of Bas-Uele in early May. Congolese scientists quickly gathered samples, shipped them to Kinshasa and tested them at the National Institute of Biomedical Research (INRB). The results, subsequently confirmed by the Centre International de Recherche Médicale de Franceville (CIRMF), a WHO collaborating centre in Gabon, showed this is an outbreak due to Ebola virus disease (Ebolazaire).
A mobile lab in Likati Health Zone, where the current outbreak of Ebola is occuring. This type of laboratory safely allows outbreak response teams to rapidly test suspected cases onsite.
As soon as the outbreak was detected, the Ministry of Health, together with WHO and other partners, mobilized laboratory resources to ensure investigations could be conducted as quickly as possible to guide the response. In addition to the testing facilities available at the INRB in Kinshasa, an INRB mobile field lab was quickly dispatched to the affected health zone of Likati.
To control the outbreak, multi-disciplinary field teams in Likati have been actively searching for suspect cases. Anyone presenting with certain pre-defined symptoms, such as sudden onset of fever and/or unexplained bleeding, is considered a suspect Ebola case until laboratory results prove otherwise. Discarding suspect cases that test negative for Ebola allows response teams to focus on tracing only the contacts of those who have either tested positive or whose status is unknown.
The MOH, WHO and partners have rapidly set up an intensified field alert and response system in Likati. This is resulting in early identification of suspect cases detected in the affected zone. The field laboratory provides the capability to rapidly test samples on site and focus support and follow-up on any new laboratory confirmed cases and contacts. In this extremely remote and challenging area, this mobile lab is providing a core element of robust surveillance, which is essential to bringing this outbreak to an end as quickly as possible.
WHO/A. Clements-Hunt
One of the technologies being used to detect Ebola in DRC is GeneXpert, which was primarily developed to detect cases of tuberculosis, but has been adapted to enable rapid testing of many pathogens – HIV, malaria, STIs, and Ebola. At the INRB laboratory in Kinshasa – with support from USAID, WHO, Canada, the Global Outbreak Alert and Response Network (GOARN) and the Emerging and Dangerous Pathogens Laboratory Network (EDPLN) – technicians can use GeneXpert to test for the Zaire strain of Ebola in just one hour. For samples that are negative, further testing is then undertaken to check for other strains of Ebola, other viral haemorrhagic fevers, or other diseases.
WHO/A. Clements-Hunt
Other tests developed during the West African outbreak are also being deployed, such as OraQuick — a rapid diagnostic test, which has been developed with the support of the US Centers for Disease Control and Prevention and GOARN. In the field, OraQuick can test blood or saliva samples for Ebola in just half an hour.
Even if many or all suspect cases now being tested are negative, it remains vital to actively follow contacts of all confirmed, probable, and suspect cases for 21 days, and then to continue enhanced surveillance for an additional 21-day period. Any period of calm is an opportunity to continue building and reinforcing local and country preparedness and response capacities and ensuring rapid investigation teams are ready in case the virus should resurface.
This is the eighth outbreak of Ebola virus disease in the Democratic Republic of the Congo since the disease was discovered in the 1970s in DRC. Health authorities in this country are recognized throughout the African region and the world as experts in responding to outbreaks of this disease.
---
Thursday, June 1st, 2017
Six-Month Safety Data of Recombinant Vesicular Stomatitis Virus–Zaire Ebola Virus Envelope Glycoprotein Vaccine in a Phase 3 Double-Blind, Placebo-Controlled Randomized Study in Healthy Adults
Background.
This study (NCT02503202) evaluated the safety of recombinant vesicular stomatitis virus–Zaire Ebola virus envelope glycoprotein vaccine (rVSVΔG-ZEBOV-GP).
Methods.
Overall, 1197 subjects were randomized 2:2:2:2:1; 1194 were vaccinated with 1 dose of 1 of 3 lots of rVSVΔG- ZEBOV-GP (2 × 107 plaque-forming units [pfu], n = 797; combined-lots group), a single high-dose lot of rVSVΔG-ZEBOV-GP (1 × 108 pfu, n = 264; high-dose group), or placebo (n = 133). Daily temperatures and adverse events (AEs) were recorded days 1 to 42 postvaccination. Solicited AEs included injection-site AEs from days 1 to 5, and joint pain, joint swelling, vesicular lesions (blisters), and rashes from days 1 to 42. Serious AEs (SAEs) were recorded through 6 months postvaccination.
Results.
Fever (≥38.0°C) was observed in 20.2% of combined lots (3.2% with ≥39.0°C), 32.2% of high-dose (4.3% with ≥39.0°C), and 0.8% of placebo (0.8% with ≥39.0°C). Incidences of AEs of interest (days 1–42) were arthralgia (17.1% combined lots, 20.4% high-dose, 3.0% placebo), arthritis (5.1% combined lots, 4.2% high-dose, 0.0% placebo), and rash (3.8% combined lots, 3.8% high-dose, 1.5% placebo). Twenty-one SAEs and 2 deaths were reported, all assessed by investigators as unrelated to vaccine.
Conclusions.
rVSVΔG-ZEBOV-GP was generally well-tolerated, with increased rates of injection-site and systemic AEs compared to placebo, and no vaccine-related SAEs or deaths. These findings support the use of rVSVΔG-ZEBOV-GP vaccine in persons at risk for Ebola virus disease.
Clinical Trials Registration.
NCT02503202.
---
Monday, May 29th, 2017
Glynn JR, Bower H, Johnson S, et al. Asymptomatic infection and unrecognized Ebola virus disease in Ebola-affected households in Sierra Leone: a cross-sectional study using a new non-invasive assay for antibodies to Ebola virus. Lancet Infect Dis 2017;17:645-653.
"…..By using control subjects, Glynn and colleagues incorporated appropriate rigor into their low overall estimate of 2.6% asymptomatic infection. If asymptomatic infection is a rare event, as this study suggests, then outbreak control should be focused on identifying symptomatic individuals and initiating the appropriate infection control measures to halt an outbreak.
Additionally, the novel assay used in the study, which requires just oral swabbing, is an important new tool that can be employed in similar studies and to understand where Ebola has occurred in the past. As a new outbreak of Ebola has been identified in the DRC, it will be important to use this near real-time approach to target efforts on tasks that have the highest yield. As USAMRIID's Kuhn and Bavari write in an accompanying editorial, "The biggest threat to human populations therefore remains another introduction of Ebola virus from its natural host–and not transmission from an apparently healthy person infected with Ebola virus……."
---
Saturday, May 20th, 2017
"…..As of 18 May 2017, a total of 29 EVD cases [two confirmed, two probable and 25 suspected] have been reported.  To date, three deaths have been reported, giving a case fatality rate of 10%. Most of the cases presented with fever, vomiting, bloody diarrhea and other bleeding symptoms and signs. The cases have been reported from four health areas, namely Nambwa (11 cases and two deaths), Mouma (three cases and one death), Ngayi (13 cases and no deaths), and Azande (two cases and no deaths). According to available …."
---
Thursday, May 18th, 2017
1. Situation update
WHO continues to monitor the outbreak of Ebola virus disease (EVD) in Likati Health Zone, Bas Uele Province located in the north-east of the Democratic Republic of the Congo. Between 15 May and 16 May 2017, two new suspected EVD cases were reported in Azande (one case) and Nambwa (1 case) health areas in Lakati Health Zone. As of 16 May 2017, 21 suspected EVD cases including three deaths (case fatality rate of 14.3%) have been reported. Most of the cases presented with fever, vomiting, bloody diarrhoea and other bleeding symptoms and signs. The cases have been reported from four health areas, namely Nambwa (13 cases and two deaths), Mouma (three cases and one death), Ngayi (four cases and no deaths) and Azande (one case and no deaths).
Two of five blood samples collected from the initial cases and analysed at the Institut National de Recherche Biomédicale (INRB) laboratory in Kinshasa tested positive for Zaire ebolavirus. Approximately 400 close contacts have been registered in Likati Health Zone and are being monitored.
This Ebola outbreak in the Democratic Republic of the Congo was notified to WHO by the Ministry of Health on 11 May 2017. The cluster of cases and deaths of previously unidentified illness have been reported since late April 2017. Likati Health Zone shares borders with two provinces in the Democratic Republic of the Congo and with the Central African Republic (Fig. 1). The affected areas are remote and hard to reach, with limited communication and transport networks.
EBOLA VIRUS DISEASE Democratic Republic of Congo
Date of issue: 16 May 2017
The current outbreak is the eighth Ebola outbreak in the Democratic Republic of the Congo since the disease was first discovered in 1976 in Yambuku.
Health Emergency Information and Risk Assessment Health Emergency Information and Risk Assessment 2-19 suspected cases -3 deaths
As this is a rapidly changing situation, the number of reported cases and deaths, contacts under medical observation and the number of laboratory results are subject to change due to enhanced surveillance and contact tracing activities, ongoing laboratory investigations and consolidation of case, contact and laboratory data.
Health Emergency Information and Risk Assessment Health Emergency Information and Risk Assessment 3
Current risk assessment
• The risk is high at the national level due to the known impact of Ebola outbreaks, remoteness of the affected area, limited access to health care and suboptimal surveillance. • Risk at the regional level is moderate due to the proximity of international borders and the recent influx of refugees from Central African Republic. •  The risk is low at global level due to the remoteness and inaccessibility of the area to major international ports.
The risk assessment will be revaluated by the three levels of WHO according to the evolution of the situation and the available information. WHO advises against the application of any travel or trade restrictions on the Democratic Republic of the Congo based on the currently available information. WHO continues to monitor reports of measures being implemented at points of entry.
WHO's strategic approach to the prevention, detection and control of EVD
WHO recommends the implementation of strategies that have proven to be effective in preventing and control of Ebola outbreaks. These strategies include (i) coordination of the response, (ii) enhanced surveillance, (iii) laboratory confirmation, (iv) contact identification and follow-up, (v) case management, (vi) infection prevention and control, (vii) safe burials, (viii) social mobilization and community engagement, (ix) logistics, (x) risk communication, (xi) vaccination, (xii) partner engagement, (xiii) research and (xiv) resource mobilization.
2. Actions to date
Since the declaration of the outbreak, the WHO regional Office for Africa, as well as the other levels of WHO, are providing a high level of support to the country in order to ensure an effective response to this event.
Coordination of the response
• On 15 May 2017, the Minister of Public Health chaired the Health Emergency Management Committee meeting in Kinshasa which was attended by government officials and partners. The attendees reviewed the current situation, discussed strategies and planned the implementation of control interventions. • The national, provincial and zonal response teams, in collaboration with partners, are conducting daily coordination meetings in order to design strategies, plan, implement and monitor progress of the response. • WHO is conducting daily conference calls involving all the three levels of WHO to strategize and provide guidance.
Surveillance
• The national rapid response team arrived in Likati Health Zone on 15 May 2017. The team will conduct detailed epidemiological investigations and support the local response. • Active surveillance is being established and strengthened in the affected region and daily reporting has been implemented. Surveillance is also being enhanced nationwide.
Laboratory confirmation
• By 15 May 2017, five new blood samples have been collected from the affected people and are being transported to the Institut National de Recherche Biomédicale (INRB) laboratory in Kinshasa for testing. • INRB is deploying 2 mobile laboratories to Buta and Likati. There is additional mobile laboratory support available through GOARN/EDPLN for if required. • The available samples will be transported to the WHO Collaborating Centre for further analysis. • Samples transportation mechanism from the field is being improved to enable timely confirmation of suspected cases.
Health Emergency Information and Risk Assessment Health Emergency Information and Risk Assessment 4
Health Emergency Information and Risk Assessment Health Emergency Information and Risk Assessment 5
Infection prevention and control / safe burials
• The disinfection of materials and homes of the cases is ongoing in Likati and Nambwa health zones. • The logistics and capacity to conduct safe burials are being put in place.
Contact identification and follow-up
• At least 400 contacts have been identified and are being followed up on a daily basis. Efforts are ongoing to establish and strengthen contact tracing mechanisms.  • Tools for contact identification and follow up are being distributed to health workers.
Case management
• Preparations by the non-governmental organizations Médecins Sans Frontières (MSF) and the Alliance for International Medical Action (ALIMA) are ongoing to support the establishment of proper isolation and treatment facilities in the affected areas.
Social mobilization and community engagement
• National social mobilization and community engagement experts are on the ground to sensitize and engage the communities.
Logistic
• The logistics team in Kinshasa is working closely with logistics partners and stakeholders across the Democratic Republic of the Congo to ensure effective collaboration and coordination. The logistic issues to be addressed include supply, warehousing, transport, setting up of living quarters and operations base(s) in remote zones, setting up medical and isolation facilities, and referral of patients. The international logistics partners include UNICEF, World Food Programme (WFP), MSF, ALIMA, the United States Agency for International Development (USAID) and the United Kingdom Department for International Development (DFID). • WFP/Logistics Cluster and UNICEF have been approach to support warehousing capacity in Buta and eventually Likati. • WHO donated 3,000 sets of personal protective equipment (PPE), enough to support a facility of 30 beds for 30 days. The other supplies donated include 100 body bags, sprayers, chlorine powder for disinfection and infrared thermometers. The supplies have been transported to Likati. • Communication equipment, including satellite phones and data satellite communication devices has been deployed. • Discussions to secure air transport are in advanced stages. The options will include using both helicopter and fixed-wing flights. The United Nations Humanitarian Air Service (UNHAS) will set up a base to operate from Buta. •
Resources Mobilization
• The Ministry of Health has finalized the national Ebola outbreak response plan and budget, amounting to US$ 8 million. The response plan and budget has been presented and discussed with partners. • The WHO Country Office in the Democratic Republic of the Congo finalized a response plan and budget amounting to US$ 1.4 million. •
Risk communication
• Risk communication messages are being aired through local radio channels. Awareness campaigns are also being organized in markets, churches and other public places. • An advocacy meeting was held with the political and administrative authorities
Health Emergency Information and Risk Assessment Health Emergency Information and Risk Assessment 6
Partnership
• WHO continues to mobilize partners to provide technical and logistical support to the country. • GOARN Operational Support Team is coordinating Partner inputs and regular information sharing through teleconferences and secure Knowledge Platform. • MSF and ALIMA are on the ground in Likati to provide technical support.
IHR Travel measures
• As of 16 May 2017, three countries have instituted entry screening at airports and ports of entry (Nigeria, Tanzania, and Zimbabwe), and two countries have issued travel advisories to avoid unnecessary travel to DRC (Rwanda) or to areas around the epicenter of the epidemic (United Kingdom). • The IHR Secretariat, together with ICAO is actively monitoring the travel measures implemented by States Parties in relation to this outbreak. • WHO does not currently recommend any restrictions of travel and trade in relation to this outbreak.
3. Summary of public health risks, needs and gaps
The critical needs currently are access to the affected areas and to enable the timely deployment of required human and logistical resources, including the mobile laboratory and communication tools.
Proposed ways forward include:
• Establishing appropriate Ebola isolation and treatment facilities; • Initiate implementation of response interventions in all the essential pillars; • Continuing with the deployment of national and international experts to the affected areas; • Mobilizing needed resources, including telecommunications and air transport logistics, to ease communication and access to the affected areas.
---
Wednesday, May 17th, 2017
The outbreak has grown to 20 suspected cases.
Three of the infected have died.
---