Archive for the 'Climate Change' Category
Monday, January 9th, 2017
The Building Resilience Against Climate Effects (BRACE) framework is a five-step process that allows health officials to develop strategies and programs to help communities prepare for the health effects of climate change. Part of this effort involves incorporating complex atmospheric data and both short and long range climate projections into public health planning and response activities. Combining atmospheric data and projections with epidemiologic analysis allows health officials to more effectively anticipate, prepare for, and respond to a range of climate sensitive health impacts.
Five sequential steps comprise the BRACE framework:
Step 1: Anticipate Climate Impacts and Assessing Vulnerabilities
Identify the scope of climate impacts, associated potential health outcomes, and populations and locations vulnerable to these health impacts.
Climate Models and the Use of Climate Projections: A Brief Overview for Health Departments[PDF – 1.50 MB]
Assessing health vulnerability to climate change: A guide for health departments[PDF – 4.35 MB]
Step 2: Project the Disease Burden
Estimate or quantify the additional burden of health outcomes associated with climate change.
Step 3: Assess Public Health Interventions
Identify the most suitable health interventions for the identified health impacts of greatest concern.
Step 4: Develop and Implement a Climate and Health Adaptation Plan
Develop a written adaptation plan that is regularly updated. Disseminate and oversee implementation of the plan.
Step 5: Evaluate Impact and Improve Quality of Activities
Evaluate the process. Determine the value of information attained and activities undertaken.
More in-depth information about the BRACE framework can be found in the document titled Building Resilience against Climate Effects—A Novel Framework to Facilitate Climate Readiness in Public Health Agencies.
---
Sunday, January 8th, 2017
---
Friday, November 4th, 2016
"….But scientists and policy makers say the agreement entering into force is just the first step of a much longer and complicated process of transitioning away from fossil fuels, which currently supply the bulk of the planet's energy needs and also are the primary drivers of global warming…."
"….While the Paris agreement is legally binding, the emissions reductions that each country has committed to are not. Instead, the agreement seeks to create a transparent system that will allow the public to monitor how well each country is doing at meeting its goals in hopes that this will motivate them to transition more quickly to clean, renewable energy like wind, solar and hydropower…."
"….A report by the U.N. Environment Program released Thursday projects that annual emissions must be kept below 42 billion tons of CO2 (carbon dioxide) by 2030 for the world to have a chance to meet the goals set out in the Paris agreement. However, the agreement itself foresees emissions reaching 54 billion-56 billion tons in 2030, setting the world on a course to exceed the goal of limiting warming to 2 degrees Celsius (3.6 degrees Fahrenheit)….."
---
Tuesday, May 24th, 2016
2015
2000
---
Thursday, May 5th, 2016
Climate Change and The Workplace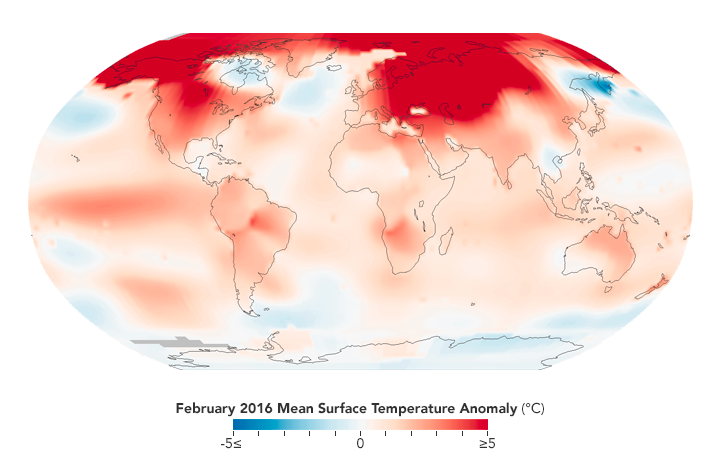 February 2016 was the warmest February in 136 years of modern temperature records. That month deviated more from normal than any month on record.
According to an ongoing temperature analysis conducted by scientists at NASA's Goddard Institute for Space Studies (GISS), the average global temperature in February was about 0.5 degrees Celsius (0.8 degrees Fahrenheit) warmer than the previous record (February 1998). February 2016 was 1.35 degrees Celsius above the 1951–80 average; February 1998 was 0.88°C above it. Both records were set during strong El Niño events.
The map above depicts global temperature anomalies for February 2016. It does not show absolute temperatures; instead it shows how much warmer or cooler the Earth was compared to a baseline average from 1951 to 1980.
Almost all land surfaces on Earth experienced unusually warm temperatures in February 2016. The warmest temperatures occurred in Asia, North America, and the Arctic. Two of the exceptions were the Kamchatka Peninsula and a small portion of southeast Asia, which saw unusually cool temperatures. Note the clear fingerprint of El Niño in the equatorial Pacific Ocean.
acquired January 1980 – February, 2016
The chart above plots the global temperature anomaly for each month of the year since 1980. Each February is highlighted with a red dot. All dots, red or gray, show how much global temperatures rose above or below the 1951–1980 average. Despite monthly variability, the long-term trend due to global warming is clear and now punctuated by the unusually warm data point for February 2016.
The GISS team assembles its temperature analysis from publicly available data acquired by roughly 6,300 meteorological stations around the world; by ship- and buoy-based instruments measuring sea surface temperature; and by Antarctic research stations. This raw data is analyzed using methods that account for the varied spacing of temperature stations around the globe and for urban heating effects that could skew the calculations. The modern global temperature record begins around 1880 because observations did not cover enough of the planet prior to that time.
For more explanation of how the analysis works, visit the GISS Surface Temperature F.A.Q. page.
Further Reading

Climate Central (2016, February 14) What To Know About February's Satellite Temp Record. Accessed March 16, 2016.
Mashable (2016, February 14) February obliterated global temperature records: The 5 most important implications. Accessed March 16, 2016.
Spencer, R. (2016, February 14) UAH V6 Global Temperature Update for Feb. 2016: +0.83 deg. C (new record). Accessed March 16, 2016.
The Washington Post (2016, March 14) The planet had its biggest temperature spike in modern history in February. Accessed March 16, 2016.
Weather Underground (2016, March 13) February Smashes Earth's All-Time Global Heat Record by a Jaw-Dropping Margin. Accessed March 16, 2016.
NASA Earth Observatory images by Joshua Stevens, using data from the Goddard Institute for Space Studies. Caption by Adam Voiland.
Instrument(s):

In situ Measurement
---
Friday, January 8th, 2016
Influence of extreme weather disasters on global crop production
Corey Lesk

Pedram Rowhani

&

Navin Ramankutty
Journal name: Nature;  Volume: 529, Pages: 84–87

Date published:  07 January 2016

DOI:  doi:10.1038/nature16467
In recent years, several extreme weather disasters have partially or completely damaged regional crop production1, 2, 3, 4, 5. While detailed regional accounts of the effects of extreme weather disasters exist, the global scale effects of droughts, floods and extreme temperature on crop production are yet to be quantified. Here we estimate for the first time, to our knowledge, national cereal production losses across the globe resulting from reported extreme weather disasters during 1964–2007. We show that droughts and extreme heat significantly reduced national cereal production by 9–10%, whereas our analysis could not identify an effect from floods and extreme cold in the national data. Analysing the underlying processes, we find that production losses due to droughts were associated with a reduction in both harvested area and yields, whereas extreme heat mainly decreased cereal yields. Furthermore, the results highlight ~7% greater production damage from more recent droughts and 8–11% more damage in developed countries than in developing ones. Our findings may help to guide agricultural priorities in international disaster risk reduction and adaptation efforts.
---
Thursday, January 7th, 2016
                             1885 – 1894                                                                  2005 – 2014
NASA:  The world is getting warmer, whatever the cause.
According to an analysis by NASA scientists, the average global temperature has increased by about 0.8°Celsius (1.4° Fahrenheit) since 1880.
Two-thirds of the warming has occurred since 1975.
---