Archive for the 'WHO' Category
Wednesday, April 19th, 2017
Unprecedented progress against neglected tropical diseases, WHO reports
19 April 2017 | Geneva – WHO reports remarkable achievements in tackling neglected tropical diseases (NTDs) since 2007. An estimated 1 billion people received treatment in 2015 alone.
"WHO has observed record-breaking progress towards bringing ancient scourges like sleeping sickness and elephantiasis to their knees," said WHO Director-General, Dr. Margaret Chan. "Over the past 10 years, millions of people have been rescued from disability and poverty, thanks to one of the most effective global partnerships in modern public health".
The WHO report, Integrating neglected tropical diseases in global health and development, demonstrates how strong political support, generous donations of medicines, and improvements in living conditions have led to sustained expansion of disease control programs in countries where these diseases are most prevalent.
Since 2007, when a group of global partners met to agree to tackle NTDs together, a variety of local and international partners have worked alongside ministries of health in endemic countries to deliver quality-assured medicines, and provide people with care and long-term management.
In 2012, partners endorsed a WHO NTD roadmap, committing additional support and resources to eliminating 10 of the most common NTDs.
Key achievements include:
1 billion people treated for at least one neglected tropical disease in 2015 alone.
556 million people received preventive treatment for lymphatic filariasis (elephantiasis).
More than 114 million people received treatment for onchocerciasis (river blindness: 62% of those requiring it.
Only 25 human cases of Guinea-worm disease were reported in 2016, putting eradication within reach.
Cases of human African trypanosomiasis (sleeping sickness) have been reduced from 37 000 new cases in 1999 to well under 3000 cases in 2015.
Trachoma – the world's leading infectious cause of blindness – has been eliminated as a public health problem in Mexico, Morocco, and Oman. More than 185 000 trachoma patients had surgery for trichiasis worldwide and more than 56 million people received antibiotics in 2015 alone.
Visceral leishmaniasis: in 2015 the target for elimination was achieved in 82% of sub-districts in India, 97% of sub-districts in Bangladesh, and in 100% of districts in Nepal.
Only 12 reported human deaths were attributable to rabies in the WHO Region of the Americas in 2015, bringing the region close to its target of eliminating rabies in humans by 2015.
However, the report highlights the need to further scale up action in other areas.
"Further gains in the fight against neglected tropical diseases will depend on wider progress towards the Sustainable Development Goals," said Dr Dirk Engels, Director of the Department of Control of Neglected Tropical Diseases. Meeting global targets for water and sanitation will be key. WHO estimates that 2.4 billion people still lack basic sanitation facilities such as toilets and latrines, while more than 660 million continue to drink water from "unimproved" sources, such as surface water.
Meanwhile, global concern about the recent outbreaks of Zika virus disease, and its associated complications, has re-energized efforts to improve vector control. In May this year, the World Health Assembly will review proposals for a new Global vector control response. There are also brighter prospects to prioritize cross-sectoral collaboration to promote veterinary public health.
Global Partners' Meeting
Integrating neglected tropical diseases in global health and development is being released at the Global Partners' Meeting on Neglected Tropical Diseases (NTDs) in Geneva, on 19 April 2017.
The Meeting will celebrate efforts to "Collaborate. Accelerate. Eliminate", and will be attended by health ministers, industry representatives, partners and a host of well-known personalities, including philanthropists, donors and stakeholders.
Besides celebrating 10 years of multi-stakeholder collaboration, the event will also mark the 5th anniversary of the WHO NTD Roadmap which established targets and milestones for the global control, elimination, and eradication of many of these diseases as well as that of the London Declaration.
Note to editors:
Neglected tropical diseases blind, maim, disfigure and debilitate hundreds of millions of people in urban slums and in the poorest parts of the world.
Once widely prevalent, these diseases are now restricted to tropical and sub-tropical regions with unsafe water, inadequate hygiene and sanitation, and poor housing conditions. Poor people living in remote, rural areas, urban slums, or conflict zones are most at risk.
More than 70% of countries and territories that report the presence of NTDs are low or lower-middle income economies.
---
Monday, March 6th, 2017
Don't pollute my future! The impact of the environment on children's health
Background
In 2015, 5.9 million children under age five died. The major causes of child deaths globally are pneumonia, prematurity, intrapartum-related complications, neonatal sepsis, congenital anomalies, diarrhoea, injuries and malaria. Most of these diseases and conditions are at least partially caused by the environment. It was estimated in 2012 that 26% of childhood deaths and 25% of the total disease burden in children under five could be prevented through the reduction of environmental risks such as air pollution, unsafe water, sanitation and inadequate hygiene or chemicals.
Children are especially vulnerable to environmental threats due to their developing organs and immune systems, smaller bodies and airways. Harmful exposures can start as early as in utero. Furthermore, breastfeeding can be an important source of exposure to certain chemicals in infants; this should, however, not discourage breastfeeding which carries numerous positive health and developmental effects (4). Proportionate to their size, children ingest more food, drink more water and breathe more air than adults. Additionally, certain modes of behaviour, such as putting hands and objects into the mouth and playing outdoors can increase children's exposure to environmental contaminants.
Download
---
Friday, March 3rd, 2017
"…..The WHO recommends the following for the Northern Hemisphere's trivalent vaccines:
For H1N1, an A/Michigan/45/2015-like virus
For H3N2, an A/Hong Hong/4801/2014-like virus
For B, Brisbane/60/2008-like virus (belonging to the Victoria lineage)
For quadrivalent versions that contain two influenza B strains, the WHO experts recommended adding Phuket/3073/2013-like virus, a Yamagata lineage virus that is the second B component of quadrivalent vaccines for both the Southern Hemisphere's past and the Northern Hemisphere's current season…."
"…..Today the group said that recent H7N9 viruses fall into the Yangtze River Delta (YRD) or Pearl River Delta (PRD) hemagglutinin lineages, and that two existing candidate vaccine viruses don't seem to protect against recent YRD-lineage viruses. They proposed a new candidate vaccine virus to protect against those viruses.
Also, they said the newly identified highly pathogenic H7N9 viruses isolated from poultry and people are genetically and antigenically distinct from other H7N9 viruses, including recommended candidate strain, including the newly proposed one. Therefore, the group recommended a new candidate vaccine virus to protect against the highly pathogenic H7N9 strain.
The group also recommended three other candidate pandemic vaccine viruses, two against recent variant H1N1 strains and one against the recent H5N6 virus circulating in Japan and South Korea……"
---
Tuesday, February 28th, 2017
The World Health Organization was requested by Member States to develop a global priority pathogens list (global PPL) of antibiotic-resistant bacteria to help in prioritizing the research and development (R&D) of new and effective antibiotic treatments.
WHO PRIORITY PATHOGENS LIST  FOR R&D OF NEW ANTIBIOTICS
Priority 1: CRITICAL
Acinetobacter baumannii, carbapenem-resistant
Pseudomonas aeruginosa, carbapenem-resistant
Enterobacteriaceae, carbapenem-resistant, 3rd generation cephalosporin-resistant
Priority 2: HIGH
Enterococcus faecium, vancomycin-resistant
Staphylococcus aureus, methicillin-resistant, vancomycin intermediate and resistant
Helicobacter pylori, clarithromycin-resistant
Campylobacter, fluoroquinolone-resistant
Salmonella spp., fluoroquinolone-resistant
Neisseria gonorrhoeae, 3rd generation cephalosporin-resistant, fluoroquinolone-resistant
Priority 3: MEDIUM
Streptococcus pneumoniae, penicillin-non-susceptible
Haemophilus influenzae, ampicillin-resistant
Shigella spp., fluoroquinolone-resistant
---
Wednesday, January 25th, 2017
WHO Executive Board agrees on an initial short list of candidates to the post of WHO Director-General
Today, WHO has taken the next step in the election of the Director-General of WHO.
Initial screening of the 6 candidates nominated by Member States was conducted by the Executive Board. The Board then voted to determine a short list of 5 candidates.
The short list comprises the following candidates:
Tomorrow, on 25 January, Members of the Executive Board will conduct interviews, and shorten the list to 3 nominees, by vote. Their names will be announced by the Executive Board Chair, Dr Ray Busuttil on Wednesday evening 25 January. All Member States will choose among the three nominees by voting at the World Health Assembly in May 2017. The new Director-General will take office on 1 July 2017.
---
Tuesday, January 24th, 2017
"Stung by the lack of vaccines to fight the West African Ebola epidemic, a group of prominent donors announced Wednesday that they had raised almost $500 million for a new partnership to stop epidemics before they spiral out of control.
The partnership, the Coalition for Epidemic Preparedness Innovations, will initially develop and stockpile vaccines against three known viral threats, and also push the development of technology to brew large amounts of vaccine quickly when new threats…arise……Bill Gates, founder of the Bill and Melinda Gates Foundation, one of the largest initial donors…has often predicted that the catastrophe most likely to kill 10 million people in the near future is a pandemic rather than nuclear war, terrorism, famine or natural disaster.
The other donors….include the governments of Japan and Norway, and Britain's Wellcome Trust. Each is putting up $100 million to $125 million over five years; Germany, India and the European Commission are expected to announce donations soon.
Six major vaccine makers — GlaxoSmithKline, Johnson & Johnson, Merck, Pfizer, Sanofi and Takeda — joined in the coalition as "partners" rather than donors, as did the World Health Organization and Doctors Without Borders……"
---
Friday, November 11th, 2016
"…Since 6 June 2016, health clinics in IDP camps in Borno State have seen increasing numbers of measles cases. From early September until late October, 744 suspected cases of measles, and 2 deaths, were reported from WHO-established EWARS reporting sites. The majority of these children had never been vaccinated against measles and most of them were aged less than 5 years…."
Measles is one of the leading causes of death among young children even though a safe and cost-effective vaccine is available.
In 2015, there were 134 200 measles deaths globally – about 367 deaths every day or 15 deaths every hour.
Measles vaccination resulted in a 79% drop in measles deaths between 2000 and 2015 worldwide.
In 2015, about 85% of the world's children received one dose of measles vaccine by their first birthday through routine health services – up from 73% in 2000.
During 2000-2015, measles vaccination prevented an estimated 20.3 million deaths making measles vaccine one of the best buys in public health.
---
Tuesday, October 25th, 2016
Administering the vaccine intradermally rather than subcutaneously could increase the available doses at least twofold.
In June the same panel approved a plan to stretch limited yellow fever vaccine supplies—drained by outbreaks in Angola and the Democratic Republic of Congo—by using one-fifth of the regular dose.
---
Saturday, October 15th, 2016
Keeping your hands clean is one of the most important steps you can take to avoid getting sick and spreading germs to the people around you. Many diseases and conditions are spread by not cleaning your hands properly. Here are five important things you might not know about washing your hands and why it matters.
Soap is key. Washing your hands with soap removes germs much more effectively than using water alone.[i] The compounds, called surfactants, in soap help remove soil and microbes from your skin. You also tend to scrub your hands more thoroughly when you use soap, which also helps to removes germs.[ii]
It takes longer than you might think. The optimal length of time to wash your hands depends on many factors, including the type and amount of soil on your hands. Evidence suggests that washing your hands for about 15–30 seconds removes more germs than washing for shorter periods.[iii] CDC recommends washing your hands for about 20 seconds, or the time it takes to hum the "Happy Birthday" song twice from beginning to end.
It's all about technique. Make sure to clean the spots on your hands that people miss most frequently. Pay particular attention to the backs of your hands, in between your fingers, and under your nails. Lathering and scrubbing your hands creates friction, which helps to remove dirt, grease, and germs from your skin.
Hand sanitizer is an option. If you can't get to a sink to wash your hands with soap and water, use an alcohol-based hand sanitizer that contains at least 60% alcohol. Make sure you use enough to cover all surfaces of your hands. Do not rinse or wipe off the hand sanitizer before it is dry.[viii]
Note: Hand sanitizer may not kill all germs, especially if your hands are visibly dirty or greasy,[ix] so it is important to wash hands with soap and water as soon as possible after using hand sanitizer.
Why it Matters
Remember, clean hands save lives. Diarrheal diseases and pneumonia are the top two killers of young children around the world, killing 1.8 million children under the age of five every year.[x] Among young children, handwashing with soap prevents 1 out of every 3 diarrheal illnesses [xi] and 1 out of 5 respiratory infections like pneumonia worldwide.[xii],[xiii]
Handwashing is for everyone…everywhere. Global Handwashing Day is an opportunity to support a global and local culture of handwashing with soap and water, shine a spotlight on the state of handwashing in each country, and raise awareness about the benefits of washing your hands with soap. Although people around the world clean their hands with water, very few use soap to wash their hands because soap and water for handwashing might be less accessible in developing countries.
Get Involved!
References
[i] Burton M, Cobb E, Donachie P, Judah G, Curtis V, Schmidt WP. The effect of handwashing with water or soap on bacterial contamination of hands. Int J Environ Res Public Health. 2011 Jan;8(1):97-104.
[ii] Burton M, Cobb E, Donachie P, Judah G, Curtis V, Schmidt WP. The effect of handwashing with water or soap on bacterial contamination of hands. Int J Environ Res Public Health. 2011 Jan;8(1):97-104.
[iii] Jensen D, Schaffner D, Danyluk M, Harris L. Efficacy of handwashing duration and drying methods. Int Assn Food Prot. 2012 July.
[iv] Patrick DR, Findon G, Miller TE. Residual moisture determines the level of touch-contact-associated bacterial transfer following hand washing. Epidemiol Infect. 1997 Dec;119(3):319-25.
[v] Gustafson DR, Vetter EA, Larson DR, Ilstrup DM, Maker MD, Thompson RL, Cockerill FR 3rd. Effects of 4 hand-drying methods for removing bacteria from washed hands: a randomized trial. Mayo Clin Proc. 2000 Jul;75(7):705-8.
[vi] Huang C, Ma W, Stack S. The hygienic efficacy of different hand-drying methods: a review of the evidence. Mayo Clin Proc. 2012 Aug;87(8):791-8.
[vii] Jensen D, Schaffner D, Danyluk M, Harris L. Efficacy of handwashing duration and drying methods. Int Assn Food Prot Annual Meeting. 2012 July 22-25.
[viii] Widmer, A. F., Dangel, M., & RN. (2007). Introducing alcohol-based hand rub for hand hygiene: the critical need for training. Infection Control and Hospital Epidemiology, 28(1), 50-54.
[ix] Pickering AJ, Davis J, Boehm AB. Efficacy of alcohol-based hand sanitizer on hands soiled with dirt and cooking oil. J Water Health. 2011 Sep;9(3):429-33.
[x] Liu L, Johnson HL, Cousens S, Perin J, Scott S, Lawn JE, Rudan I, Campbell H, Cibulskis R, Li M, Mathers C, Black RE; Child Health Epidemiology Reference Group of WHO and UNICEF. Global, regional, and national causes of child mortality: an updated systematic analysis for 2010 with time trends since 2000. Lancet. 2012 Jun 9;379(9832):2151-61.
[xi] Ejemot RI, Ehiri JE, Meremikwu MM, Critchley JA. Hand washing for preventing diarrhoea. Cochrane Database Syst Rev. 2008;1:CD004265.
[xii] Rabie T and Curtis V. Handwashing and risk of respiratory infections: a quantitative systematic review.Trop Med Int Health. 2006 Mar;11(3):258-67.
[xiii] Aiello AE, Coulborn RM, Perez V, Larson EL. Effect of hand hygiene on infectious disease risk in the community setting: a meta-analysis. Am J Public Health. 2008;98(8):1372-81.
Posted on October 14, 2016 by Blog Administrator
---
Thursday, September 15th, 2016
14 September 2016, Mecca – The World Health Organization (WHO) has today concluded its mission to Saudi Arabia to support the Ministry of Health in ensuring a safe pilgrimage season (Hajj). So far there has been no major health threat or event of concern, with no major disease outbreak reported among the nearly two million pilgrims attending the holy sites.
In preparation for the Hajj, the Ministry of Health, together with WHO, conducted a strategic health risk assessment of the health hazards that might occur during the pilgrimage. Based on the requirements of the International Health Regulations (2005), the Ministry put in place several public health mitigation measures covering areas such as infection prevention and control, points of entry, laboratories, coordination, risk communication and community engagement. Additionally many measures have been put in place to reduce the effects of high temperatures on pilgrims, including awareness campaigns on preventing sun strokes and heat exhaustion.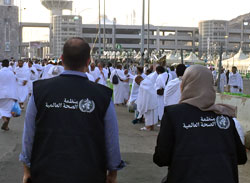 Preliminary information indicates a decrease in morbidity and mortality from seasonal influenza compared to last year. This might be related to the Ministry of Health's decision to make seasonal influenza vaccine compulsory for all internal pilgrims. Some countries also vaccinated their pilgrims against seasonal influenza in accordance with Saudi Arabia's health requirements for the Hajj.
No cases of Middle East respiratory syndrome coronavirus (MERS-CoV) have been reported so far among the pilgrims. Of 344 samples collected and tested by the national public health laboratory, none was found to be positive for MERS-CoV.
WHO has shared the conclusions and recommendations of the mission with the Ministry of Health, noting the importance of documenting and sharing experiences and good practices for improving public health preparedness for future Hajj seasons.
For more information:
Rana Sidani, Senior Communication Officer
Mobile: +20 1099756506
E-mail: sidanir@who.int This e-mail address is being protected from spambots. You need JavaScript enabled to view it
Mona Yassin, Communication Officer
Mobile: +20 1006019284
E-mail: yassinm@who.int
---