Archive for August, 2019
Monday, August 26th, 2019
"…….Because most cases of Zika go unconfirmed the outbreak actually may have comprised tens of thousands of infections. …….."
Cell
Travel Surveillance and Genomics Uncover a Hidden Zika Outbreak during the Waning Epidemic
---
Sunday, August 25th, 2019
"……On 14 August Russia's weather service Rosgidromet revealed that radiation levels had spiked 16 times above normal, in Severodvinsk, a city 47km (29 miles) east of Nyonoksa……"
---
Sunday, August 25th, 2019
---
Saturday, August 24th, 2019
---
Saturday, August 24th, 2019
---
Saturday, August 24th, 2019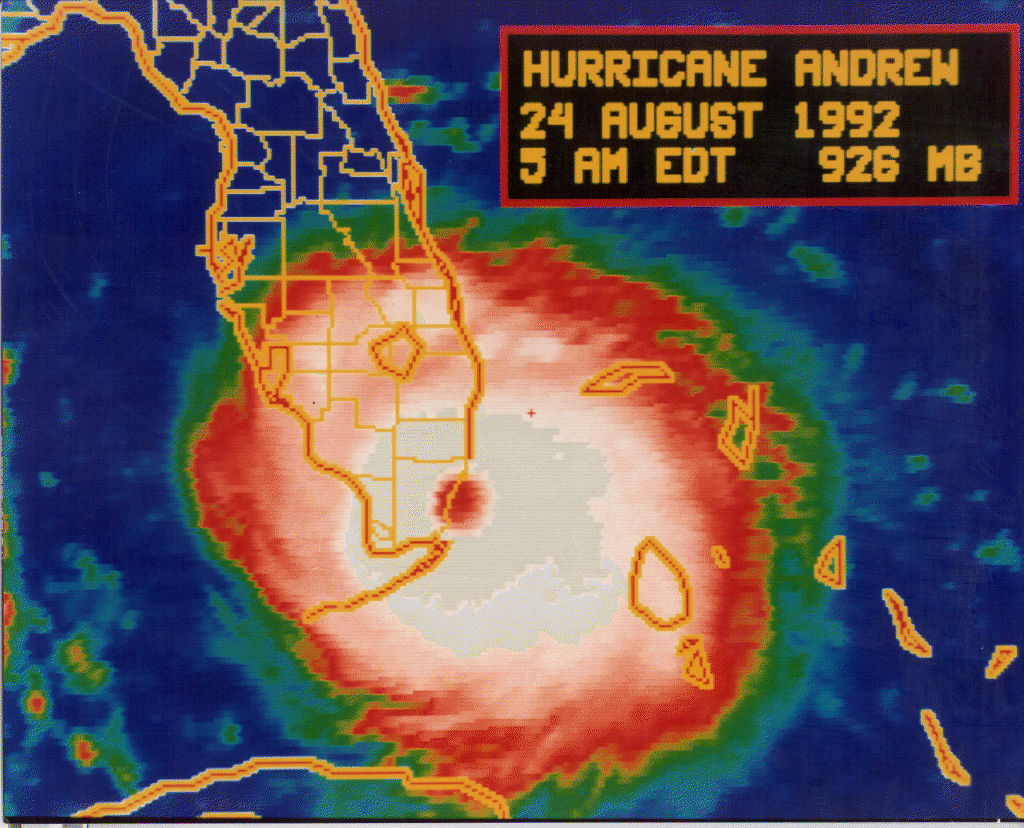 "……Its $47.8 billion worth of devastation no longer ranks it as the most costly natural disaster in American history. But it is probably the most impactful storm to ever hit the U.S.Andrew's legacy is felt in weather forecasting, building codes and emergency management. When people began crawling out of the debris that morning, they quickly discovered the government was nowhere near prepared…..
Part of the post-disaster disaster was due to complacency. Only two Category 5 hurricanes had ever hit the U.S., and nobody foresaw Andrew turning into a 175-mph monster……
Almost 26,000 homes were totally destroyed, and 102,000 more were damaged. The number of homeless was 160,000, though that didn't include hundreds of monkeys, snakes, llamas, birds, cougars and other wildlife that escaped from zoos.
Prices for food, batteries, generators and ice soared since there were no laws against gouging. Looters descended and property owners armed themselves to protect what was left of their homes……"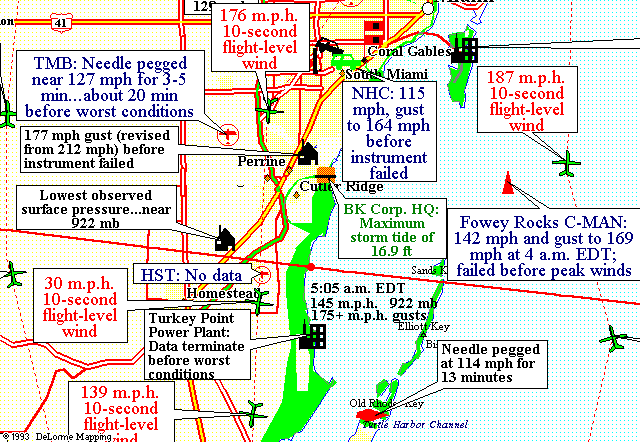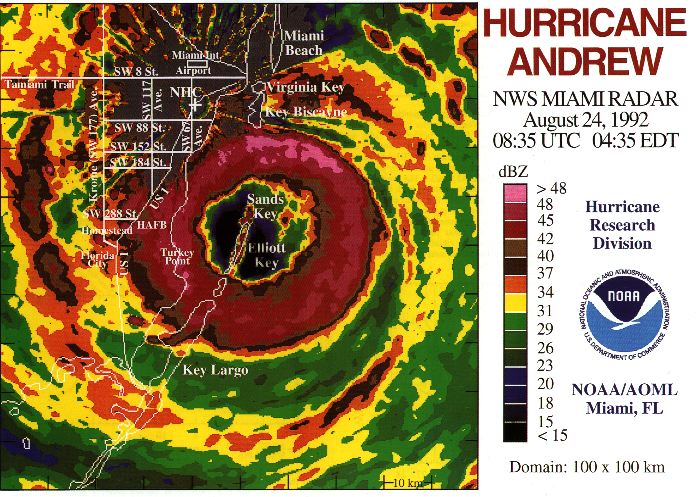 The last radar image taken from NHC before the WSR-57 radar was blown off the roof, 0835 UTC August 24, 1992.
---
Saturday, August 24th, 2019
Plumb ID, Schwensohn CA, Gieraltowski L, et al. Outbreak of Salmonella Newport Infections with Decreased Susceptibility to Azithromycin Linked to Beef Obtained in the United States and Soft Cheese Obtained in Mexico — United States, 2018–2019. MMWR Morb Mortal Wkly Rep 2019;68:713–717. DOI: http://dx.doi.org/10.15585/mmwr.mm6833a1external icon
---
Friday, August 23rd, 2019
"…….The pill in the study, which involved the participation of 6,800 rural villagers aged 50 to 75 in Iran, contained a cholesterol-lowering statin, two blood-pressure drugs and a low-dose aspirin.
But the study, called PolyIran and published Thursday by The Lancet, was designed 14 years ago……..Its advocates — including some prominent cardiologists — point to the study as evidence that the World Health Organization should endorse distributing such pills without a prescription to hundreds of millions of people over age 50 around the globe. Some have estimated that widespread use could cut cardiac death rates by 60 to 80 percent...…."
---
Friday, August 23rd, 2019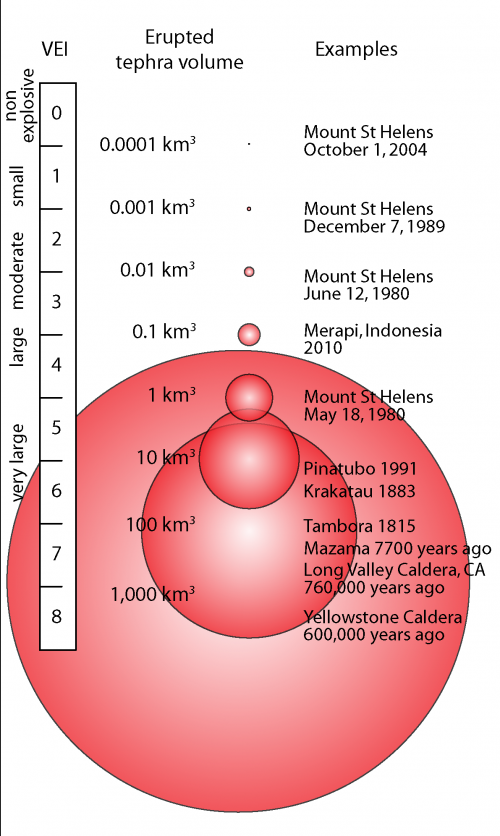 The
Volcanic Explosivity Index
(
VEI
) is a relative measure of the explosiveness of volcanic eruptions. It was devised by Chris Newhall of the United States Geological Survey and Stephen Self at the University of Hawaii in 1982.
Newhall and Self, 1982
"……V
olcanologists believe a Yellowstone supereruption would bury large swaths of Colorado, Wyoming and Utah in up to three feet
of toxic volcanic ash. Depending on the weather patterns, much of the Midwest would receive a few inches, too, plunging the region into darkness. Even the coasts — where a majority of Americans live — would most likely see a dusting as the ash cloud spread. Crops would be destroyed; pastureland would be contaminated. Power lines and electrical transformers would be ruined, potentially knocking out much of the grid.
..….
That's just the United States. Modeling by meteorologists has found that the aerosols released could spread globally if the eruption occurred during the summer. Over the short term, as the toxic cloud blocked sunlight, global average temperatures could plunge significantly — and not return to normal for several years. Rainfall would decline sharply. That might be enough to trigger a die-off of tropical rain forests.
…."
---