Archive for February, 2020
Friday, February 28th, 2020
CNBC:  "World Health Organization officials are holding a press conference Friday to update the public on the coronavirus outbreak, which has infected more than 83,700 and killed at least 2,859 across the world so far.
Named COVID-19, the virus has shuttered commerce across much of China and is hitting company earnings, global stock markets and manufacturing across the world. WHO officials declared the virus a global health emergency last month, while urging the public against over-reacting to the virus.
In recent weeks, the virus has spread substantially beyond China and is now circulating in over 44 countries across the world, WHO's director-general Tedros Adhanom Ghebreyesus said Thursday. Epidemics have emerged in Iran, Italy and South Korea, where the number of cases are rapidly rising every day….."
---
Friday, February 28th, 2020
https://www.nih.gov/news-events/news-releases/hearing-health-care-global-priority
Approximately 466 million children and adults worldwide have disabling hearing loss, according to the World Health Organization (WHO). Unaddressed hearing loss costs an estimated US$750 billion annually worldwide and potentially interferes greatly with an individual's physical, behavioral, and social functioning. Deafness and hearing loss affect people of all ages and in all segments of the population, including millions who live in countries with sparse resources and strategies to address ear and hearing problems.
The good news is that experts and organizations around the world are turning their attention toward making hearing health care a global priority. As part of World Hearing Day, I'd like to share with you some of these important international efforts, including several in which the National Institute on Deafness and Other Communication Disorders (NIDCD), part of the National Institutes of Health, participates.
Every year on March 3, WHO, the health agency of the United Nations, engages organizations in World Hearing Day public awareness activities. This year's theme, "Hearing for life: Don't let hearing loss limit you," highlights the importance of hearing loss prevention and timely and effective interventions for those who are deaf or hard-of-hearing.
The NIDCD is dedicated to supporting research and initiatives to prevent, detect, and treat hearing loss in the United States and beyond. We collaborate with other agencies and with researchers to encourage more effective and accessible hearing health services for babies, children, and adults. We also offer evidence-based information for the public on hearing screening and hearing loss (see our fact sheets on Your Baby's Hearing Screening, Noise-Induced Hearing Loss, and Age-Related Hearing Loss).
A major catalyst for the increased interest in global hearing health care was the World Health Assembly (WHA) resolution on the prevention of deafness and hearing loss, issued in May 2017. The WHA is the governing body of WHO. To facilitate implementation of the resolution, WHO established the World Hearing Forum, a global network of stakeholders, in 2018. The NIDCD is one of 138 agencies and organizations that comprise the forum.
The WHA resolution calls for WHO to publish the first World Report on Hearing. This report will highlight evidence-based best practices and priorities for ear and hearing health care, and will reflect a variety of cultural contexts and approaches. The report is scheduled for release this May.
Finally, a complementary initiative, the Lancet Commission on Hearing Loss, has been underway for a year now. As one of the co-chairs of this important effort, I am confident that the commission's work will extend the drive to reduce the immense burden of hearing loss worldwide. We will do so by seeking innovative solutions focused on prevention, policy, technology, and protection, and on how these themes interact. We will share our findings next spring, 2021.
These efforts provide a collective voice from experts—across disciplines and in dozens of countries—to paint a robust global picture of the state of the science and clinical practice in ear and hearing health care. The forthcoming results and recommendations will help guide efforts to improve communication for millions of people around the world through advancements in practice, research, and policy at local, national, and international levels. As the director of the lead U.S. agency promoting the nation's hearing health care, I am proud that the NIDCD is a part of this important movement.
---
Thursday, February 27th, 2020
COVID-19 Outbreak Tracker.  Johns Hopkins
COVID-19 Outbreak Tracker.  Kaiser Family Foundation
US Dpt of State Travel Advisories
World Health Organization (WHO)
EU European Centre for Disease Prevention and Control.  COVID-19 site
UK Government COVID-19 Publications
Canada Government COVID-19 Info Page
Australian Government.  Dpt of Health COVID-19 Resource page
US DHHS Public Health Emergency Declaration
US DHHS "Public Health Emergency" web page
US DHHS TRACIE.  Coronavirus Topic Collection
US DHHS National Institutes of Health (NIH) National Library of Medicine (NLM) COVID-19 Resource Page
   US DHHS CDC Travel Health Notices
   US DHHS CDC Weekly COVID-19 newsletter updates
US DHHS CDC NIOSH
US DHHS Centers for Medicare and Medicaid Services (CMS)
US Dpt of Labor OSHA
US Dpt of Transportation FAA.  Interim Aircrew Guidance for COVID-19
USA GOV International Traveler Issues for Americans
WHO on-line course
Network for Public Health Law.  Coronavirus Primer.  Authorities, etc…
Massachusetts General Hospital.  2019 Novel Coronavirus Toolkit
---
Thursday, February 27th, 2020
"…..The Republic of Korea tested 8,662 samples during the day on Thursday, of which 171 were positive. The cumulative case count there is now 1,766. The country also reported one new death, bringing the total there to 13. The ROK Ministry of Health also reported that genetic analysis of SARS-CoV-2 from six patients found no evidence of mutations relevant to cell-binding.
In Japan, 23 new cases were reported on Feb 27, bringing the total there to 210. Prime Minister Shinzo Abe asked that all schools will be closed beginning on Monday, and that the closures are expected to continue through spring break in late March.
Elsewhere in the Western Pacific region, Singapore and Australia each reported one new case to the WHO yesterday, bringing the totals there to 91 and 23, respectively.
In other news, Australian Prime Minister Scott Morrison announced the release of the Australian Health Sector Emergency Response Plan for Novel Coronavirus (COVID-19).  …."
Johns Hopkins Center for Health Security
---
Thursday, February 27th, 2020
https://www.ecdc.europa.eu/en/cases-2019-ncov-eueea
Situation update 27 February 8:00 CET
As of 27 February, 477 cases and 14 deaths have been reported in the EU/EEA, the UK and Switzerland:
400 cases in Italy (three imported, 397 locally acquired),
21 cases in Germany (four imported, 17 locally acquired),
17 cases in France (eight imported, nine locally acquired),
13 cases in the United Kingdom (12 imported, one locally acquired),
12 cases in Spain (eleven imported, one local),
two cases in Austria (two imported),
two cases in Croatia (one imported, one local),
two cases in Finland (two imported),
two cases in Sweden (two imported),
one case in Belgium (imported),
one in Denmark (imported),
one in Greece (imported),
one in Norway (imported),
one in Romania (local)
one in Switzerland (imported).
Twelve deaths have been reported in Italy; two deaths has been reported in France.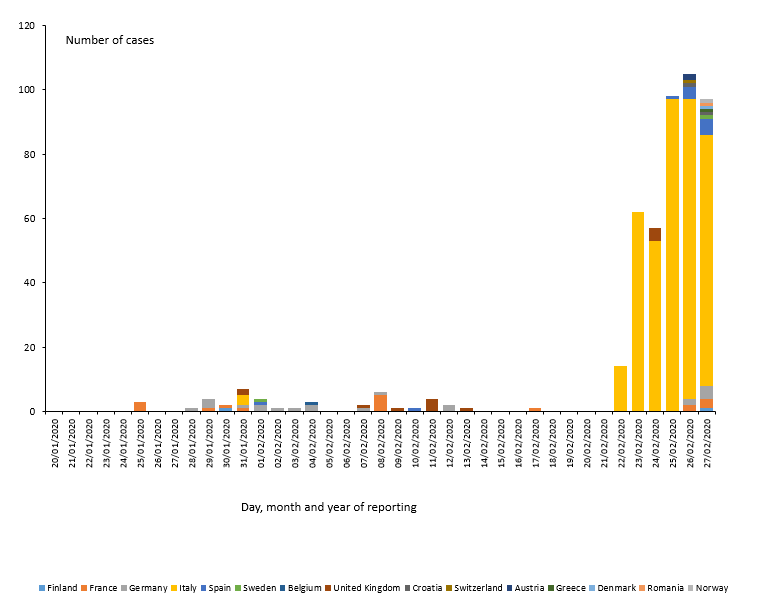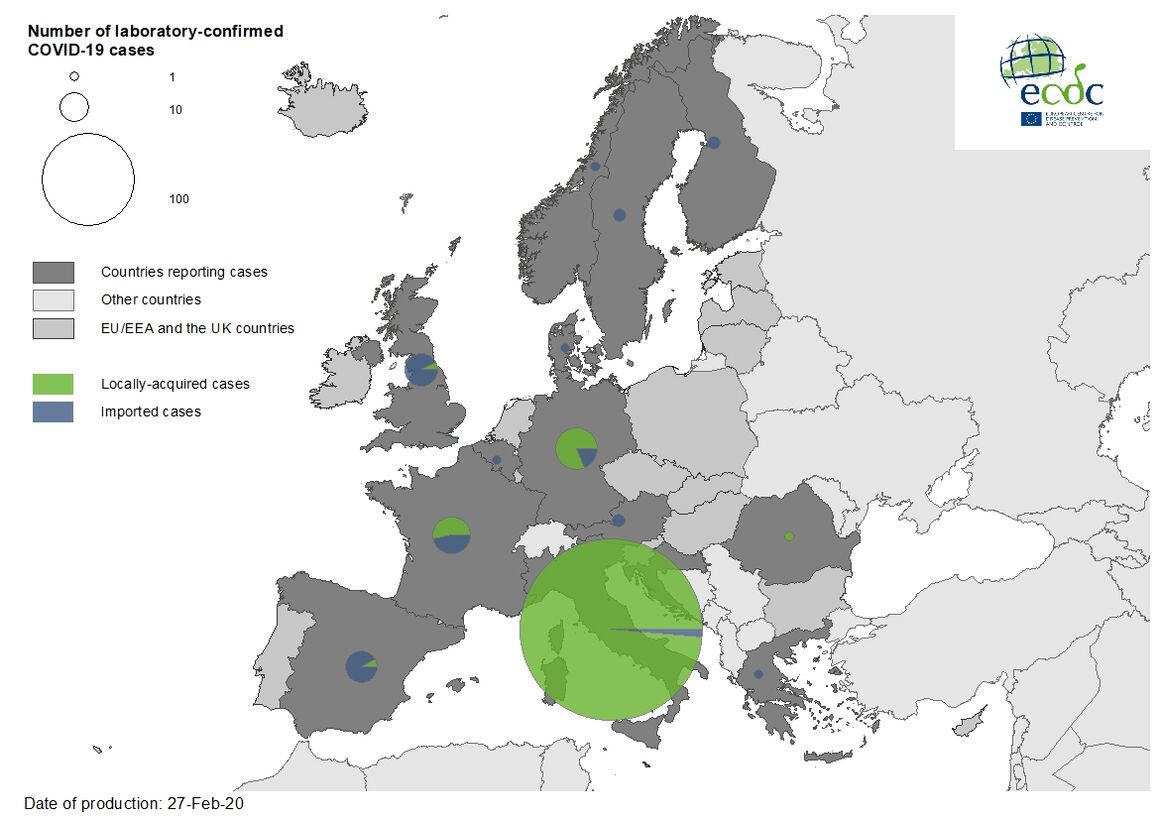 ---
Thursday, February 27th, 2020
"….China's National Health Commission reported 433 new confirmed cases of COVID-19 and 29 new deaths, along with 508 suspected cases and 2,750 discharged patients were also reported. In total, 78,497 reports of confirmed cases and 2,744 deaths have been reported nationwide. CNBC Beijing Bureau Chief Eunice Yoon reported that health authorities in China's Ningxia province identified an imported case with a travel history to Iran.
Globally, a total of 2,918 cases and 44 deaths across 37 countries have been reported to the WHO. Director General Tedros Adhanom Ghebreyesus noted at this morning's press conference that "[f]or the past two days, the number of new COVID-19 cases reported in the rest of the world has exceeded the number of new cases in China."
Iran reported 34 new cases yesterday, bringing the total there to 94. They have also registered 15 deaths, including 3 new ones yesterday…."
Johns Hopkins Center for Health Security | 621 E. Pratt Street, Suite 210, Baltimore, MD 21202
---
Tuesday, February 25th, 2020
https://www.cdc.gov/coronavirus/2019-ncov/hcp/clinical-guidance-management-patients.html
Updated February 12, 2020
This interim guidance is for clinicians caring for patients with confirmed 2019 novel coronavirus (2019-nCoV) infection. This update includes additional information regarding time from illness onset to hospital admission, detection of 2019-nCoV in extrapulmonary specimens, clarifies the type of advanced support observed among hospitalized patients and provides interim guidance for discontinuation of transmission-based precautions and in-home isolation. CDC will update this interim guidance as more information becomes available.
Clinical Presentation
There are a limited number of reports that describe the clinical presentation of patients with confirmed 2019-nCoV infection, and most are limited to hospitalized patients with pneumonia. The incubation period is estimated at ~5 days (95% confidence interval, 4 to 7 days). [1] Some studies have estimated a wider range for the incubation period; data for human infection with other coronaviruses (e.g. MERS-CoV, SARS-CoV) suggest that the incubation period may range from 2-14 days. Frequently reported signs and symptoms include fever (83–98%), cough (46%–82%), myalgia or fatigue (11–44%), and shortness of breath (31%) at illness onset. [2–4] Sore throat has also been reported in some patients early in the clinical course. Less commonly reported symptoms include sputum production, headache, hemoptysis, and diarrhea. Some patients have experienced gastrointestinal symptoms such as diarrhea and nausea prior to developing fever and lower respiratory tract signs and symptoms. The fever course among patients with 2019-nCoV infection is not fully understood; it may be prolonged and intermittent. Asymptomatic infection has been described in one child with confirmed 2019-nCoV infection and chest computed tomography (CT) abnormalities. [5]
Risk factors for severe illness are not yet clear, although older patients and those with chronic medical conditions may be at higher risk for severe illness.  Most reported cases have occurred in adults (median age 59 years).[1]  In one study of 425 patients with pneumonia and confirmed 2019-nCoV infection, 57% were male. [1] Approximately one-third to one-half of reported patients had underlying medical comorbidities, including diabetes, hypertension, and cardiovascular disease. [2–3] In another study, compared to patients not admitted to an intensive care unit, critically ill patients were older (median age 66 years versus 51 years), and were more likely to have underlying co-morbid conditions (72% versus 37%). [3]
Clinical Course
Clinical presentation among reported cases of 2019-nCoV infection varies in severity from asymptomatic infection or mild illness to severe or fatal illness. Some reports suggest the potential for clinical deterioration during the second week of illness.[2] In one report, among patients with confirmed 2019-nCoV infection and pneumonia, just over half of patients developed dyspnea a median of 8 days after illness onset (range: 5–13 days). [2] In another report, the mean time from illness onset to hospital admission with pneumonia was 9 days.[1]
Acute respiratory distress syndrome (ARDS) developed in 17–29% of hospitalized patients, and secondary infection developed in 10%. [2,4] In one report, the median time from symptom onset to ARDS was 8 days.[3] Between 23–32% of hospitalized patients with 2019-nCoV infection and pneumonia have required intensive care for respiratory support.[2–3] In one study, among critically ill patients admitted to an intensive care unit, 11% received high-flow oxygen therapy, 42% received noninvasive ventilation, and 47% received mechanical ventilation. [3] Some hospitalized patients have required advanced organ support with endotracheal intubation and mechanical ventilation (4–10%), and a small proportion have also been supported with extracorporeal membrane oxygenation (ECMO, 3–5%).[3–4] Other reported complications include acute cardiac injury, arrhythmia, shock, and acute kidney injury. Among hospitalized patients with pneumonia, the case fatality proportion has been reported as 4–15%.[2–4] However, as this estimate includes only hospitalized patients it is biased upward. Nosocomial transmission among healthcare personnel and patients has been reported.
Diagnostic Testing
Information on specimen collection, handling, and storage is available at: Real-Time RT-PCR Panel for Detection 2019-Novel Coronavirus. After initial confirmation of 2019-nCoV infection, additional testing of clinical specimens can help inform clinical management, including discharge planning.
Laboratory and Radiographic Findings
The most common laboratory abnormalities reported among hospitalized patients with pneumonia on admission included leukopenia (9–25%), leukocytosis (24–30%), lymphopenia (63%), and elevated alanine aminotransferase and aspartate aminotransferase levels (37%). [2,4] Most patients had normal serum levels of procalcitonin on admission. Chest CT images have shown bilateral involvement in most patients. Multiple areas of consolidation and ground glass opacities are typical findings reported to date. [2–4, 6–9]
Limited data are available about the detection of 2019-nCoV and infectious virus in clinical specimens. 2019-nCoV RNA has been detected from upper and lower respiratory tract specimens, and the virus has been isolated from upper respiratory tract specimens and bronchoalveolar lavage fluid. 2019-nCoV RNA has been detected in blood and stool specimens, but whether infectious virus is present in extrapulmonary specimens is currently unknown. The duration of 2019-nCoV RNA detection in the upper and lower respiratory tracts and in extrapulmonary specimens is not yet known. It is possible that RNA could detected for weeks, which has occurred in some cases of MERS-CoV or SARS-CoV infection.[9–18] Viable SARS-CoV has been isolated from respiratory, blood, urine, and stool specimens. In contrast, viable MERS-CoV has only been isolated from respiratory tract specimens. [18–20]
Clinical Management and Treatment
Healthcare personnel should care for patients in an Airborne Infection Isolation Room (AIIR). Standard Precautions, Contact Precautions, and Airborne Precautions with eye protection should be used when caring for the patient. See Interim Health Care Infection Prevention and Control Recommendations for Patients Under Investigation for 2019 Novel Coronavirus.
Patients with a mild clinical presentation may not initially require hospitalization. However, clinical signs and symptoms may worsen with progression to lower respiratory tract disease in the second week of illness; all patients should be monitored closely. Possible risk factors for progressing to severe illness may include, but are not limited to, older age, and underlying chronic medical conditions such as lung disease, cancer, heart failure, cerebrovascular disease, renal disease, liver disease, diabetes, immunocompromising conditions, and pregnancy.
The decision to monitor a patient in the inpatient or outpatient setting should be made on a case-by-case basis. This decision will depend not only on the clinical presentation, but also on the patient's ability to engage in monitoring, home isolation, and the risk of transmission in the patient's home environment. For more information, see Criteria to Guide Evaluation of Patients Under Investigation (PUI) for 2019-nCoV.
No specific treatment for 2019-nCoV infection is currently available. Clinical management includes prompt implementation of recommended infection prevention and control measures and supportive management of complications, including advanced organ support if indicated.
Corticosteroids should be avoided unless indicated for other reasons (for example, chronic obstructive pulmonary disease exacerbation or septic shock per Surviving Sepsis guidelinesexternal icon), because of the potential for prolonging viral replication as observed in MERS-CoV patients. [12, 21–23]
For more information, see: WHO interim guidance on clinical management of severe acute respiratory infection when novel coronavirus (nCoV) infection is suspectedpdf iconexternal icon and Diagnosis and Treatment of Adults with Community-acquired Pneumonia. An Official Clinical Practice Guideline of the American Thoracic Society and Infectious Diseases Society of Americaexternal icon.
Investigational Therapeutics
There are currently no antiviral drugs licensed by the U.S. Food and Drug Administration (FDA) to treat patients with 2019-nCoV infection. Some in-vitro or in-vivo studies suggest potential therapeutic activity of compounds against related coronaviruses, but there are no available data from observational studies or randomized controlled trials in humans to support recommending any investigational therapeutics for patients with confirmed or suspected 2019-nCoV infection at this time. Remdesivir, an investigational antiviral drug, was reported to have in-vitro activity against 2019-nCoV. [24] A small number of patients with 2019-nCoV infection have received intravenous remdesivir for compassionate use outside of a clinical trial setting. A randomized placebo-controlled clinical trial of remdesivir for treatment of hospitalized patients with pneumonia and 2019-nCoV infection has been implemented in China. A randomized open label trial of combination lopinavir-ritonavir treatment has been also been conducted in hospitalized patients with pneumonia and 2019-nCoV infection in China, but no results are available to date. Clinical trials of other potential therapeutics for 2019-nCoV infection are being planned. For information on specific clinical trials underway for treatment of patients with 2019-nCoV infection, see clinicaltrials.govexternal icon.
Interim Guidance for Discontinuing Transmission-based Precautions or In-Home Isolation for Persons with Laboratory-confirmed 2019-nCoV Infection*
Standard and Transmission-based precautions (i.e., Contact and Airborne precautions with eye protection) should be used for persons with laboratory-confirmed 2019-nCoV infection. This guidance applies to patients being managed in a hospital in an airborne infection isolation room (AIIR) and to patients being cared for in-home isolation.
Decisions to discontinue transmission-based precautions or in-home isolation can be made on a case-by-case basis in consultation with clinicians, infection prevention and control specialists, and public health based upon multiple factors, including disease severity, illness signs and symptoms, and results of laboratory testing for 2019-nCoV in respiratory specimens.
See: Interim Considerations for Disposition of Hospitalized Patients with 2019-nCoV Infection
See: Interim Considerations for Disposition of Non-Hospitalized Patients with 2019-nCoV Infection Under In-Home Isolation
Additional resources:
References
---
Tuesday, February 25th, 2020
https://www.cdc.gov/coronavirus/2019-nCoV/summary.html
This is an emerging, rapidly evolving situation and CDC will provide updated information as it becomes available, in addition to updated guidance.
Updated February 25, 2020
Background
CDC is responding to an outbreak of respiratory disease caused by a novel (new) coronavirus that was first detected in Wuhan City, Hubei Province, China and which has now been detected in 37 locations internationally, including cases in the United States. The virus has been named "SARS-CoV-2" and the disease it causes has been named "coronavirus disease 2019" (abbreviated "COVID-19").
On January 30, 2020, the International Health Regulations Emergency Committee of the World Health Organization declared the outbreak a "public health emergency of international concernexternal icon" (PHEIC). On January 31, 2020, Health and Human Services Secretary Alex M. Azar II declared a public health emergency (PHE) for the United States to aid the nation's healthcare community in responding to COVID-19.
Source and Spread of the Virus
Coronaviruses are a large family of viruses that are common in many different species of animals, including camels, cattle, cats, and bats. Rarely, animal coronaviruses can infect people and then spread between people such as with MERS-CoV, SARS-CoV, and now with this new virus (named SARS-CoV-2).
The SARS-CoV-2 virus is a betacoronavirus, like MERS-CoV and SARS-CoV.  All three of these viruses have their origins in bats. The sequences from U.S. patients are similar to the one that China initially posted, suggesting a likely single, recent emergence of this virus from an animal reservoir.
Early on, many of the patients in the COVID-19 outbreak in Wuhan, China had some link to a large seafood and live animal market, suggesting animal-to-person spread. Later, a growing number of patients reportedly did not have exposure to animal markets, indicating person-to-person spread. Person-to-person spread has been reported outside China, including in the United States and other locations. Chinese officials report that sustained person-to-person spread in the community is occurring in China. In addition, other destinations have apparent community spread, meaning some people have been infected who are not sure how or where they became infected. Learn what is known about the spread of newly emerged coronaviruses.
Situation in U.S.
Imported cases of COVID-19 in travelers have been detected in the U.S. Person-to-person spread of COVID-19 also has been seen among close contacts of returned travelers from Wuhan, but at this time, this virus is NOT currently spreading in the community in the United States.
Illness Severity
Both MERS-CoV and SARS-CoV have been known to cause severe illness in people. The complete clinical picture with regard to COVID-19 is not fully understood. Reported illnesses have ranged from mild to severe, including illness resulting in death. Learn more about the symptoms associated with COVID-19.
There are ongoing investigations to learn more. This is a rapidly evolving situation and information will be updated as it becomes available.
Risk Assessment
Outbreaks of novel virus infections among people are always of public health concern. The risk from these outbreaks depends on characteristics of the virus, including how well it spreads between people, the severity of resulting illness, and the medical or other measures available to control the impact of the virus (for example, vaccine or treatment medications). The fact that this disease has caused illness, including illness resulting in death, and sustained person-to-person spread is concerning. These factors meet two of the criteria of a pandemic. As community spread is detected in more and more countries, the world moves closer toward meeting the third criteria, worldwide spread of the new virus.
The potential public health threat posed by COVID-19 is high, both globally and to the United States.
But individual risk is dependent on exposure.
For the general American public, who are unlikely to be exposed to this virus at this time, the immediate health risk from COVID-19 is considered low.
Under current circumstances, certain people will have an increased risk of infection, for example healthcare workers caring for patients with COVID-19 and other close contacts of persons with COVID-19. CDC has developed guidance to help in the risk assessment and management of people with potential exposures to COVID-19.
However, it's important to note that current global circumstances suggest it is likely that this virus will cause a pandemic. In that case, the risk assessment would be different.
What May Happen
More cases are likely to be identified in the coming days, including more cases in the United States. It's also likely that person-to-person spread will continue to occur, including in the United States. Widespread transmission of COVID-19 in the United States would translate into large numbers of people needing medical care at the same time. Schools, childcare centers, workplaces, and other places for mass gatherings may experience more absenteeism. Public health and healthcare systems may become overloaded, with elevated rates of hospitalizations and deaths. Other critical infrastructure, such as law enforcement, emergency medical services, and transportation industry may also be affected. Health care providers and hospitals may be overwhelmed. At this time, there is no vaccine to protect against COVID-19 and no medications approved to treat it. Nonpharmaceutical interventions would be the most important response strategy.
CDC Response
Global efforts at this time are focused concurrently on containing spread of this virus and mitigating the impact of this virus. The federal government is working closely with state, local, tribal, and territorial partners, as well as public health partners, to respond to this public health threat. The public health response is multi-layered, with the goal of detecting and minimizing introductions of this virus in the United States so as to reduce the spread and the impact of this virus. CDC is operationalizing all of its pandemic preparedness and response plans, working on multiple fronts to meet these goals, including specific measures to prepare communities to respond local transmission of the virus that causes COVID-19. There is an abundance of pandemic guidance developed in anticipation of an influenza pandemic that is being repurposed and adapted for a COVID-19 pandemic.
Highlights of CDC's Response
CDC established a COVID-19 Incident Management System on January 7, 2020. On January 21, CDC activated its Emergency Operations Center to better provide ongoing support to the COVID-19 response.
The U.S. government has taken unprecedented steps with respect to travel in response to the growing public health threat posed by this new coronavirus:

Effective February 2, at 5pm, the U.S. government suspended entry of foreign nationals who have been in China within the past 14 days.
U.S. citizens, residents, and their immediate family members who have been in Hubei province and other parts of mainland China are allowed to enter the United States, but they are subject to health monitoring and possible quarantine for up to 14 days.
CDC has issued the following travel guidance related to COVID-19:
CDC also recommends that all travelers reconsider cruise ship voyages into or within Asia at this time.

CDC is issuing clinical guidance, including:
CDC has deployed multidisciplinary teams to support state health departments with clinical management, contact tracing, and communications.
CDC has worked with the Department of State, supporting the safe return of Americans who have been stranded as a result of the ongoing outbreaks of COVID-19 and related travel restrictions. CDC has worked to assess the health of passengers as they return to the United States and provided continued daily monitoring of people who are quarantined.
CDC laboratories have supported the COVID-19 response, including:

CDC has developed a real time Reverse Transcription-Polymerase Chain Reaction (rRT-PCR) test that can diagnose COVID-19 in respiratory samples from clinical specimens. On January 24, CDC publicly posted the assay protocol for this test.
CDC has been uploading the entire genome of the viruses from reported cases in the United States to GenBank as sequencing was completed.
CDC has grown the COVID-19 virus in cell culture, which is necessary for further studies, including for additional genetic characterization. The cell-grown virus was sent to NIH's BEI Resources Repository

external icon

for use by the broad scientific community.
CDC Recommends
While the immediate risk of this new virus to the American public is believed to be low at this time, everyone can do their part to help us respond to this emerging public health threat:

It's currently flu and respiratory disease season and CDC recommends getting a flu vaccine, taking everyday preventive actions to help stop the spread of germs, and taking flu antivirals if prescribed.
If you are a healthcare provider, be on the look-out for people who recently traveled from China and have fever and respiratory symptoms.
If you are a healthcare provider caring for a COVID-19 patient or a public health responder, please take care of yourself and follow recommended infection control procedures.
If you have been in China or have been exposed to someone sick with COVID-19 in the last 14 days, you will face some limitations on your movement and activity. Please follow instructions during this time. Your cooperation is integral to the ongoing public health response to try to slow spread of this virus. If you develop COVID-19 symptoms, contact your healthcare provider, and tell them about your symptoms and your travel or exposure to a COVID-19 patient.
For people who are ill with COVID-19, please follow CDC guidance on how to reduce the risk of spreading your illness to others.
Other Available Resources
The following resources are available with information on COVID-19
---
Tuesday, February 25th, 2020
Locations with Confirmed COVID-19 Cases
China
Hong Kong
Macau
Taiwan
Afghanistan
Australia
Bahrain
Belgium
Cambodia
Canada
Egypt
Finland
France
Germany
India
Iran
Iraq
Israel
Italy
Japan
Kuwait
Lebanon
Malaysia
Nepal
Oman
Philippines
Russia
Sri Lanka
Singapore
Spain
Sweden
Thailand
The Republic of Korea
United Arab Emirates
United Kingdom
United States
Vietnam
---
Tuesday, February 25th, 2020
 Austria has confirmed its first two cases of COVID-19 in Tyrol. Both cases have previous travel to Italy's Lombardy region which is seeing increases in cases.
Switzerland also confirmed its first coronavirus case. The case was identified in canton Ticino in the southern part of the country, which borders Italy. The infected individual was reported to have been infected around February 15 in the Milan region of Italy.
Reuters has reported that Croatia has confirmed its first case of COVID-19. According to the news report, Prime Minister Andrej Plenkovic specified that the person is younger and with mild symptoms. In a previous press conference published, Health Minister Vili Beros discussed increased screening measures and questioning for people entering Croatia at border checkpoints. Foreigners reporting symptoms will be turned away. Additionally, quarantine measures would be implemented for people with a history of possible exposure.
---