Archive for the 'Pandemic' Category
Wednesday, March 14th, 2018
March 2018, Rome – A United States-FAO partnership working to strengthen the capacity of developing countries to manage outbreaks of diseases in farm animals has in just 12 months succeeded in training over 4,700 veterinary health professionals in 25 countries in Africa, Asia and the Middle East.
The FAO-provided technical trainings covered a gamut of key competencies, including disease surveillance and forecasting, laboratory operations, biosafety and biosecurity, prevention and control methods and outbreak response strategies.
All told, 3,266 vets in Asia, 619 in West Africa, 459 in East Africa, and 363 in the Middle East benefitted. They are on the front line of the effort to stop new diseases at their source. (Full list below)
"Over the course of this relationship we've learned that there are many mutually beneficial areas of interest between the food and agricultural community and the human health community," said Dennis Carroll, Director of USAID's Global Health Security and Development Unit.
"A partnership with FAO not only enables us to protect human populations from future viral threats, but also to protect animal populations from viruses that could decimate food supplies. It's not just a global health, infectious disease issue, but also a food security, food safety, and economic growth issue," Carroll added.
"Some 75 percent of new infectious diseases that have emerged in recent decades originated in animals before jumping to us Homo sapiens, a terrestrial mammal. This is why improving adequately discovering and tackling animal disease threats at source represents a strategic high-ground in pre-empting future pandemics," said Juan Lubroth, FAO Chief Veterinary Officer
"A proactive approach is absolutely critical, and for that, the world needs well-trained, up-to-speed professionals — biologists, ecologists, microbiologists, modellers, physicians and veterinarians — which is why the United States' consistent support for building up that kind of capacity has been invaluable," Lubroth said.
Viral risks
Population growth, agricultural expansion and environmental encroachment, and the rise of inter-continental food supply chains in recent decades have dramatically altered how diseases emerge, jump species boundaries, and spread, FAO studies have shown.
A new study just published by USAID's Dennis Carroll and experts from several institutions including FAO suggests that just  0.01 percent of the viruses behind zoonotic disease outbreaks are known to science.  The authors have proposed an international partnership, The Global Virome Project, aimed at characterizing the most risky of these. Doing so would allow more proactive responses to disease threats, with benefits not only for public health but also for the livelihoods of poor, livestock-depending farming communities.
Partnering for global health security
The close FAO-USAID partnership on animal health goes back over a decade.
Experts from the two organizations are meeting in Rome this week to review progress achieved in the past year and how to respond to threats like species-jumping zoonotic illnesses and the growing trends of antimicrobial resistance and options for intervention measures in food production and protection of public health.
In addition to trainings, via the USAID- Emerging Pandemic Threats (EPT) programme, FAO conducts research and advises on policy in order to help countries increase their resilience to disease emergence and protect animal and human health.
And to enable rapid responses by governments to disease events FAO has leveraged USAID support to work with the United Nations Humanitarian Response Depots to establish a series of emergency equipment and gear stockpiles in 15 countries that facilitate rapid and adequate responses to outbreaks.
FAO is also key player and advisor to the Global Health Security Agenda (GHSA), a growing partnership of over 60 countries, NGOs and international organizations working to improve early detection of and responses to infectious disease threats. USAID support under the GHSA umbrella is helping FAO engage with 17 countries in Africa and Asia to strengthen capabilities to detect and respond to zoonotic diseases.
Thanks to USAID support for the EPT and GSHA, FAO is actively tackling disease issues and building national capacities in over 30 countries
Economic impacts as well as health consequences
Beyond the risks posed to human health, animal diseases can cost billions of dollars and hamstringing economic growth.
The most damaging outbreaks of high impact disease in recent decades all had an animal source, including H5N1 highly pathogenic avian influenza, H1N1 pandemic influenza, Ebola, severe acute respiratory syndrome (SARS) and Middle East Respiratory Syndrome (MERS).
For example, the H5N1 outbreak of the mid-2000s caused an estimated $30 billion in economic losses, globally; a few years later, H1N1 racked up as much as $55 billion in damages.
Not to mention that for millions of the world's poorest people, animals are their primary capital assets — "equity on four legs". Losing them can push these families out of self-reliance and into destitution.
Note to editors.  The countries where the trainings took place were: Bangladesh, Burkina Faso, Cambodia, Cameroon, China, Democratic Republic of the Congo, Egypt, Ghana, Guinea, Indonesia, Jordan, Kenya, Laos People's Democratic Republic , Liberia, Mali, Myanmar, Nepal, Senegal, Sierra Leone, United Republic of Tanzania, Uganda and Viet Nam.
---
Monday, March 12th, 2018
Flu season and pandemic planning: Ethical epidemic response
Triage and ethical considerations in prioritizing care for healthcare professionals and the public in an influenza pandemic
Feb 28, 2018
---
By Jeffery A. King, faculty, American Military University
The Centers for Disease Control and Prevention recently signaled that the 2017-2018 flu season is expected to meet the criteria for a "high severity" epidemic. At the end of January, there were more than 83,000 reported cases of flu with heightened mortality. This year's viruses are beginning to overwhelm healthcare providers around the country. The challenge of caring for so many is only compounded by shortages of rapid influenza diagnostic tests, Tamiflu, IV bags, and even bed space in many hospitals.
Trials like this can force public health officials and healthcare providers into the unenviable position of making impulsive and impactful decisions during unprecedented situations. As with so many other public safety initiatives, these decisions can test American ethics by pitting individual liberties and other shared values against approaches that are hard to swallow but often necessary to achieve a greater good. Here are a few ethical challenges to consider for current and future pandemic planning.
Ethical challenges: how to prioritize care?
One of the more difficult challenges that can arise for public health and healthcare decision-makers is the task of prioritizing care among otherwise equally affected patients. It is worth pointing out that during an epidemic, patients cannot always be directed to other facilities, and medicine and equipment cannot always be borrowed or redistributed because multiple regions are suffering from similar shortages.
Determining how patients are prioritized and how treatment is managed when there simply are not enough personnel, beds, equipment or medicine is a morally unpleasant choice. Providers can either treat patients on a first-come, first-served basis, which could leave scores without appropriate healthcare, or they can triage patients based on factors like the relative acuteness of their illness, overall health, age and other characteristics.
Triage during a resource-constrained epidemic might exclude many of those who are too sick or who would require overly intensive care, thus allowing concentrated effort on those most likely to recover. Beyond the deathly ill, what other factors might the public consider justifiable toward accomplishing the greater good? Is it only acceptable under epidemic conditions to deny treatment to complex cases, such as those with other acute or chronic health conditions, the disabled or the elderly? If the elderly are to be denied treatment, at what age would the limit be set? What about an elderly physician or nurse who may be able to assist in the response if she can recover?
All of these decisions require consequentialist thinking – an attempt to justify decisions by their expected outcomes. The difficulty with a consequentialist approach is that decisions can easily slide into the arbitrary depending on context, variables, and the decision-maker's subjective appraisal of the outcomes. Decision-makers are rarely able to foresee the full consequences and the law of unintended consequences will almost certainly introduce suspicion into any well-intended triage and treatment plan. In order to achieve agreement on the just and equitable provision of healthcare during an epidemic, the process and procedures for decision-making should be publicly and openly debated well before an epidemic ever occurs.
Prioritizing healthcare workers
In a 2014 case study on ethical decision-making during catastrophic pandemics, Dr. Linda Kiltz advocates strongly for the prioritization and protection of healthcare providers. Influenza and other viruses are not discriminatory in their transmission; like water, viruses follow a path of least resistance. As the most seriously affected patients make their way to healthcare facilities, the employees at those facilities are in the direct path of the virus.
Medical professionals who are obligated or willing to expose themselves directly to a viral epidemic should receive prioritized care if they contract the virus. They are accepting risk to their own health, and communities owe them a certain respect and reciprocity for that sacrifice. In short, where healthcare workers have a duty to care for the community, the community has a reciprocal duty to support them.
Communities must, for example, ensure that healthcare workers have access to the appropriate training and personal protective equipment to perform their jobs competently and safely. Communities must also ensure that healthcare workers' personal and family needs, like child and elder care, meals, and even mental and spiritual care, are supported.
Beyond reciprocity, protecting and supporting healthcare providers during an epidemic serves a distinctly utilitarian purpose. It is easily agreed that healthcare providers are one of the most valuable resources during an epidemic. These professionals represent a valuable, limited human resource, so protecting their health and supporting their personal needs can help to ensure their continued availability for response.
Protecting the public
Protecting the public by controlling the spread of viruses is another priority during epidemics. Quarantine and isolation are common public health tools used to prevent or mitigate the effects of an epidemic. While these practices have long been authorized by law, officials still must appreciate the sensitivities and impacts, and plan for supporting those affected. Nowhere else is the struggle to balance public health priorities against individual liberties more palpable than it is with implementing preventative actions.
Restrictions on freedom of movement are, practically speaking, the most disruptive burdens for citizens placed in isolation or quarantine. Restricting a person's movement means impairing their ability to support themselves and their families. It precludes and jeopardizes employment, prohibits attendance at school and church, and cuts families off from all manner of goods and services.
Beyond due process and mere fairness, citizens placed in isolation and quarantine also require support from the government and their communities. If citizens know that their needs will continue to be supported, and their employment and other opportunities protected, then restrictions on their liberty will be far less distressing and disagreeable.
Engagement and collaboration
An influenza epidemic like the one the U.S. is currently experiencing can present a significant threat to public health and overall domestic safety and security. Seeing the ethical challenges in decisions being made during a frenzied response should encourage communities to address the issues early. The more time a community has to fully discuss, negotiate, and agree on policies and plans that will guide action during response, the less distrust those actions will incur.
If the decision-making during an epidemic response appears arbitrary and unequitable, it can break down a community's trust and motivation for compliance. In the end, collaboration between the government, the healthcare sector, and the broader community is necessary to create consensus on these ethically challenging matters.
About the Author
Jeff King is a retired Coast Guard judge advocate and a faculty member in the School of Security & Global Studies at American Military University, where he primarily teaches undergraduate and graduate courses in law and ethics. To contact him, email IPSauthor@apus.edu.
---
Sunday, March 11th, 2018
List of Blueprint priority diseases
2018 annual review of the Blueprint list of priority diseases
For the purposes of the R&D Blueprint, WHO has developed a special tool for determining which diseases and pathogens to prioritize for research and development in public health emergency contexts. This tool seeks to identify those diseases that pose a public health risk because of their epidemic potential and for which there are no, or insufficient, countermeasures. The diseases identified through this process are the focus of the work of R& D Blueprint. This is not an exhaustive list, nor does it indicate the most likely causes of the next epidemic.
The first list of prioritized diseases was released in December 2015.
Using a published prioritization methodology, the list was first reviewed in January 2017.
The second annual review occurred 6-7 February, 2018. Experts consider that given their potential to cause a public health emergency and the absence of efficacious drugs and/or vaccines, there is an urgent need for accelerated research and development for*:
Crimean-Congo haemorrhagic fever (CCHF)
Ebola virus disease and Marburg virus disease
Lassa fever
Middle East respiratory syndrome coronavirus (MERS-CoV) and Severe Acute Respiratory Syndrome (SARS)
Nipah and henipaviral diseases
Rift Valley fever (RVF)
Zika
Disease X
Disease X represents the knowledge that a serious international epidemic could be caused by a pathogen currently unknown to cause human disease, and so the R&D Blueprint explicitly seeks to enable cross-cutting R&D preparedness that is also relevant for an unknown "Disease X" as far as possible.
A number of additional diseases were discussed and considered for inclusion in the priority list, including: Arenaviral hemorrhagic fevers other than Lassa Fever; Chikungunya; highly pathogenic coronaviral diseases other than MERS and SARS; emergent non-polio enteroviruses (including EV71, D68); and Severe Fever with Thrombocytopenia Syndrome (SFTS).
These diseases pose major public health risks and further research and development is needed, including surveillance and diagnostics. They should be watched carefully and considered again at the next annual review. Efforts in the interim to understand and mitigate them are encouraged.
Although not included on the list of diseases to be considered at the meeting, monkeypox and leptospirosis were discussed and experts stressed the risks they pose to public health. There was agreement on the need for: rapid evaluation of available potential countermeasures; the establishment of more comprehensive surveillance and diagnostics; and accelerated research and development and public health action.
Several diseases were determined to be outside of the current scope of the Blueprint: dengue, yellow fever, HIV/AIDs, tuberculosis, malaria, influenza causing severe human disease, smallpox, cholera, leishmaniasis, West Nile Virus and plague. These diseases continue to pose major public health problems and further research and development is needed through existing major disease control initiatives, extensive R&D pipelines, existing funding streams, or established regulatory pathways for improved interventions. In particular, experts recognized the need for improved diagnostics and vaccines for pneumonic plague and additional support for more effective therapeutics against leishmaniasis.
The experts also noted that:
For many of the diseases discussed, as well as many other diseases with the potential to cause a public health emergency, there is a need for better diagnostics.
Existing drugs and vaccines need further improvement for several of the diseases considered but not included in the priority list.
Any type of pathogen could be prioritised under the Blueprint, not only viruses.
Necessary research includes basic/fundamental and characterization research as well as epidemiological, entomological or multidisciplinary studies, or further elucidation of transmission routes, as well as social science research.
There is a need to assess the value, where possible, of developing countermeasures for multiple diseases or for families of pathogens.
The impact of environmental issues on diseases with the potential to cause public health emergencies was discussed. This may need to be considered as part of future reviews.
The importance of the diseases discussed was considered for special populations, such as refugees, internally displaced populations, and victims of disasters.
The value of a One Health approach was stressed, including a parallel prioritization processes for animal health. Such an effort would support research and development to prevent and control animal diseases minimising spill-over and enhancing food security. The possible utility of animal vaccines for preventing public health emergencies was also noted.
Also there are concerted efforts to address anti-microbial resistance through specific international initiatives. The possibility was not excluded that, in the future, a resistant pathogen might emerge and appropriately be prioritized.
*The order of diseases on this list does not denote any ranking of priority.
---
Sunday, March 11th, 2018
"……It was the third time the committee, consisting of leading virologists, bacteriologists and infectious disease experts, had met to consider diseases with epidemic or pandemic potential. But when the 2018 list was released two weeks ago it included an entry not seen in previous years.
Diseases threatening a public health emergency*
Crimean-Congo haemorrhagic fever (CCHF)
Ebola virus disease and Marburg virus disease
Lassa fever
Middle East respiratory syndrome coronavirus (MERS-CoV) and Severe Acute Respiratory Syndrome (SARS)
Nipah and henipaviral diseases
Rift Valley fever (RVF)
Zika
Disease X
*Diseases posing significant risk of an international public health emergency for which there is no, or insufficient, countermeasures. Source: World Health Organization (WHO), 2018
---
Thursday, March 1st, 2018
"…..To develop a universal influenza vaccine, NIAID will focus resources on three key areas of influenza research: improving the understanding of the transmission, natural history and pathogenesis of influenza infection; precisely characterizing how protective influenza immunity occurs and how to tailor vaccination responses to achieve it; and supporting the rational design of universal influenza vaccines, including designing new immunogens and adjuvants to boost immunity and extend the duration of protection.….."
Emily J Erbelding, Diane Post, Erik Stemmy, Paul C Roberts, Alison Deckhut Augustine, Stacy Ferguson, Catharine I Paules, Barney S Graham, Anthony S Fauci; A Universal Influenza Vaccine: The Strategic Plan for the National Institute of Allergy and Infectious Diseases, The Journal of Infectious Diseases, , jiy103, https://doi.org/10.1093/infdis/jiy103
---
Thursday, March 1st, 2018
"…..Mounting epidemiological evidence supports the occurrence of a mild herald pandemic wave in the spring and summer of 1918 in North America and Europe, several months before the devastating autumn outbreak that killed an estimated 2% of the global population [1]. These epidemiological findings corroborate the anecdotal observations of contemporary clinicians who reported widespread influenza outbreaks in Spring and Summer 1918, with sporadic occurrence of unusually severe clinical manifestations in young adults.……"
---
Monday, February 26th, 2018
By Nick Alexopulos | Feb. 22, 2018
The health sector in the United States would be far better positioned to manage medical care needs during emergencies of any scale by empowering existing healthcare coalitions to connect community resilience efforts with a network of hospitals equipped to handle disasters, according to a new report by the Johns Hopkins Center for Health Security.
The report, "A Framework for Healthcare Disaster Resilience: A View to the Future," was released at a February 22 event at the National Press Club.
"We wondered what an optimal system would look like and how we would get there," said Eric Toner, MD, a senior scholar at the Center and principal investigator on the report. "Change is needed, but the change should be evolutionary, not revolutionary. We need to build on the resources we already have."
Toner's coauthors on the report are Center colleagues Monica Schoch-Spana, PhD, Richard Waldhorn, MD, Matthew Shearer, MPH, and Tom Inglesby, MD. The team first identified four distinct categories of disasters that could cause significant illness or injury, and for which preparedness gaps likely exist due to differing operational challenges and resource needs. A subsequent gap analysis confirmed their theory: While the US health sector is reasonably well prepared for relatively small mass injury/illness events that happen frequently (e.g., tornadoes, local disease outbreaks), it is less prepared for large-scale disasters (e.g., hurricanes) and complex mass casualty events (e.g., bombings) and poorly prepared for catastrophic health events (e.g., severe pandemics, large-scale bioterrorism).
These gaps, the authors say, exist as a result of the absence of strategies above and beyond the traditional all-hazards approach to improving US health sector preparedness. The authors define the US health sector as all entities and personnel that are involved in people's health, combined with the community-based organizations that support these entities and represent the patients who receive services from them. This network's incident-specific response actions and capabilities vary widely across the four categories of disasters.
The authors offer four recommendations for closing preparedness gaps unique to the US health sector:
Build a Culture of Resilience: Launch a new federal program that encourages and incentivizes local grassroots and community-based organizations to become more involved in efforts to enhance the disaster resilience of the local health sector. This Culture of Resilience program would engage organizations traditionally not involved in health sector preparedness.
Create a network of disaster centers of excellence: Connect geographically distributed, large academic medical centers and designate them Disaster Resource Hospitals by setting rigorous standards, providing direct funding, and requiring accountability. These hospitals would be a source of remote, real-time clinical expertise, continuing education and training, and expertise for public health officials, among other benefits.
Increase support for healthcare coalitions (HCCs): Already successful healthcare coalitions comprising well-prepared hospitals, health departments, EMS providers, and emergency management need additional funding to engage other organizations inside the health sector (e.g., nursing homes) and outside the health sector (e.g., faith-based community groups) in preparedness work. HCC-led collaboration would then help integrate disaster resource hospital capabilities into preparedness and response for the overall coalition, and link community resilience efforts back to disaster research hospitals.
Designate a federal coordinator for catastrophic health event preparedness: Within the Office of the Assistant Secretary for Preparedness and Response (ASPR) in the US Department of Health and Human Services, dedicate a group responsible only for preparing the nation for catastrophic health events. This group would coordinate existing decentralized healthcare preparedness initiatives in ASPR and provide a vision for strengthening preparedness in the future, with an increased focus on resilience.
"It is now widely recognized that resilience of communities and systems should be the goal rather than just preparedness," the authors wrote in the report. "Resilient communities seek to resist the impact of disasters, recover promptly to normal operational capacity, and learn how better to withstand future events."
The report concludes with policy requirements for each of these recommendations. There is opportunity for some of the requirements to be incorporated into the Pandemic and All-Hazards Preparedness Act reauthorization this year.
"There needs to be more focus at the federal level, particularly on catastrophic health events," Toner said to an audience of more than 40 people in the health security policy community in attendance at the Press Club.
Guest speakers at the event included Luciana Borio, MD, director of global health security and biological threats for the White House National Security Council; Sally Phillips, PhD, deputy assistant secretary for policy in the Office of the Assistant Secretary for Preparedness and Response at the US Department of Health and Human Services; and Linda Langston, director of strategic relations at the National Association of Counties.
To inform their work, the project team reviewed five years of published literature and conducted a series of working group meetings, a focus group, and interviews with more than 40 subject matter experts and thought leaders.
This project was funded by the Robert Wood Johnson Foundation.
---
Sunday, February 25th, 2018
"…..Although only 3 hemagglutinin (HA) subtypes of influenza (H1, H2, and H3) are known to have caused human pandemics, the emergence and spread of influenza A(H5N1) and, more recently, influenza A(H7N9), with associated high death rates in humans, are of great concern. If these or other influenza A viruses not currently circulating among humans develop the capability to transmit efficiently among humans, they pose a risk for causing a pandemic that could be associated with high rates of illness and death…….
The IRAT uses a common decision analysis approach that incorporates input from multiple elements or attributes, applies a weighting scheme, and generates a score to compare various options or decisions (11). In regard to the evaluation of animal-origin influenza viruses for their potential human pandemic risk, 2 specific questions were developed related to the potential risk for emergence and consequent potential impact: 1) What is the risk that a virus not currently circulating in humans has the potential for sustained human-to-human transmission? (emergence question); and 2) If a virus were to achieve sustained human-to-human transmission, what is the risk that a virus not currently circulating among humans has the potential for substantial impact on public health? (impact question).
In developing the IRAT, a working group of international influenza experts in influenza virology, animal health, human health, and epidemiology identified 10 risk elements and definitions. These elements were described previously (10); in brief, they include virus properties (genomic variation, receptor-binding properties, transmissibility in animal models, and antiviral treatment susceptibility) and host properties (population immunity, disease severity, and antigenic relationship to vaccines). The final 3 elements are based on the epidemiologic and ecologic evidence: infection in humans, infections in animals, and global distribution in animals. These elements are used to answer the 2 risk questions to evaluate an influenza virus of interest. The 10 elements are ranked and weighted on the basis of their perceived importance to answering the specific risk questions and an aggregate risk score is generated………."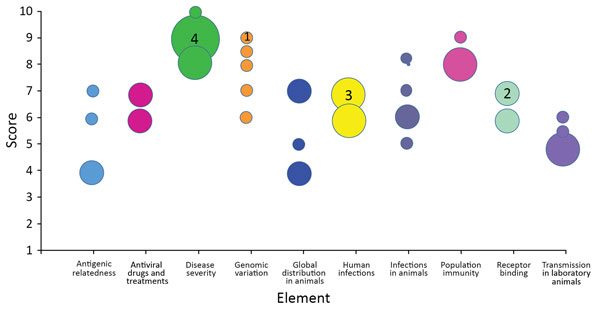 Individual subject-matter expert point scores by element for the May 2017 scoring of influenza A(H7N9) virus, A/Hong Kong/125/2017, based on risk element definitions. Circles indicate individual point scores; circle sizes (examples indicated by a number inside) correspond to the frequency of each point score.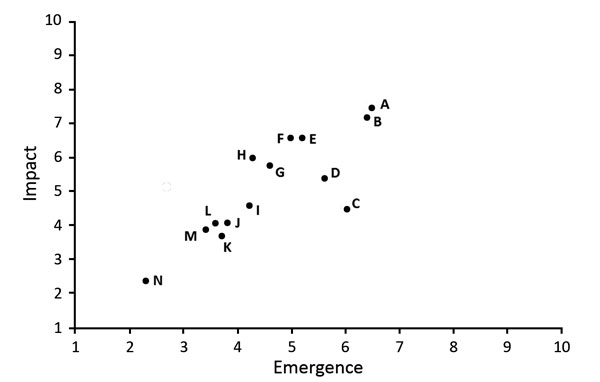 Comparison of average emergence and impact scores for 14 animal-origin influenza viruses using the Influenza Risk Assessment Tool. Circle represents each virus: A, H7N9 A/Hong Kong/125/2017; B, H7N9 A/Shanghai/02/2013; C, H3N2 variant A/Indiana/08/2011; D, H9N2 G1 lineage A/Bangladesh/0994/2011; E, H5N1 clade 1 A/Vietnam/1203/2004; F, H5N6 A/Yunnan/14564/2015-like; G, H7N7 A/Netherlands/2019/2003; H, H10N8 A/Jiangxi-Donghu/346/2013; I, H5N8 A/gyrfalcon/Washington/41088/2014; J, H5N2 A/Northern pintail/Washington/40964/2014; K, H3N2 A/canine/Illinois/12191/2015; L, H5N1 A/American green-winged teal/Washington/1957050/2014; M, H7N8 A/turkey/Indiana/1573-2/2016; N, H1N1 A/duck/New York/1996. Additional information about virus scores and individual viruses is available at https://www.cdc.gov/flu/pandemic-resources/monitoring/irat-virus-summaries.htm.
| | |
| --- | --- |
| | Burke SA, Trock SC. Use of Influenza Risk Assessment Tool for Prepandemic Preparedness. Emerg Infect Dis. 2018;24(3):471-477. https://dx.doi.org/10.3201/eid2403.171852 |
---
Thursday, February 15th, 2018
Is the U.S. Export Economy at Risk from Global Infectious Outbreaks?
New CDC analysis examines potential threat to markets and jobs
Press Release
For Immediate Release
Tuesday, February 13, 2018
Contact:Media Relations
(404) 639-3286
In addition to tragic loss of life, the next global infectious disease outbreak could harm the U.S. export economy and threaten U.S. jobs—even if the disease never reaches our shores. Two Centers for Disease Control and Prevention (CDC) articles published in Health Security analyze the risks and show potential losses to the American export economy from an overseas outbreak.
The two articles underscore the importance of the President's request this week for $59 million in support of the Global Health Security Agenda (GHSA) in Fiscal Year 2019.
"The President's Budget request of $59 million for Fiscal Year 2019 for GHSA demonstrates the Administration's commitment to global health security and provides an important bridge to the extension of the GHSA announced in October 2017 in Uganda," said Anne Schuchat, M.D., acting Director of CDC. "This new funding continues the U.S. commitment to this multi-national effort and supplements U.S. Government multisector support for this initiative."
America's jobs at risk
The first of the two articles, Relevance of Global Health Security to the U.S. Export Economy, the potential disruption to the U.S. export economy if an infectious disease outbreak were to take hold in CDC's 49 global health security priority countries.
Using 2015 U.S. Department of Commerce data, the article assesses the value of U.S. exports to the 49 countries and the number of jobs supported by those exports, finding that:
In 2015 the United States exported over $300 billion in material goods and services to the 49 global health security priority countries.1
These exports supported over 1.6 million American jobs across all 50 states, in sectors such as agriculture, manufacturing, and natural resource extraction.1
CDC's global health security efforts stop outbreaks where they start to protect health worldwide, in turn protecting demand for U.S. exports and the jobs they support in America.
What could happen to the U.S. export economy if an epidemic hits Asia?
The second article, Impact of Hypothetical Infectious Disease Outbreak on U.S. Exports and Export-Based Jobs, examines what could happen to the U.S. economy if an epidemic were to strike a key region, such as Southeast Asia. The article demonstrates how an epidemic spanning nine countries in Asia could cost the U.S. over $40 billion in export revenues and put more than 1 million U.S. jobs at risk.2
Southeast Asia is at greater risk for an emerging infectious disease event due to zoonotic, drug-resistant, and vector-borne diseases. Exports to Asia support the largest number of U.S. export-related jobs, which is why a large-scale infectious disease outbreak in this region could significantly disrupt the U.S. export economy.
The article illustrates the potential impact on the U.S. economy of an outbreak in just one affected country, and then expands the hypothetical scenario to look at what might happen if the outbreak were to spread across the region. Economic models used in the scenario take into account a large number of variables, including the interconnections between sectors of an economy and the trade between countries.
"The results of this hypothetical scenario show that the U.S. economy is better protected when public health threats are quickly identified and contained," said Rebecca Martin, Ph.D., director, CDC's Center for Global Health.
These articles offer valuable findings for policymakers and partners to consider when prioritizing programs to improve prevention, detection, and response to outbreaks around the world, and thereby reduce the potential threat to global markets and U.S. jobs.
Sources:
Cassell C, Bambery Z, Kakoli R, et al. Relevance of global health security to the US export economy. Health Security. 2017;15(6):563-568.
Bambery Z, Cassell C, Bunnell R, et al. Impact of a hypothetical infectious disease outbeak on US exports and export-based jobs. Health Security. 2018;16(1).
Impact of a Hypothetical Infectious Disease Outbreak on US Exports and Export-Based Jobs
Zoe Bambery, Cynthia H. Cassell, Rebecca E. Bunnell, Kakoli Roy, Zara Ahmed, Rebecca L. Payne, and Martin I. Meltzer
Health Security Volume 16, Number 1, 2018 Mary Ann Liebert, Inc. DOI: 10.1089/hs.2017.0052
We estimated the impact on the US export economy of an illustrative infectious disease outbreak scenario in Southeast Asia that has 3 stages starting in 1 country and, if uncontained, spreads to 9 countries. We used 2014-2016 West Africa Ebola epidemic–related World Bank estimates of 3.3% and 16.1% reductions in gross domestic product (GDP). We also used US Department of Commerce job data to calculate export-related jobs at risk to any outbreak-related disruption in US exports. Assuming a direct correlation between GDP reductions and reduced demand for US exports, we estimated that the illustrative outbreak would cost from $16 million to $27 million (1 country) to $10 million to $18 billion (9 countries) and place 1,500 to almost 1.4 million export-related US jobs at risk. Our analysis illustrates how global health security is enhanced, and the US economy is protected, when public health threats are rapidly detected and contained at their source.
---