Archive for the 'Weather' Category
Friday, December 7th, 2018
---
Wednesday, November 21st, 2018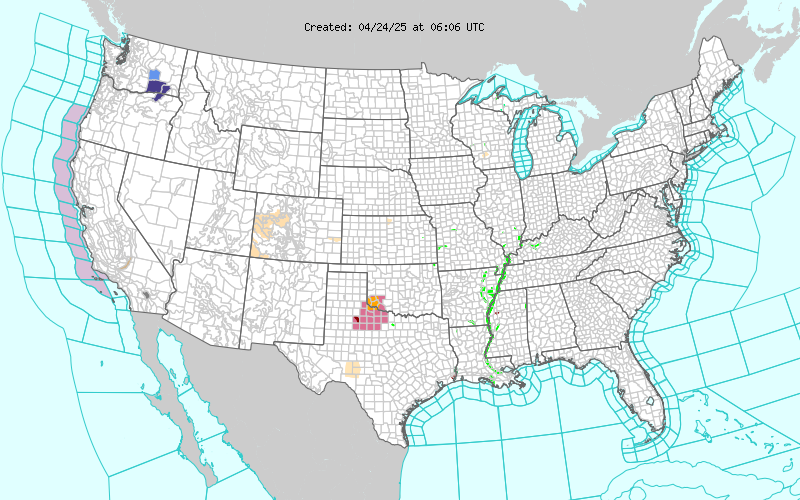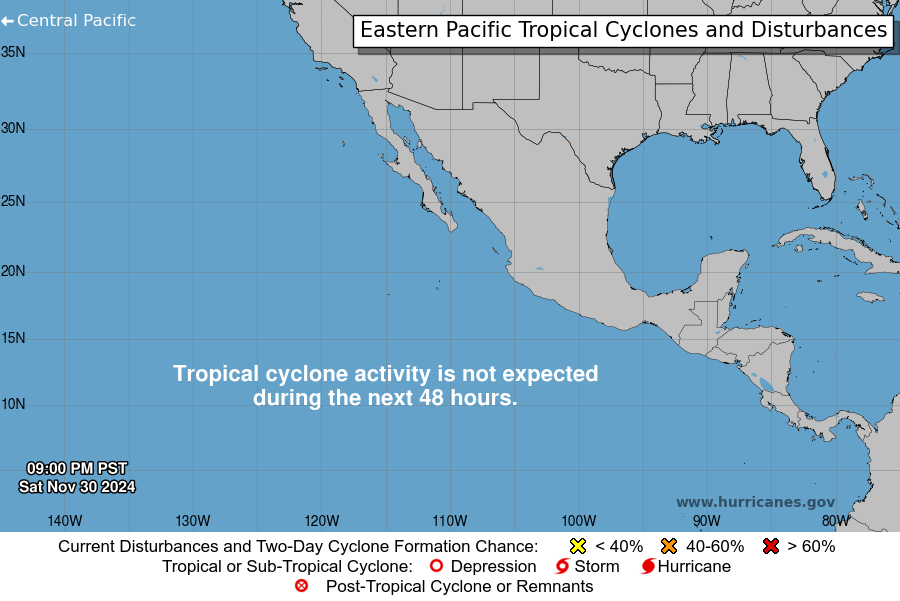 ---
Friday, November 16th, 2018
---
Tuesday, October 23rd, 2018
A mild winter could be in store for much of the United States this winter according to NOAA's Climate Prediction Center. In the U.S. Winter Outlook for December through February, above-average temperatures are most likely across the northern and western U.S., Alaska and Hawaii.
Additionally, El Nino has a 70 to 75 percent chance of developing. "We expect El Nino to be in place in late fall to early winter," said Mike Halpert, deputy director of NOAA's Climate Prediction Center. "Although a weak El Nino is expected, it may still influence the winter season by bringing wetter conditions across the southern United States, and warmer, drier conditions to parts of the North."
El Nino is an ocean-atmosphere climate interaction that is linked to periodic warming in sea surface temperatures in the central and eastern equatorial Pacific. During the winter, typical El Nino conditions in the U.S. can include wetter-than-average precipitation in the South and drier conditions in parts of the North.
Other climate patterns that can affect winter weather are challenging to predict on a seasonal time scale. The Arctic Oscillation influences the number of arctic air masses that penetrate into the South and could result in below-average temperatures in the eastern part of the U.S. The Madden-Julian Oscillation can contribute to heavy precipitation events along the West Coast – which could play a large role in shaping the upcoming winter, especially if El Nino is weak, as forecasters predict.
The 2018 U.S. Winter Outlook (December through February):
Temperature
Warmer-than-normal conditions are anticipated across much of the northern and western U.S., with the greatest likelihood in Alaska and from the Pacific Northwest to the Northern Plains.

The Southeast, Tennessee Valley, Ohio Valley and Mid-Atlantic all have equal chances for below-, near- or above-average temperatures.

No part of the U.S. is favored to have below-average temperatures.
Precipitation
Wetter-than-average conditions are favored across the southern tier of the U.S., and up into the Mid-Atlantic. Northern Florida and southern Georgia have the greatest odds for above-average precipitation this winter.

Drier-than-average conditions are most likely in parts of the northern Rockies and Northern Plains, as well as in the Great Lakes and northern Ohio Valley.
Drought conditions are likely to persist across portions of the Southwest, Southern California, the central Great Basin, central Rockies, Northern Plains and portions of the interior Pacific Northwest.

Drought conditions are anticipated to improve in areas throughout Arizona and New Mexico, southern sections of Utah and Colorado, the coastal Pacific Northwest and the Central Plains.
NOAA's seasonal outlooks give the likelihood that temperatures and precipitation will be above-, near- or below-average, and how drought conditions are expected to change, but the outlook does not project seasonal snowfall accumulations. Snow forecasts are generally not predictable more than a week in advance. Even during a warmer-than-average winter, periods of cold temperatures and snowfall are still likely to occur.
NOAA's Climate Prediction Center updates the three-month outlook each month. The next update will be available on Nov. 15.
NOAA produces seasonal outlooks to help communities prepare for what is likely to come in the next few months and minimize weather's impacts on lives and livelihoods. Empowering people with actionable forecasts and winter weather tips is key to NOAA's effort to build a Weather-Ready Nation.
---
Tuesday, September 11th, 2018
Abnormally heavy monsoon rains drenched Southeast Asia, leading to the worst flooding in the state of Kerala since 1924. The event, which started with rains on August 8, 2018, displaced over a million people, led to hundreds of deaths, damaged over 50,000 houses throughout the region, and severely affected 13 of the 14 districts in Kerala. While it brought the region's most intense flooding this summer, the rain was one of many high precipitation events in Kerala this monsoon season.
The image shows satellite-based rainfall accumulation from July 19 to August 18, 2018. Rainfall peaked in Kerala on July 20 and again reached abnormally high levels between August 8 and 16. Since the beginning of June, the region received 42 percent more rainfall than normal for this time period. In the first 20 days of August, the region experienced 164 percent more rain than normal.
Intense rainfall events have hit other areas of Southeast Asia as well. Eastern Myanmar experienced torrential downpours in mid-July and August, causing fatalities and displacing 150,000 people in one month. The floods were the worst in 30 years. The Bago and Sittaung rivers swelled to their highest levels in more than five decades, with the Sittaung river 7 feet above danger levels in areas.
The animation above shows rainfall accumulating starting from July 19 to August 18, 2018. Heavy rain started to fall over Myanmar around July 29.
These rainfall data are remotely-sensed estimates that come from the Integrated Multi-Satellite Retrievals (IMERG), a product of the Global Precipitation Measurement (GPM) mission. The GPM satellite is the core of a rainfall observatory that includes measurements from NASA, the Japan Aerospace Exploration Agency, and five other national and international partners. Local rainfall amounts can be significantly higher when measured from the ground.
NASA Earth Observatory images by Joshua Stevens, using IMERG data from the Global Precipitation Mission (GPM) at NASA/GSFC. Story by Kasha Patel.
"……Officials and experts have said the floods in Kerala – which has 44 rivers flowing through it – would not have been so severe if authorities had gradually released water from at least 30 dams……."
---
Saturday, September 8th, 2018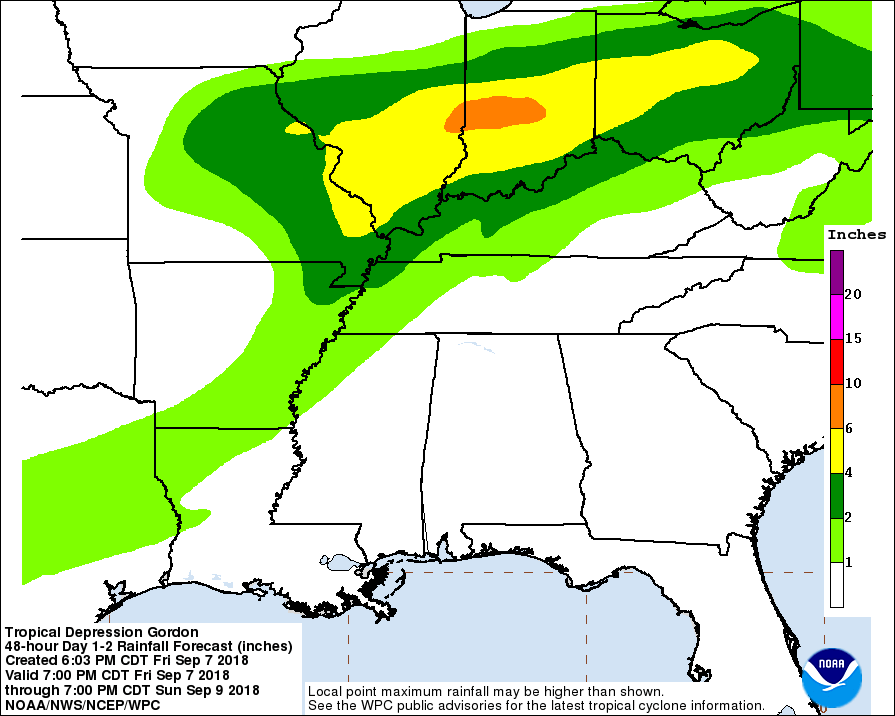 ---
Monday, August 20th, 2018
---
Thursday, August 16th, 2018
NEW: Summer 2018 Red Tide Event Affecting the West Coast of Florida
 Frequently Asked Questions:
What is happening?
An unusually persistent harmful algal bloom (red tide) is currently affecting portions of the southwest coast of Florida. For the latest updates on this event, visit the Florida Fish and Wildlife Conservation Commission red tide status website or the NOAA Harmful Algal Bloom Bulletin.
How long will this red tide last?
If and when bloom the current bloom will end remains an open-ended question. Red tides can last as little as a few weeks or longer than a year. They can even subside and then reoccur. In 2005, for example, a bloom started off the coast of St. Petersburg, Florida, in January and then spread from there to Pensacola and Naples by October, persisting for the majority of the year. The duration of a bloom in nearshore Florida waters depends on physical and biological conditions that influence its growth and persistence, including sunlight, nutrients, and salinity, as well as the speed and direction of wind and water currents. Researchers are watching oceanographic conditions in the region carefully and using forecasting tools similar to seasonal weather forecasts to predict how long this bloom will last.
What is NOAA's role in responding to this red tide event?
NOAA conducts scientific research and provides forecasts to give communities advance warnings to better deal with the adverse environmental impacts, health effects and economic losses associated with red tide and other harmful algal bloom events.
NOAA monitors conditions year round and provides official forecasts for red tide through two main products: conditions reports and bulletins. The conditions report identifies if red tide cell concentrations are present and provides forecasts of the highest potential level of respiratory irritation over the next three to four days. Bulletins provide decision-makers with a more in-depth analysis of the location of a current bloom and reported impacts, as well as forecasts of potential development, intensification, transport, and associated impacts of blooms. Both products are updated twice weekly during a bloom.
In addition, NOAA and a network of trained and authorized professionals from state and local organizations work together to respond to stranded marine animals found along the coastline during these events.
Can this red tide event be stopped?
There are currently no means of controlling the occurrence of red tide.
Is this red tide dangerous?
The Florida red tide organism, Karenia brevis, produces potent neurotoxins, called brevetoxins, that can affect the central nervous system of many animals, causing them to die. That is why red tides are often associated with fish kills. Mortalities of other species, including manatees, dolphins, sea turtles, and birds also occur.
Wave action near beaches can break open K. brevis cells and release the toxins into the air, leading to respiratory irritation. For people with severe or chronic respiratory conditions, such as emphysema or asthma, red tide can cause serious illness. People with respiratory problems should avoid affected beaches during red tides.
Red tide toxins can also accumulate in filter-feeders mollusks such as oysters and clams, which can lead to Neurotoxic Shellfish Poisoning (NSP) in people who consume contaminated shellfish. While not fatal, NSP causes diarrhea and discomfort for about three days. Rigorous state monitoring of cells and toxins is conducted to close commercial shellfish harvesting if necessary to protect human health. Recreational shellfish harvesters should check State web pages to make sure it is safe to consume shellfish.
Is it still safe to go to the beach?
Some areas may be more affected than others. Check NOAA forecasts to assist in locating unaffected areas, and learn more about red tide health concerns from Florida Health.
Is this normal?
This year's bloom is different from what we've seen before in several ways:
Timing: Blooms of this alga typically start in late summer or early fall. The last large early summer bloom was in 2005. The current bloom started last fall and is still going.
Duration: While not unprecedented in its duration, this bloom is unusually persistent. It started in October 2017 and continued through spring of 2018. By early summer, the bloom resurged and was detected in five southwest Florida counties. Some shellfish harvesting areas have been closed since November 2017.
Size: The size of the bloom changes from week to week, and it is patchy. Not every beach is affected every day, so it is important to stay up to date with the NOAA conditions report. As of August 15, the bloom stretched from Pinellas County to Collier County, more than 150 miles.
While the timing, duration, and size of this red tide are unusual, red tides are not new to the Gulf Coast. Red tides were documented in the southern Gulf of Mexico as far back as the 1700s and along Florida's Gulf coast in the 1840s. Fish kills near Tampa Bay were even mentioned in the records of Spanish explorers. For more information on historical red tide events in Florida, see the Florida Fish and Wildlife Conservation Commission's harmful algal bloom monitoring database.
What do you do if you see sick, injured, stranded, or dead wildlife?
If you see sick, injured, or stranded wildlife, such as a sea turtle, manatee, dolphin, seabird, or a large fish kill in Florida, report it to the following standing network hotlines. To report an injured, hooked, entangled, or stranded sea turtle, call 1-877-942-5343. To report other sick or injured wildlife and fish kills, contact FWC Wildlife Alert or call 888-404-FWCC (888-404-3922). If you see dead or injured marine mammals, call 1-877-WHALE HELP (1-877-942-5343). You can also report via the Dolphin and Whale 911 Phone App.
What is the projected effect of this red tide on marine life? How long will it take for impacted marine life to recover?
There is no way to project the cumulative effects of this red tide event. Red tide occurs naturally in coastal waters of the Gulf of Mexico with blooms appearing seasonally. Although the Florida red tide organism, Karenia brevis, typically blooms between August and December, blooms often deviate from that time frame. The current bloom continues to be monitored by our local and state partners. Visit the Florida Fish and Wildlife Conservation Commission's (FWC) red tide status page. Reports of fish kills and marine animal deaths are made publicly available on FWC's website. For more information on the effects of red tide on marine animals, shellfish, and people, visit our health information page for more information.
Can NOAA provide travel advice for people planning to visit this region?
While NOAA provides regional harmful algal bloom forecasts and supports research to better understand the causes, impacts, and effects of these events, we are not in a position to provide travel advice. We have provided links to Florida state resources in the right column of this announcement that we hope will help people make informed decisions about their travel plans.
Resources for More Information:
NOAA Resources
Florida Resources
General Information about Red Tide and NOAA's Role in HAB Forecasting
What is red tide?
Harmful algal blooms occur nearly every summer along the nation's coasts. Often, the blooms turn the water a deep red. While many people call all such events "red tides," scientists prefer the term harmful algal bloom or HAB. A red tide or HAB results from the rapid growth of microscopic algae. Some produce toxins that have harmful effects on people, fish, marine mammals, and birds.  In Florida and Texas, this is primarily caused by the harmful algae species Karenia brevis. Red tide can result in varying levels of eye and respiratory irritation for people, which may be more severe for those with preexisting respiratory conditions (such as asthma). The blooms can also cause large fish kills and discolored water along the coast.
How Does the NOAA Forecast Work?
NOAA uses a combination of satellite imagery and water samples of the algae species Karenia brevis, collected from the field by local partners, to forecast the location and intensity of red tide events.  Satellite imagery is a key tool for detecting blooms before they reach the coast, verifying bloom movement and forecasting potential respiratory irritation.
Putting the Forecast into Action
The condition reports for red tide in Florida and Texas are available to the public and give the daily level of respiratory irritation forecasts by coastal region. NOAA also issues HAB bulletins that contain analyses of ocean color satellite imagery, field observations, models, public health reports, and buoy data. The bulletins also contain forecasts of potential Karenia brevis bloom transport, intensification, and associated respiratory irritation based on the analysis of information from partners and data providers. The bulletins are primarily issued to public health managers, natural resource managers, and scientists interested in HABs.  A week after the the bulletin is issued, it is posted to the Bulletin Archive where the public can access it.
<!–
–>
Infographic Transcript: Red Tide
Red Tide in Florida and Texas is caused by the rapid growth of a microscopic algae called Karenia brevis. When large amounts of this algae are present, it can cause a harmful algal bloom (HAB) that can be seen from space. NOAA issues HAB forecasts based on satellite imagery and cell counts of Karenia brevis collected in the field and analyzed by NOAA partners.
Why should you care? Red Tide in Florida and Texas produces a toxin that can have harmful effects for marine life. For people, the toxin can become airborne and cause respiratory issues and eye irritation. These symptoms can be more severe for people with serious respiratory issues such as asthma.
Making Choices. State and local resources are available to help beachgoers find beaches and coastal areas that are not impacted by Red Tide, but are still nearby.
---