Archive for the 'Kids-Infants' Category
Monday, December 11th, 2017
"…..Lactalis is one of the world's biggest dairy producers. Company spokesman Michel Nalet told AFP "nearly 7,000 tonnes" of production may have been contaminated…."
---
Friday, December 1st, 2017
Before December 1958, the building did not have any sprinklers and there were no regular preparatory drills conducted.
---
Tuesday, November 21st, 2017
"…..The U.S.-based drug corporation's unmerited patent prevents vaccine manufacturers in India from developing and marketing PCV13 until 2026, depriving countless children of the opportunity to be protected against pneumonia, which kills 2,500 kids per day…..There are currently only two companies that make a pneumonia vaccine, Pfizer (PCV13) and GlaxoSmithKline (PCV10). These companies have already made more than $40 billion on their vaccines and have consistently fought to prevent others from entering the market with lower-price versions……"
---
Tuesday, November 14th, 2017
While pneumonia deaths have dropped by nearly 50% since 2000, too many kids still don't have access to vaccines that can prevent the disease from taking hold in the first place.
Approximately 1/2 of the world's children are still not receiving PCV (pneumococcal conjugate vaccine).
Save The Children Fighting for Breath
---
Monday, November 6th, 2017
"……Hudson River Middle is a small progressive public school on Warren Street at the corner of West Street, one short block south of where Sayfullo Saipov crashed his rental truck into a school bus on Halloween, after plowing the truck down a crowded bike path along the river, killing eight people and injuring a dozen, including two students on the bus. The building also houses a second school — P.S. 89, the Liberty School — which serves children from prekindergarten through fifth grade, who were being let out on Tuesday afternoon while the attack was unfolding. Children and parents and caregivers already outside, in an enclosed yard, were brought in and sequestered for safety in a windowless cafeteria where teachers foraged for snacks. The middle-school students were sent to a gym on the third floor.
Although the school year is relatively new, the younger children had already participated in lockdown drills. They were told that this one was real, that they were being kept safe inside from something unsafe happening outside. In morning meeting the following day, Connie Ryan, a prekindergarten teacher told her students what a great job the police had done in protecting everyone. During play, she said, a lot of children sent Lego Duplo people to jail.
One block north, across the street at Stuyvesant High School, there are two phases of dismissal, one at 2:45 and another at 3:30. Some students who left in the first round on Tuesday were crossing a popular footbridge connecting the campus to TriBeCa when the chaos erupted, giving them a full view of the carnage. When it was clear to administrators that something terrible was happening, an announcement was made over the loud speaker that the school was implementing a "shelter in," a modified lockdown that forbids students from leaving the school but allows them to move within the building……"
---
Saturday, October 14th, 2017
'….."For the longest time, traffickers have been using marriage with minors as an alibi to rape girls in the first instance, to break them, before selling them to pimps and brothel owners," said Adrian Phillips, an advocate from Justice and Care, which fights trafficking…..Almost 20,000 women and children were victims of human trafficking in India in 2016, a rise of nearly 25 percent from the previous year, according to government data…….'
---
Wednesday, October 4th, 2017
Eight children die every minute because their diet lacks essential nutrients. They will continue to do so unless food aid changes.
MSF admitted 181,600 malnourished children to inpatient or outpatient feeding programs in 2015.
When children suffer from acute malnutrition, their immune systems are so impaired that the risk of death is greatly increased. According to the World Health Organization (WHO), malnutrition is the single greatest threat to the world's public health.
The critical age for malnutrition is from six months—when mothers generally start supplementing breast milk—to 24 months. However, children under five, adolescents, pregnant or breastfeeding women, the elderly, and the chronically ill are also vulnerable.
People become malnourished if they are unable to take in enough or fully utilize the food they eat, due to illnesses such as diarrhea or other longstanding illnesses, such as measles, HIV, and tuberculosis.
We estimate that only three percent of the 20 million children suffering from severe acute malnutrition receive the lifesaving treatment they need.
What Causes Malnutrition?
Facts
From six months onwards, a child must have a balanced diet to lead a healthy life.
Malnutrition severely weakens a child's immune system.
Wasting occurs when a malnourished person begins to consume their own body tissue.
RUTFs are the most effective way to treat and prevent malnutrition.
Breast milk is the only food a child needs for its first six months. Beyond this point, breastfeeding alone is not sufficient.
Diets at this stage must provide the right blend of high-quality protein, essential fats and carbohydrates, vitamins, and minerals.
In the Sahel, the Horn of Africa, and parts of South Asia, highly nutritious foods such as milk, meats, and fish are severely lacking.
For a child under the age of two, their diet will have a profound impact on their physical and mental development. Malnourished children under the age of five have severely weakened immune systems and are less resistant to common childhood diseases.
This is why a common cold or a bout of diarrhea can kill a malnourished child. Of the seven million deaths of children under five years of age each year, malnutrition contributes to at least one-third.
Symptoms of Malnutrition
Understandably, the most common sign of malnutrition is weight loss. Loss of weight may also be accompanied by a lack of strength and energy and the inability to undertake routine tasks. Those who are malnourished often develop anemia and therefore exhibit a lack of energy and breathlessness.
In children, signs of malnutrition may include an inability to concentrate or increased irritability, and stunted growth. In cases of severe acute malnutrition, swelling of the stomach, face, and legs, and changes in skin pigmentation may also occur.
Diagnosing Malnutrition
Malnutrition is diagnosed by comparing standard weights and heights within a given population, or by the measurement of a child's mid-upper arm circumference (MUAC).
If dietary deficiencies are persistent, children will stop growing and become 'stunted'—meaning they have a low height for their age. This is diagnosed as chronic malnutrition.
If they experience weight loss or 'wasting'—low weight for one's height—they are diagnosed as suffering from acute malnutrition.
This occurs when a malnourished person begins to consume his or her own body tissues to obtain needed nutrients.
In the severe acute form, children with kwashiorkor—distended stomachs—can be clinically diagnosed with body swelling, irritability, and changes in skin pigmentation.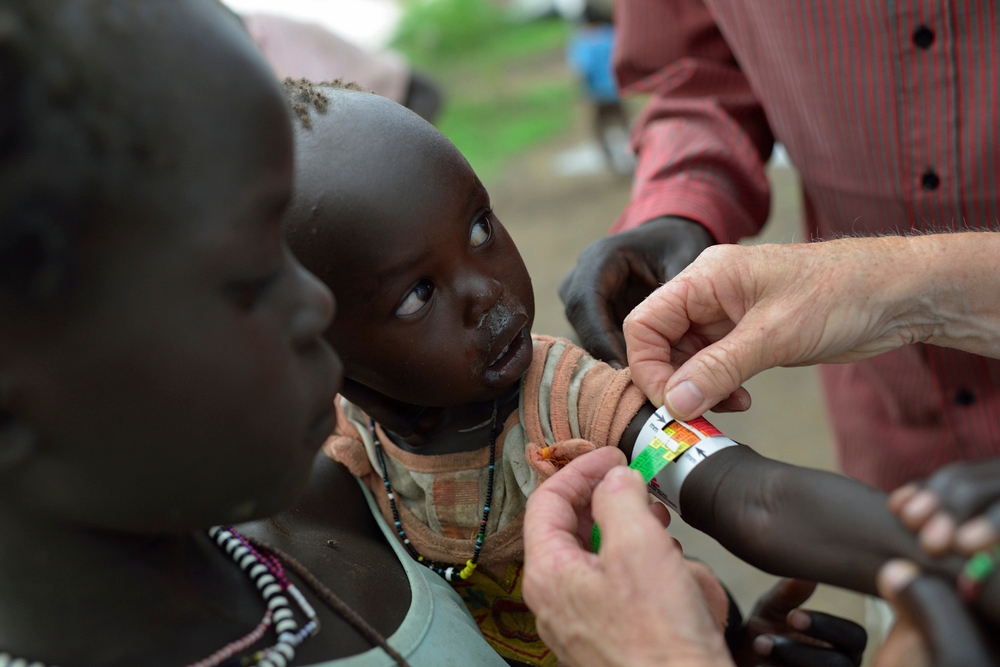 Treating malnutrition
We believe that ready-to-use therapeutic food (RUTF) is the most effective way to treat malnutrition. RUTFs include all the nutrients a child needs during its development and helps reverse deficiencies and gain weight. RUTFs don't require water for preparation, which eliminates the risk of contamination with water-borne diseases.
Because of its packaging, RUTFs can be used in all kinds of settings and can be stored for long periods of time. Unless the patient suffers from severe complications, RUTFs also allow patients to be treated at home.
Where malnutrition is likely to become severe, Doctors Without Borders/Médecins Sans Frontières (MSF) takes a preventative approach by distributing supplementary RUTF to at-risk children.
In 2015, MSF admitted 181,600 malnourished children into feeding programs.
---
Saturday, September 30th, 2017
World Vision – the world's largest international children's charity
"We're seeing emaciated children, nearly skeletons, lying in pain in hospital beds … We're seeing mothers unable to breastfeed because they are malnourished themselves."
"The hunger crisis is wreaking havoc on 24 million people (in East Africa) – more than the population of Berlin, London, Chicago and Bangkok combined."
---
Sunday, September 17th, 2017
"…..Refugee camps were already beyond capacity and new arrivals were staying in schools or huddling in makeshift settlements with no toilets along roadsides and in open fields. Police were checking vehicles to prevent the Rohingya from spreading to nearby towns in an attempt to control the situation…..many children are suffering from flu and risk pneumonia……. Many are suffering from diarrhea, dehydration, skin diseases or worse…….."
---
Thursday, September 14th, 2017
This joint report from UNICEF and the International Organization for Migration (IOM) explores in detail survey data from the Central and Eastern Mediterranean Sea routes to Europe, focusing on adolescents and youth on the move from Africa and Asia. The analysis reveals staggering rates of trafficking and exploitation, and also points to the xenophobia and racism that make young refugees and migrants − especially those from sub-Saharan Africa − vulnerable
"We risked our lives to come here," says 17-year-old Mohammad, who travelled through Libya to seek asylum in Italy. "We crossed a sea. We knew it is not safe, so we sacrificed. We do it, or we die."
Some of the world's most dangerous migration routes cross the Mediterranean Sea – a major pathway to Europe for migrants and refugees from Africa, the Middle East and Asia.
Up to three-quarters of children and youth face abuse, exploitation and trafficking on these migration routes. Some are more vulnerable than others: those travelling alone, those with low levels of education and those undertaking longer journeys.
Most vulnerable of all are those who, like Mohammad, come from sub-Saharan Africa.
As the world continues to grapple with the reality of migration and displacement, the report's findings underscore the urgent need for action to protect the most vulnerable among those on the move.

---