Archive for the 'SFTS' Category
Sunday, August 19th, 2018
The World Health Organization R&D Blueprint aims to accelerate the availability of medical technologies during epidemics by focusing on a list of prioritized emerging diseases for which medical countermeasures are insufficient or nonexistent. The prioritization process has 3 components: a Delphi process to narrow down a list of potential priority diseases, a multicriteria decision analysis to rank the short list of diseases, and a final Delphi round to arrive at a final list of 10 diseases.
A group of international experts applied this process in January 2017, resulting in a list of 10 priority diseases. The robustness of the list was tested by performing a sensitivity analysis. The new process corrected major shortcomings in the pre–R&D Blueprint approach to disease prioritization and increased confidence in the results.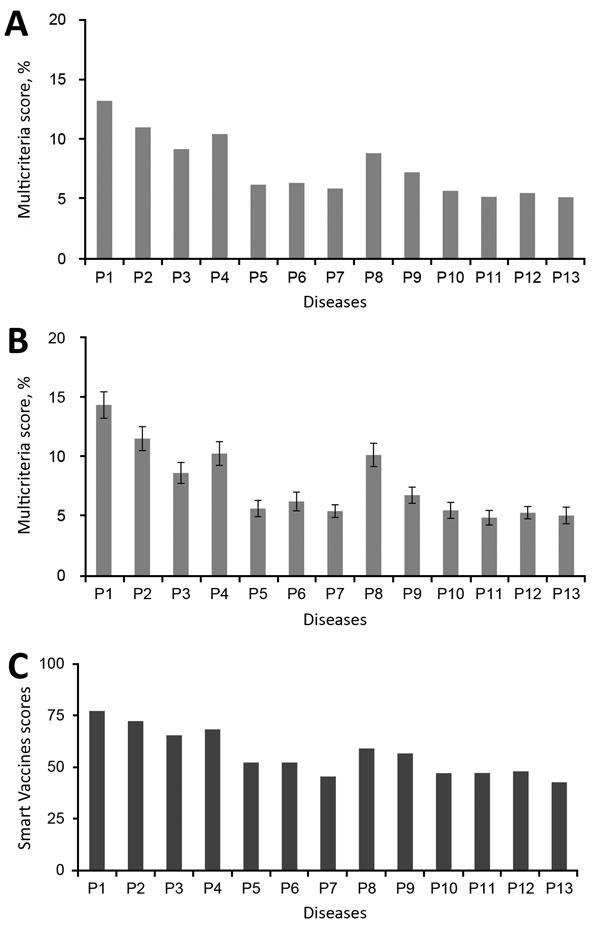 ---
Thursday, August 9th, 2018
"…..In East Asia, long-horned ticks do carry pathogens related to Lyme and others found in North America. But the biggest threat is a phlebovirus that causes S.F.T.S., for severe fever with thrombocytopenia syndrome…..The syndrome has an overall fatality rate of about 15 percent….But S.F.T.S. is more lethal to people aged 60 or older, killing half of them..….."

---
Thursday, July 26th, 2018
"…..Between April 1, 2011, and Oct 31, 2017, 2096 patients with laboratory-confirmed SFTS were admitted. Mean age at admission was 61·4 years (SD 12·2) and 1239 (59%) patients were female. The case fatality rate (CFR) was 16·2% (95% CI 14·6–17·8). A higher risk was associated with being male (unadjusted odds ratio [OR] 1·45, 95% CI 1·15–1·83; p=0·002), older age (for a 10-year increase, unadjusted OR 1·82, 95% CI 1·62–2·04; p<0·0001), longer delay in admission (for every extra day taken before admission to hospital, unadjusted OR 1·18, 1·12–1·24; p<0·0001), presence of diarrhoea (adjusted OR 1·44, 1·12–1·87; p=0·005) or dyspnoea (adjusted OR 8·35, 5·97–11·69; p<0·0001), and development of haemorrhagic signs (adjusted OR 2·79, 95% CI 2·18–3·57; p<0·0001) or neurological symptoms (adjusted OR 30·26, 21·39–42·81; p<0·0001). Laboratory variables that were associated with death included abnormal concentrations of lactate dehydrogenase, aspartate aminotransferase, and blood urea nitrogen, and abnormal neutrophil percentage, which together with age and neurological symptoms were combined in the clinical scoring system. A total score of more than 8 was the optimal threshold to predict risk of death for patients who were evaluated within 6 days after symptom onset (area under the curve 0·879, 95% CI 0·855–0·902). For all participants, viraemia was a strong predictor of fatal outcome (all p<0·0001). Ribavirin therapy was effective in reducing CFR from 6·25% (15 of 240 participants) to 1·16% (two of 173 participants), but only in patients with a viral load below 1×106 copies per mL (hazard ratio 9·72, 95% CI 1·30–72·87; p=0·027)……"
---
Saturday, July 29th, 2017
"….In Japan some 60 people contract the disease every year from tick bites with a fatality rate of some 20 percent…."
Zhao L, Zhai S, Wen H, Cui F, Chi Y, Wang L, et al. Severe Fever with Thrombocytopenia Syndrome Virus, Shandong Province, China. Emerg Infect Dis. 2012;18(6):963-965. https://dx.doi.org/10.3201/eid1806.111345

| | |
| --- | --- |
| | Park S, Han M, Yun S, Park C, Lee W, Ryou J, et al. Severe Fever with Thrombocytopenia Syndrome Virus, South Korea, 2013. Emerg Infect Dis. 2014;20(11):1880-1882. https://dx.doi.org/10.3201/eid2011.140888 |

Isolation of severe fever with thrombocytopenia syndrome virus (SFTSV) from case-patients, South Korea, 2013. A, B) Indirect immunofluorescent features of Vero E6 cells primed with SFTSV N protein monoclonal antibody and reacted with fluoresce in isothiocyanateconjugated anti-mouse IgG. B) Transmission electron microscopy image of Vero E6 cells infected with SFTSV. Scale bar indicates 500 nm.
---