Archive for the 'Historical' Category
Thursday, October 3rd, 2019
NBC
"……On April 16, 2007, Goddard was in French class at Virginia Tech when he was shot four times……One bullet pierced his shoulder and then exited. But three other bullets shattered into tiny pieces in his body, and doctors said it was too risky to remove them…..Goddard is suffering from lead poisoning. At one point, his levels were seven times higher than what's considered safe…."The short term symptoms are hard to recognize — things like fatigue, irritability, memory loss. stomach pain," Goddard said. "At the time when I learned about this, I was in grad school, I had a two-year-old, was about to have another one, and was trying to find a job. A lot of those things going on in my life could have caused those things."
His mother who encouraged him to get a blood test after she read an article about the lasting impact of lead ammunition in shooting survivors.
Since his diagnosis, Goddard has had hip surgery to remove more bullet fragments, and he's tried Chelation therapy to clear the toxic metal from his body.
"I tried it for a month," he said. "I had to take like 30 pills a day, every day, for breakfast, lunch, and dinner."
The treatment worked, but Goddard struggled to take so many pills every day. As soon as he stopped taking the pills, the lead in his body elevated to dangerous levels again, although they aren't as high as before he tried the therapy….."
---
Wednesday, October 2nd, 2019
"……The UN has admitted that cholera was introduced to Haiti by peacekeepers in 2010 after about 1,000 troops were redeployed from Nepal to help in emergency work following a devastating earthquake. Basic health measures that could have been taken to prevent the transfer of the disease at the cost to the UN of only $2,000 were not taken, and instead raw sewage from the peacekeepers' camps was dumped directly into rivers from which thousands of Haitians routinely drew water for cooking and drinking.
A leaked report carried out by the UN itself a month after the initial outbreak of cholera found serious sanitation flaws in the Haiti peacekeeping mission. Yet for six years the world body continued to deny it had anything to do with the health catastrophe……"
---
Friday, September 27th, 2019
"……On September 20, the Arctic left Liverpool, England, for North America. Seven days later, just off of the Newfoundland coast, it came into a heavy fog. Unfortunately, the ship's captain, James Luce, did not take the usual safety measures for dealing with fog—he did not slow the Arctic, he did not sound the ship's horn and he did not add extra watchmen……"
---
Wednesday, September 25th, 2019
"…….The planes nose-dived straight into San Diego's North Park neighborhood, destroying 22 homes and killing seven people on the ground. All 144 people on the 727 were killed, as well as both of the Cessna's pilots…….."
---
Saturday, September 21st, 2019
---
Saturday, September 21st, 2019
New England Hurricane 1938
The "Long Island Express" was first detected over the tropical Atlantic on September 13, although it may have formed a few days earlier. Moving generally west-northwestward, it passed to the north of Puerto Rico on the 18th and 19th, likely as a category 5 hurricane. It turned northward on September 20 and by the morning of the 21st it was 100 to 150 miles east of Cape Hatteras, North Carolina. At that point, the hurricane accelerated to a forward motion of 60 to 70 mph, making landfall over Long Island and Connecticut that afternoon as a Category 3 hurricane. The storm became extratropical after landfall and dissipated over southeastern Canada on September 22.
Blue Hill Observatory, Massachusetts measured sustained winds of 121 mph with gusts to 183 mph (likely influenced by terrain). A U.S. Coast Guard station on Long Island measured a minimum pressure of 27.94 in. Storm surges of 10 to 12 ft inundated portions of the coast from Long Island and Connecticut eastward to southeastern Massachusetts, with the most notable surges in Narragansett Bay and Buzzards Bay. Heavy rains before and during the hurricane produced river flooding, most notably along the Connecticut River.
This hurricane struck with little warning and was responsible for 600 deaths and $308 million in damage in the United States.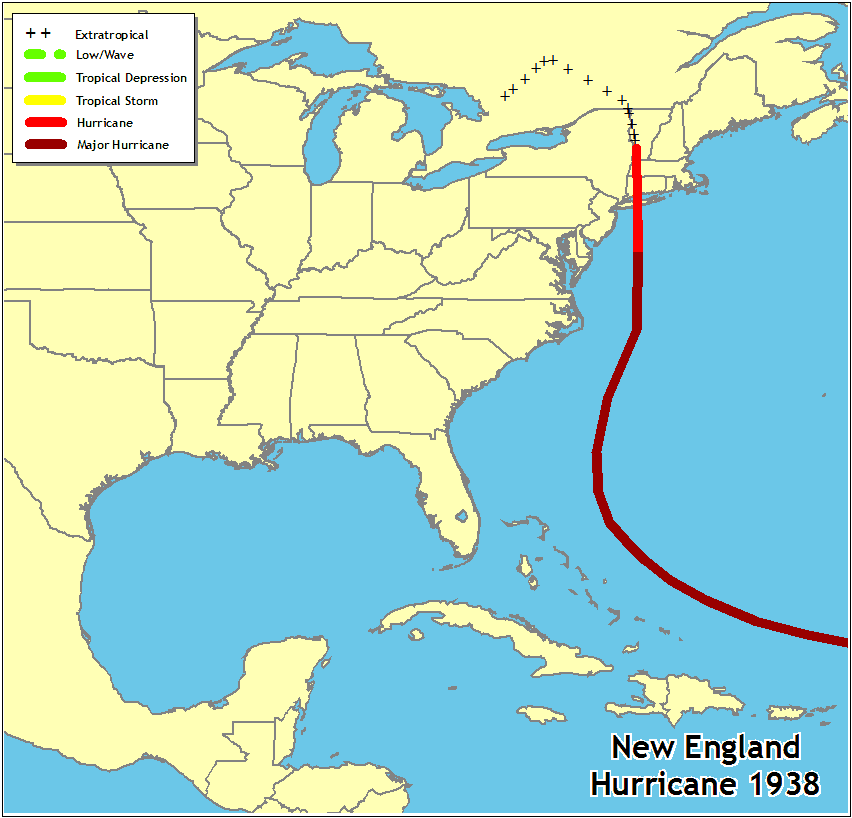 ---
Monday, September 16th, 2019
---
Thursday, September 12th, 2019
---